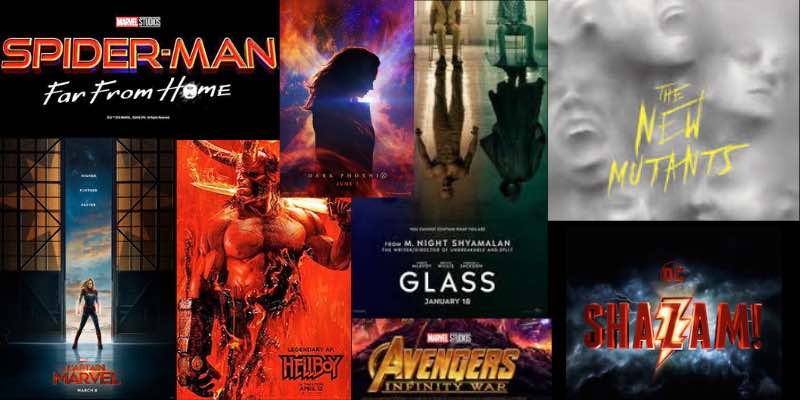 Here are all of the superhero movies releasing in 2019.
Mark your "superhero movies coming soon" calendar now so you don't miss a single release.​
It will be a busy 2019 for live-action superhero movies. In 2018, there were six live-action superhero movies (Black Panther, Avengers: Infinity War, Deadpool 2, Ant-Man & The Wasp, Venom, and Aquaman) plus two animated superhero movies (Teen Titans Go! and Spider-Man: Into the Spider-Verse). If you also include The Incredibles 2 from Disney-Pixar as a superhero movie, the total superhero movies in 2018 is nine.
In 2019, moviegoers could have seen the most superhero movies in a single year, thanks in part to two X-Men movies being pushed from 2018 to 2019. But that's not going to happen because history repeats itself: some scheduled 2019 superhero movies have been pushed to 2020. Regardless of release date adjustments, 2019 still has plenty of live-action superhero movies to choose from. Just how many 2019 superhero movies are there?
9 Superhero Movies Are Confirmed to Hit Theatres In 2019
1. Glass (Release Date: January 18, 2019)
What happens when you combine the characters in Unbreakable with those from Split? Glass. M. Night Shyamalan's conceived comic book heroes (villains?) — David Dunn (Bruce Willis), Kevin Wendell Crumb (X-Men franchise's James McAvoy) and Elijah Price/Mr. Glass (Samuel L. Jackson from Kong: Skull Island) — are all in Glass, which focuses on Dunn pursuing The Beast, Crumb's superhuman figure.
Mr. Glass is orchestrating something, too, that relates to both men. Best bet is that's the Shyamalan twist we've come to expect from the director.
2. X-Men: Dark Phoenix (Release Date: June 7, 2019)
Jean Grey, aka Phoenix, is at the forefront of X-Men's Dark Phoenix. And since we all know just how troublesome Grey's powers can be, Dark Phoenix should be a wild ride packed full of effects. Especially since we all know that in the alternate X-Men movie universe, Grey, played here by Sophie Turner, was killed because she became too powerful and out of control.

Whether she has the same fate in Dark Phoenix will be revealed when the X-Men team, including Professor Charles Xavier (James McAvoy), Magneto (Michael Fassbender), Raven/Mystique (Jennifer Lawrence), Quicksilver (Evan Peters from American Animals), and Beast (Nicholas Hoult), return in summer 2019.
3. Captain Marvel (Release Date: March 9, 2019)
It's about time Captain Marvel got her own movie. Carol Danvers (Brie Larsen) shows up just in time for Avengers 4, where she's going to help restore the masses of people Thanos wiped out — or so we think. (Captain Marvel actually takes place two decades before Avengers: Infinity War but I'm sure that'll work itself out). Before then, though, we need to learn all about Captain Marvel and get her origin story.
Captain Marvel is that movie, and Mar-Vell (Fantastic Beasts: The Crimes of Grindelwald's Jude Law) is along for the ride, too. As for the villain in Captain Marvel, that's Ronan The Accuser — long before the Guardians crew wiped him out.
4. Shazam! (Release Date: April 5, 2019)
In case every other superhero movie in 2019 seems too serious for you, there's Shazam!. Starring Zachary Levi as Shazam and Djimon Hounsou as The Wizard, Shazam! focuses on the magic that is required to unleash superpowers.
It's a 14-year-old kid who has the magic, and in a turn like Big, he becomes an adult when the magic releases. Shazam! isn't being classified as a comedy — it's an action, adventure and fantasy flick per IMDB — but seriously, every time that kid says "Shazam!" you know you're going to chuckle.
5. Hellboy (Release Date: April 12, 2019)
Remember in 2004 when Director Guillermo del Toro's Hellboy starring Ron Perlman, Selma Blair, John Hurt, and Karel Roden premiered? Whether you do or not, it's time to take a stroll again with the demon whom Nazi's "rescue" from hell, only to have him turn into a good guy.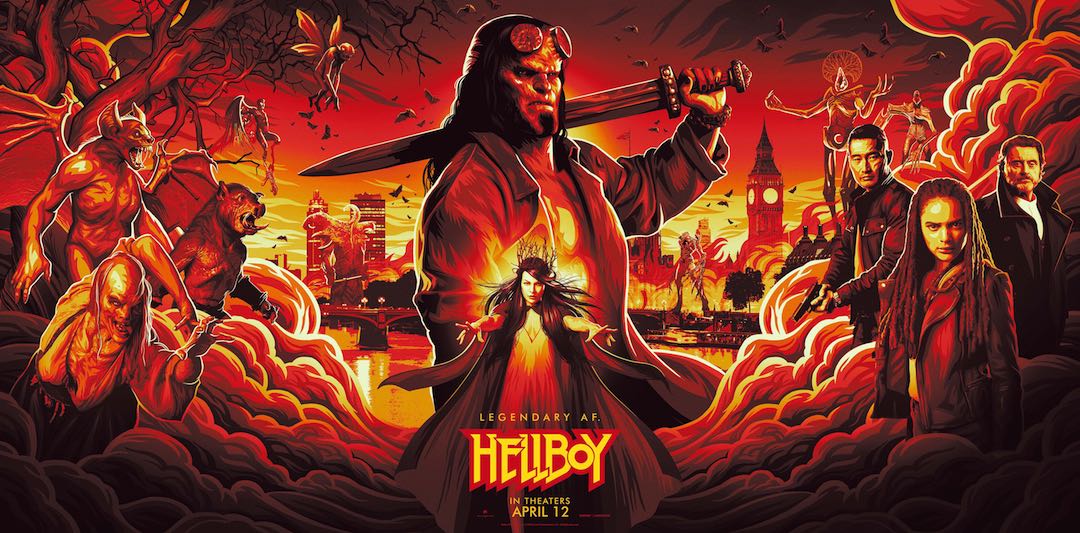 Based on the graphic novels by Mike Mignola, Hellboy (2019) has Perlman out and David Harbour taking on the role of Hellboy, with Milla Jovovich portraying Nimue the Blood Queen. And "Deadwood" fans, Ian McShane plays Professor Bruttenholm.
6. Untitled Avengers Movie aka Avengers 4 (Release Date: May 3, 2019)
Note: The title for the sequel to Avengers: Infinity War has not been released yet.
The plot of Avengers 4, or whatever you want to call it since a title has yet to be released, is unknown. But we can guess the details: Everyone who turned to ash when Thanos annihilated half the population come back to life after some fancy otherworldly teamwork. Works for me! But, it may be the final Avengers film and in order to beat out the awesomeness of Infinity War, it better be damn good.
And FYI: Brie Larsen as Captain Marvel is in Avengers 4 and The Ancient One (Tilda Swinton) from Doctor Strange is as well. You can also bet that every Marvel character that's ever been in a Marvel comic book movie adaptation makes an appearance, too.
7. Spider-Man: Far From Home (Release Date: July 5, 2019)
Wait for a second! Spider-Man turned to ash in Avengers: Infinity War, so how is there a Spider-Man movie releasing in 2019? Note the release date is July 5 and the sequel to Infinity War comes out May 3 — Spider-Man isn't going to be dead … forever.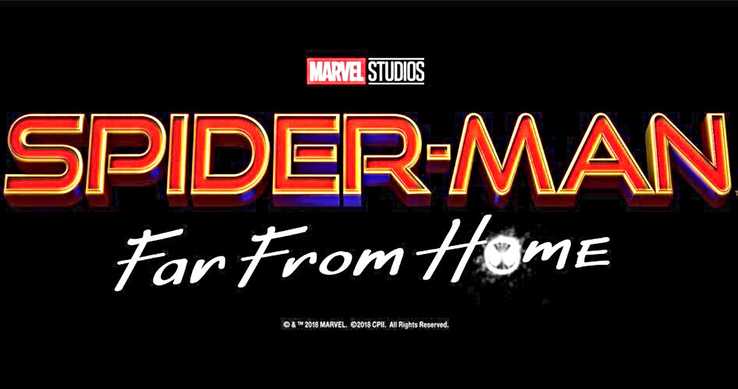 Once alive again (presumably), Spider-Man (Tom Holland) heads off to Europe with friends for the summer and has to fight Mysterio (Jake Gyllenhaal), and maybe Vulture (Michael Keaton), too. He may have help in the form of Nick Fury (Samuel L. Jackson) and Maria Hill (Cobie Smulders).
8. The New Mutants (Release Date: August 2, 2019)
The X-Men mutants we know so well just aren't good enough anymore. Enter The New Mutants which features five young mutants who are being held in a secret facility against their will. They've only just discovered their powers, but they've each got past sins to deal with.
Director Josh Boone takes on this X-Men spinoff with Anya Taylor-Joy as Magik, Maisie Williams playing Wolfsbane, Charlie Heaton as Cannonball, Henry Zaga as Sunspot, and Blu Hunt taking on Mirage. Antonio Banderas even has a part in The New Mutants, and Alice Braga is Dr. Cecilia Reyes.
9. Joker (Release Date: October 4, 2019)
Crediting Joker as a superhero movie is a stretch. Sure, the character is based off of the Joker from Batman comics but the Joker an actual superhero? Nope. He's a villain. Still, Todd Phillips Joker is being considered a superhero movie so it's on the list.
Plan on a serious telling of the Joker's origin story with Joaquin Phoenix (The Sisters Brothers) as Arthur Fleck/Joker and Robert De Niro in the cast, too, as late-night TV host Murray Franklin we've never heard of before. Additional cast members in Joker include Zazie Beetz as Sophie Dumond, Brett Cullen as Thomas Wayne, and Dante Pereira-Olson as a young Bruce Wayne.
What about Wonder Woman 1984 and Spawn?!
I had a feeling you might ask.
For those of us who were excited for Wonder Woman 1984 to release in 2019, we have to save that excitement for 2020. The release date for Wonder Woman 1984 has been pushed to June 5, 2020. Fingers crossed that's the last change Patty Jenkins' sequel to Wonder Woman gets. But here's something to stir up thoughts: Wonder Woman 1984's cast includes Gal Gadot (obviously) and Chris Pine. Flashback or back from the dead, we have to wait to find out Steve Trevor's fate.
Director Todd McFarlane's Spawn, starring Jamie Foxx (Robin Hood) as Al Simmons/Spawn and Jeremy Renner (Tag) as Twitch Williams, isn't going to make a 2019 release. This supernatural horror film is an adaptation of McFarlane's own comic book and he also wrote the screenplay. Blumhouse is involved, so that's good news.
After numerous changes to the schedule, MovieWeb says Spawn starts shooting in summer 2019. Bet on a 2020 release date for Spawn.