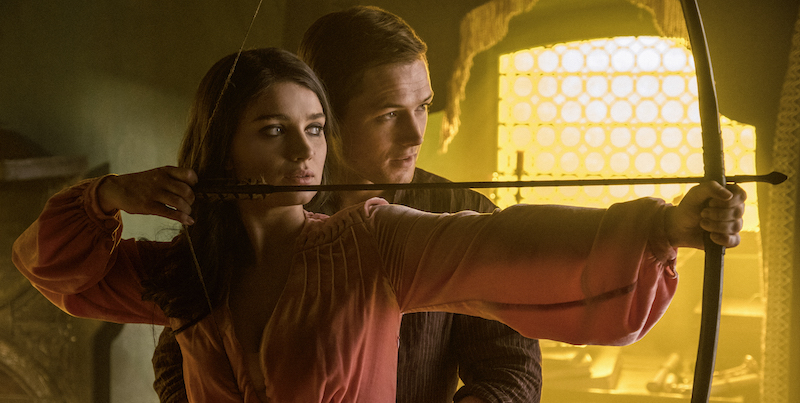 'Robin Hood' (2018) Review
'Robin Hood' is full of exciting action, a touch of romance, and re-energizes the legend. It ends with plenty of bangs, but also confusion.

Release Date: November 21, 2018
In Robin Hood, a war-hardened Crusader and his Moorish commander mount an audacious revolt against the corrupt English crown in a thrilling action-adventure packed with gritty battlefield exploits, mind-blowing fight choreography, and a timeless romance.
Director: Otto Bathurst
Screenwriter(s): Ben Chandler, David James Kelly
Producer(s): Jennifer Davisson, Leonardo DiCaprio, 
Cast: Taron Egerton (Robin of Loxley), Jamie Foxx (Little John), Ben Mendelsohn (Sheriff of Nottingham), Eve Hewson (Marian), Jamie Dornan (Will Scarlet), Tim Minchin (Friar Tuck), F. Murray Abraham (Cardinal)
Editor: Chris Barwell, Joe Hutshing
Cinematographer: George Steel
Production Designer: Jean-Vincent Puzos
Music Score: Joseph Trapanese
The legend of Robin Hood surpasses Sherwood Forest and an evil sheriff or king who taxes his subjects into poverty. It can be related to society in a variety of ways, and the hero (be it a single person or group) who takes down the oligarchy to restore the welfare of the people isn't a story that can't be authenticated: it's happened time and time again. But everyone loves a historical telling of Robin Hood, and Robin Hood movies are not few and far between.
Some are more popular than others, and some Robin Hood movies should be forgotten entirely. My personal favorites are Technicolor-masterpiece The Adventures of Robin Hood starring Errol Flynn and animated Disney classic Robin Hood (1973). Both still stand up today and far exceed more modern iterations, like Robin Hood: Prince of Thieves and Ridley Scott's Robin Hood in 2010, starring Russell Crowe and Cate Blanchett. But Robin Hood: Men in Tights (1993) is in a class all its own — Mel Brooks made sure of that.
The eight-year wait for another Robin Hood movie is over now that Robin Hood (2018) is in theatres. Starring Taron Egerton (the Kingsman movies), Jamie Foxx (Baby Driver, The Soloist) Ben Mendelsohn (Rogue One: A Star Wars Story), Eve Hewson (Puzzle), and Jamie Dornan ("The Fall", Fifty Shades of Grey), Director Otto Bathurst ("Black Mirror") has created a very different Robin Hood movie than we've seen before — with mixed results.
Robin Hood's New Nottingham
There's not much talk of England, King Richard or King John in this new Robin Hood movie. If you didn't know it, Nottingham could be a city anywhere in the world. And it must not be the actual Nottingham in England because that city is land-locked, and in Robin Hood (2018), Nottingham has a port. There's also a filthy mine where the poor (pretty much the entire population of Nottingham) are forced to live now that the Sheriff of Nottingham (Mendelsohn) has taxed them into below poverty levels.
You see, this Robin Hood movie has a more industrial feel to it. The beautiful forest that the band of Merry Men and Friar Tuck should be hiding in does not exist. And Maid Marian (Hewson), or just Marian here, isn't chilling in a castle. Instead, the city is the main backdrop, with its hodgepodge of architectural styles that make you question whether the castle fits in with the greek buildings and Asian-influenced rooftops.
Making sense of it is pointless, but you can enjoy the artistry behind the sets, fantastic lighting possibilities they create, and how well they work during the action sequences. And the action does not disappoint in Robin Hood with the horse and carriage races, fast-paced archery, and a score that keeps the tempo perfectly.
How does Nottingham become such a ruined state for its people and Robin of Loxley (Egerton) become the hero this time around? The draft.
The Crusades and the Draft
When the first mention of the draft during the crusades occurred in Robin Hood, I scoffed at the use of this myth. In retrospect, it's effective since Robin of Loxley does not have the disposition to sign up on his own accord.
Robin and Marian are very much in love and living a great life in Nottingham when the Sheriff drafts him. Off to Arabia Robin goes for four years and when he returns things have changed. Marian has moved on (for good reason) and the evil Sheriff of Nottingham is up to no good with a Cardinal (F. Murray Abraham from Isle of Dogs). Robin blames the Sheriff for ruining his life, and thanks to his compassionate manner that we are shown in traumatic fashion while he's in Arabia, Robin has help to get even in Jamie Foxx's stowaway Little John (that's not his real name, but it's easier to say than his native tongue version).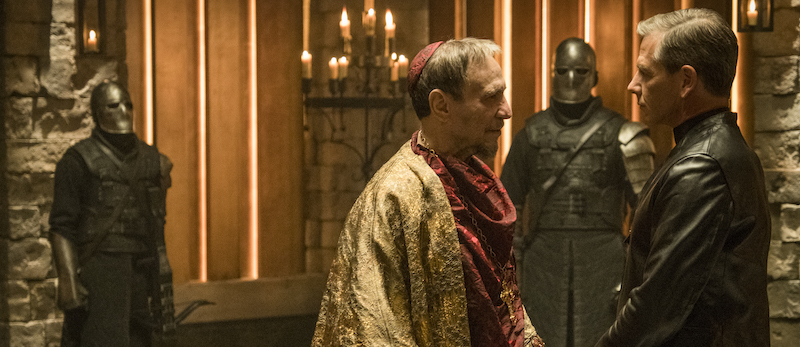 Robin and Little John hatch a plan to steal from the Sheriff and help the people. The use of a street weapon is going to help, so will Little John's ability to train Robin to be a quick shot. Things get a tad complicated, obviously, but Robin manages to become a hero to the people, known as The Hood. Their version of graffiti support is to tack hoods up all over the town. The Sheriff of Nottingham doesn't like that. But, he does like Robin of Loxley when he's pretending to support his vile doings.
As for the Merry Men, they don't exist. In an attempt to modernize the Robin Hood legend, Marian and her partner Will Scarlet (Dornan) are trying to change the system through political means. It's not working, but Will believes it can. That's a mistake because The Hood has a much more effective strategy by stealing and pissing off the sheriff — people love that a lot more than simple chatter, especially when who The Hood is remains a mystery to them. Eventually, though, The Hood and the people do have to work together to make Nottingham a better place for everyone. And that's where Robin Hood fails its audience.
Third Act Disappointments and Confusion
I thoroughly enjoyed Robin Hood until the last 10 minutes, give or take. The story took liberties and made changes to the legend that I found to be re-energizing a very familiar story. I don't need to see men hiding in a forest again or a woman who needs saving in a tower.
The film is also packed full of action which helps you ignore questionable plot points. And Egerton and Foxx make a great pair who aren't wholly serious. The comedic undertones in Robin Hood stand out, lending a lighter touch to a serious affair. Then there's Mendelsohn's Sheriff of Nottingham who is very easy to despise, especially with his fear mongering approach to gaining support.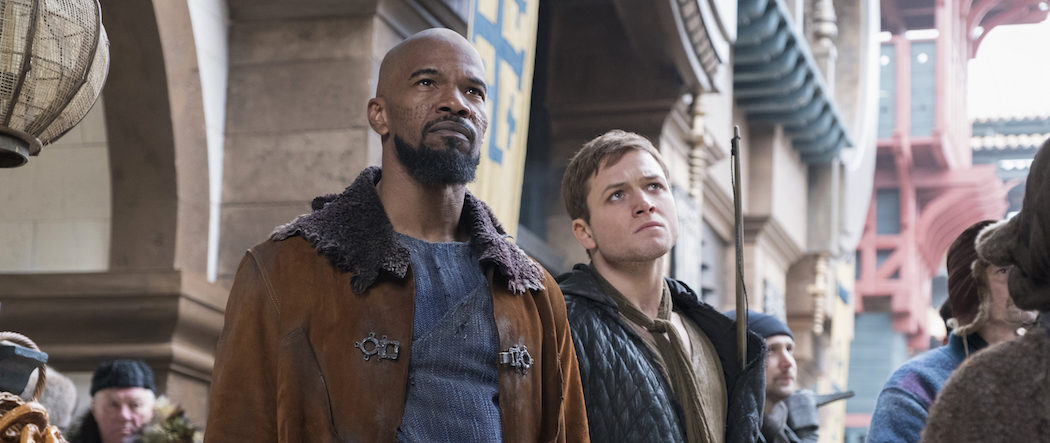 For all of these positives in Robin Hood, screenwriters Ben Chandler and David James Kelly didn't stick the ending. A rebellion is going to occur — that's no spoiler — but the result of said rebellion makes absolutely no sense. The people rise up, gold is stolen, and then … succeed in overthrowing the evil sheriff by exposing his treachery? Fail? Decide to go live in the forest with oodles of gold and furniture? Take down the sheriff and cardinal and live happily ever after? Get rid of one sheriff for another, who is worse? All of the above? Robin Hood doesn't have a cohesive ending and any or none of the aforementioned questions may be answered. You'll just have to guess what the hell happened (I know I did).
Exactly what happened and why remains a huge question mark. It's not enough, though, for me to suggest you avoid Robin Hood altogether. It is quite fun until the final minutes when it tries to develop sequel material instead of wrapping up what it started with a proper explanation. Perhaps you should just duck out early, say when Will gets really pissed off (you'll know it when you see it).