Synopsis: The Rebellion makes a risky move to steal the plans to the Death Star, setting up the epic saga to follow.
Release Date: December 16, 2016     MPAA Rating: PG-13
Genre(s): Action, Adventure
Film Review

Rogue One: A Star Wars Story tells a story that no one needed to see told, with characters no one knew existed. It expands upon details from the original Star Wars trilogy to help bridge the gap between Episodes III and IV, and in a way that feels unnecessary. When Episode IV: A New Hope first released, it was meant to be a small snapshot of a universe that clearly had a lot going on in the periphery. The success of New Hope fueled three sequels, and eventually three prequels, but at the time, Episode IV was its own self-contained thing. Now that Rogue One exists, however, there is more to the story, for better or worse.
On the better side, Rogue One introduces a diverse cast of characters that fits in our modern cinematic landscape. Jyn Erso (Felicity Jones) is a strong heroine whose motivations are loosely defined and who has no interest in joining the Rebel alliance. However, when she receives word from her father (Mads Mikkelsen) about a weakness in the Empire's new superweapon, the Death Star, she is unwillingly thrust into a critical juncture and into an unlikely partnership with Cassian Andor (Diego Luna), a dedicated Rebel who uses less than admirable means to achieve his goals.
At its most basic, Rogue One seeks to explain how the Rebels got the plans for the Death Star and why the superweapon has such a peculiar vulnerability. But when you flesh that out, the first Star Wars spin-off becomes a tale about the agents of soldiers of these intergalactic conflicts – the people who don't use the Force and can't wield lightsabers. That in itself is intriguing about Rogue One and makes it a film well worth seeing. Admittedly, the film is very clunky in the first two acts, as it tries to build towards a well-defined and exciting finale, but those shortcomings are easy to overlook because Rogue One offers such a unique perspective of the Star Wars universe. All the iconography is there – from Stormtroopers to AT-ATs to diverse alien species – but everything is shot in a way that makes it feel fresh and new. The high gloss and the "money shots" are traded for a gritty realism that fits the tone of the story.
And by the time Rogue One reaches its incredible third act, few will remember how clunky it was to start. Questions of Jyn Erso's evolution from ambivalent bystander to active bystander will have faded away, and an epic battle between a small band of Rebels and the dominating Empire will have taken their place. Truthfully, Rogue One has one of the most satisfying conclusions of any of the Star Wars films, and it melds so perfectly with Episode IV that it becomes an essential piece of the canon.
Could the film have done a better job of building towards its conclusion? Absolutely, but the destination helps eliminate many of the concerns about the journey. Rogue One also boasts some truly memorably characters, including Donnie Yen's Chirrut Imwe and the robot K-2SO (Alan Tudyk). All told, the film has all of the key components of a great Star Wars film, even if it also has its own stumbles. Luckily, Rogue One: A Star Wars Story sticks the landing, and will certainly have audiences cheering this holiday season.

The script in Rogue One is arguably its weakest element, having been passed over by several screenwriters during production. On the surface there is a fairly easy to follow storyline, but the subplots and tangential details don't coalesce quite as coherently as they should. There are characters whose motivations aren't very clear and villains that feel underserved in the grand scheme of things, but most of all Rogue One's momentum feels like it is driven by necessity and not by natural motion. It doesn't have that sense of exploration and discovery that makes the Star Wars universe so rich, but instead tries to hit the usual cinematic beats. To put it another way, Rogue One feels clunky, as if the writers started out with a goal in mind (get the Rebels the Death Star plans) and then started working backwards. Everything is much tighter at the end than it is in the beginning.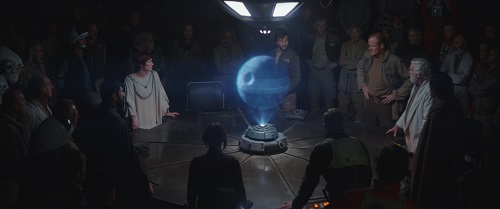 Moreover, it feels like Rogue One's script gets tripped up in attempts to tie back into the original trilogy, but the end result is a film that's littered with clunky references and callbacks. Some of them are fun, a few are even exciting, but overall the film works best when it operates on its own terms. It also has a strong cast of characters, who are all likeable and make the journey worth experiencing. This is a case where the side characters are more memorable than the leads, but that works for Rogue One, because the stakes are so high. This is a film about the small contributions, and therefore the smaller players make a bigger impact.

Rogue One remedies any complaints fans may have had about Episode VII and its lack of space battles. The film boasts everything that fans are looking for and then some, and it is shot in such a way that is compelling and engaging. You connect with the conflict so much more because director Gareth Edwards knows how to put his audience right into the center of it all. The film truly lives up to the epic billing of its franchise and has a third act that is mesmerizing. Star Wars may be a sci-fi franchise that's built on lore and character, but the action in Rogue One has set a new bar moving forward.
Cast and Crew
Director(s): Gareth Edwards
Producer(s): Simon EmanuelKathleen KennedyAllison Shearmur
Screenwriter(s): Chris WeitzTony GilroyJohn Knoll
Story: Gary Whitta
Cast: Felicity Jones (Jyn Erso)Diego Luna (Cassian Andor)Alan Tudyk (K-2SO) Donnie Yen (Chirrut Îmwe)Wen Jiang (Baze Malbus)Ben Mendelsohn (Orson Krennic)Forest Whitaker (Saw Gerrera)Riz Ahmed (Bodhi Rook)Mads Mikkelsen (Galen Erso)Jimmy Smits (Bail Organa)Genevieve O'Reilly (Mon Mothma)James Earl Jones (Darth Vader – Voice)
Editor(s): John Gilroy
Cinematographer: Greig Fraser
Production Designer(s): Neil Lamont
Costume Designer: David Crossman
Casting Director(s): Jina Jay
Music Score: Michael Giacchino
Music Performed By: 
Country Of Origin: USA