When people think about B-movie producers, the names that come to mind are usually Roger Corman, William Castle, maybe even Ed Wood. A good decade before those guys, however, there was Val Lewton, who owned the 1940s with movies like I Walked with a Zombie and The Ghost Ship, as well as his trio of Boris Karloff collaborations that included The Body Snatcher, Isle of the Dead, and Bedlam. Arguably his best movie is his first, the 1942 creepy classic Cat People.
Cat People is about a fashion designer named Irena Dubrovna (Simone Simon from The Devil and Daniel Webster) who hails from a village in Serbia which is rumored to be occupied by practicing witches. When Irene meets Oliver Reed (Kent Smith from "Peyton Place"), she falls in love with him, but is afraid that she will hurt him if her passion rises too high, so she refuses to have sex with him. They marry anyway, and Oliver sends Irena to see a psychiatrist named Dr. Louis Judd (The She-Creature's Tom Conway) who discovers that she is a descendant of a race of women who would turn themselves into ferocious cats when they feel threatened. This revelation does not bode well for Oliver, who learns that the beautiful co-worker to whom he has been confiding his marital problems, Alice Moore (Jane Randolph from Abbott and Costello Meet Frankenstein), is in love with him, and he reciprocates her feelings. Oliver and Alice must tread lightly, as the jealous Irena now knows her powerful family lineage.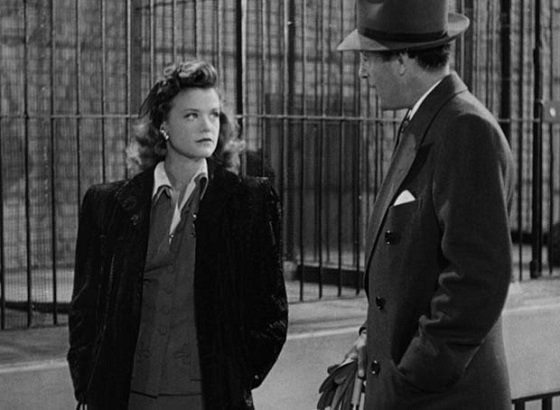 For Cat People, Val Lewton tapped Jacques Tourneur ( I Walked with a Zombie, Curse of the Demon) to direct the DeWitt Bodeen (I Remember Mama) screenplay. The movie was financed by RKO Pictures, who seemed to have buyer's remorse over both Lewton and Tourneur from the get-go, but were desperate to gain a share of the American horror market that Universal had owned in the thirties. Cat People was a more subtle brand of horror than Universal-bred audiences were used to, and that panicked the studio. The Wolf Man had been released the year before, and RKO probably wanted a lycanthropic clone, but instead, they got a crafty noir-horror thriller.
Val Lewton's movies constantly walked the line between horrifying and campy, and Cat People is a perfect example. The film is full of wild, melodramatic acting and silly, on-the-nose dialogue, and the viewer can't help but laugh at the violent reactions that cats everywhere have towards Irena. But, later on in the movie, Lewton and Tourneur craft a terrifying pool scene (think The Legacy meets It Follows) that lets the viewer know that, B-movie or not, Cat People is out to scare them. From hilarious to horrifying, it's all part of Val Lewton's lunacy.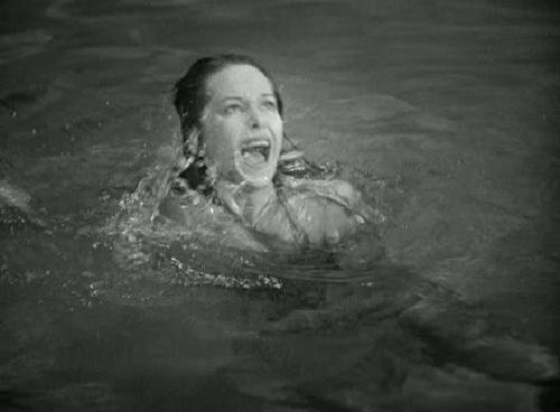 One of the trademarks of Lewton's nuttiness was his mastery of the false, or Red Herring, scare that became so prominent in both classic and modern horror movies alike. There's a scene in Cat People that illustrates this beautifully; Irena is following Alice down the street, the tension so thick that the audience can practically taste it, but the payoff comes with the sound of air brakes on a bus, a sound that is eerily close to the hissing of a panther. It's the ultimate "cat scare." It actually is known in film circles as the "Lewton Bus," and the same general technique is used by student filmmakers as well as big-name Hollywood directors everywhere.
Cat People was shot by cinematographer Nicholas Musuraca (Out of the Past, The Ghost Ship) with a very overtly film noir look, almost to the point of parodying the style. The shadows are long and deep, seemingly occupying every corner of every set piece. The high-contrast lighting serves a functional purpose as well; the low-budget special effects are masked by the creeping darkness, making them not only look more professional, but freakier as well.
Keeping in the same vein as the photography, the musical soundtrack to Cat People sounds more like the theme to a hard-boiled murder mystery than a horror flick. Composed by Roy Webb (The Leopard Man, I Married a Witch), the score for Cat People is totally an RKO Pictures score – subtle yet magnificent, with blasting horns as well as moody strings. It's a typical old Hollywood film score, and it gets the job done, even if it's not going to inspire any nightmares.
Val Lewton passed away in 1951, shortly after the decade in which he dominated the horror world came to a close. As for Cat People, it was updated in 1982 with Nastassja Kinski in the lead role. The remake is a suitable modernization, but the original Cat People has the Val Lewton stamp of approval.