Synopsis: Nat Turner, a literate slave and preacher in the antebellum South, orchestrates an uprising.
Release Date: October 7, 2016     MPAA Rating: PG-13
Genre(s): Biography, Drama
Film Review

The Birth of a Nation is easily the most poignant film to release this year, and yet somehow, its execution struggles to meet the prominence of its message. Tackling Nat Turner's Rebellion of the earlier 19th century, the film may be a history lesson centered on an very oft-overlooked time period in our country's history, but its core themes and messages are just as prescient today. It's for that very reason that The Birth of a Nation is worth seeing. Writer/Director/Lead Actor Nate Parker may get so bogged down in the symbolism and the grandeur of his film's message that he struggles to hit all the important elements of compelling cinema, but he still finds a way to get the major point across. And that point is that nearly 200 years may have passed, but not much has changed regarding relations between whites and African Americans.
At the center of The Birth of a Nation is Nat Turner (Parker), a slave on the Turner farm whose literacy helps him develop a love for scripture. Over time, Nat becomes a preacher, helping lead prayer for all of the slaves in his community and eventually he is used as a tool, meant to "inspire" the slaves on other farms. However, even as the white slave owners turn to Nat for help, it's clear that he is still as subservient as any other slave, and the horrific acts he bears witness to are hard to describe, but no less accurate. As one might expect, Nat's religious leaning soon gives way to more aggressive thoughts, and eventually, an all-out rebellion.
It's hard to say what in The Birth of a Nation is fact or fiction, but Parker's vision as a writer and director is clear. His focus is on showing slavery in its ugliest of forms, highlighting any and every horrific act that could be committed on black men, women, and children. At times he becomes too bogged down in trying to shock that he forgets to build characters and give the film a strong plot, but he puts a lot of stock into giving this particular story in history its due. He hits all the important beats in terms of history, and falters when it comes to the more cinematic aims.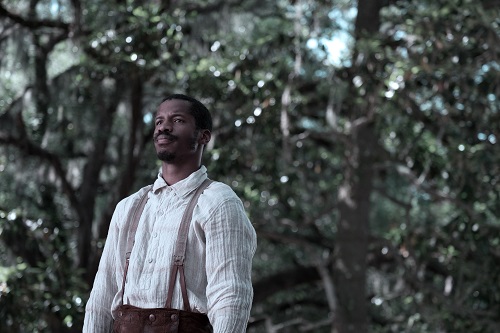 As Nat Turner, Parker puts himself front and center and makes sure that the audiences are well familiar with his upbringing, his development, and his family life. At times, it may feel like too much attention is paid towards Nat and not enough is given to set up any of the individuals around Nat, which makes it hard to connect with the film as a whole. Nat may be the catalyst for the rebellion, but he is not the only one affected or inspired by it. Needless to say, it would have been nice to see more of the other rebellion members' stories fleshed out a little more.
Visually, Parker's camera is unflinching, never cutting around the atrocities that happen in nearly every scene. He captures the essence of 19th century Virginia as well as can be expected, from its endless cotton fields to its intimidating forests. For a film that is billed as an indie, The Birth of a Nation could have come across as cheap, but its design is anything but.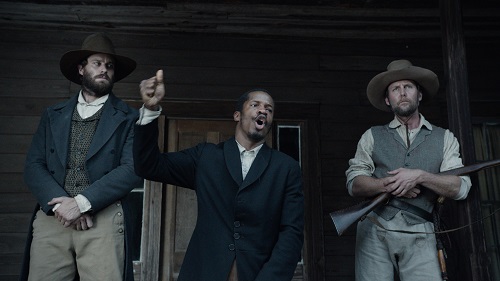 With a little more focus on developing its characters and fine-tuning its plot, The Birth of a Nation could have been one of the most important films of this generation. As it stands, the film is an easy recommendation for the way it mirrors society today, but it can be a bit heavy handed and gets too caught up in that messaging. Thankfully, Nate Parker leads the ship with confidence and his Nat Turner is mesmerizing. The film is by no means an easy watch, but it stands as a reminder of how much and how little progress has been made in our culture.
Cast and Crew
Director(s): Nate Parker
Producer(s): Jason Michael BermanAaron L. GilbertPreston L. HolmesNate ParkerKevin Turen
Screenwriter(s): Nate ParkerJean McGianni Celestin
Story: 
Cast: Nate Parker (Nat Turner)Armie Hammer (Samuel Turner)Mark Boone Junior (Reverend Walthall) Colman Domingo (Hark)Aunjanue Ellis (Nancy Turner)Dwight Henry (Isaac Turner)Aja Naomi King (Cherry)Esther Scott (Bridget Turner)Roger Guenveur Smith (Isaiah)Gabrielle Union (Esther)Penelope Ann Miller (Elizabeth Turner)Jackie Earle Haley (Raymond Cobb)
Editor(s): Steven Rosenblum
Cinematographer: Elliot Davis
Production Designer(s):
Costume Designer: Francine Jamison-Tanchuck
Casting Director(s): Andrea CravenCraig FincannonLisa Mae Fincannon
Music Score: Henry Jackman
Music Performed By: 
Country Of Origin: USA