The Greatness of Roma Is Found in the Emotional Connection
A strong impeccable script and skill of Director Alfonso Cuarón make Roma a great film that shouldn't surprise anyone if it sweeps at the Academy Awards.
The landscape of the film industry is changing rapidly with the advent of streaming platforms like Netflix, known for its vast collection of binge-worthy TV shows and more than a few films. When Netflix started to bring forth original content, people were curious about the strength of the shows as well as the longevity of the series. Now, years later and moving forward not only with series but also original films, Netflix has established itself as one of the leading names in entertainment production.
Even with this reputation, Netflix original films are often met with skepticism as to the quality of their content. With the release of Alfonso Cuarón's Roma and its domination on the awards circuit, most recently securing Best Feature Film from the Directors Guild of America, it is clear that those days are gone. (If you have not seen the film, please stop now and watch it because what follows may teeter into spoiler territory.)
Roma is not Cuarón's first film, for example, he won the Best Director Oscar for Gravity, but Roma may be his most memorable movie so far. As writer and director, Cuarón's Roma follows Cleo, a full-time maid living in Mexico City and working for a middle-class family in the '70s. The story is marked by little in the way of heavy plot points, but instead the plot is driven by the characters own development, and the relationships they develop around them, as well as the relationships they leave behind.
We see Cleo living in Mexico City in the 1970s, during a time of political and cultural turmoil. Cleo develops a budding romance and finds herself pregnant, which causes her lover and father of her child, Fermin, to abandon her. She continues to carry the child with the support of her employer Sofia, and her family. The secondary plot of Roma follows Sofia and her husband's dissolving marriage and her attempts to keep this from her children. Much of the film contrasts the story of the two women and often involves the plight of Sofia's car which is too large to fit in their driveway (which is much more interesting and funnier than it seems).
Roma in Black and White Paints a More Intimate Picture
Roma plays like a memory, which is appropriate as the film is a semi-autobiographical take on Cuarón's own upbringing in Mexico. The film is completely in black and white, which lends to the classic idea of memory it has. Being in black and white really helps to provide a more significant emotional impact for the movie; without the colorful backdrop of Mexico behind it, the audience is allowed a more intimate look into the emotion of the scene. This plays throughout the film in every scene with no exception.
When we see Fermin practicing his martial arts, using a curtain rod like a staff in his demonstration, the black and white colorscape allows for no distraction from the raw intensity of the routine, even adding to the humor in the surrealness of the scene. Without color, we are allowed to see what is really happening.
Roma Provides Satisfying Symbolism, Not Overt Expectations
The biggest triumph of Roma is in its unapologetic use of symbolism. Almost every film ever made is rife with symbolism, often times more heavy-handed than it needs to be. Still, movie fans leave films discussing what certain parts meant, or what it all could signify to the world around us. Roma is no stranger to symbolism but does so in ways that are clearer in practice, which allows for a more satisfying viewing.
The best example of this is the family car which Sofia must learn to drive safely after her husband leaves. We see her constantly attempting to pull the large car, a Galaxie to be specific, into the driveway over and over, constantly scraping the sides of the car on the walls while attempting to bring it in. We also see her tear up the sides of said car while trying to fit between two trucks on the road. The constant struggle with the car is a part of the growth of the family.
Then at the end of the film, we see Sofia, having pulled her family together in the wake of a divorce, pull smoothly into her driveway in a smaller car – one that is right for her home. This overt symbolism is so satisfying to watch because it is funny; it's a lighthearted way to look at a family and a mother's internal strife.
The struggle of the car runs as a lighthearted version of the struggle Cleo faces throughout Roma with her unwanted pregnancy. Both Sofia and Cleo are abandoned by the men in their lives that they loved, left with children they struggle to provide for and are trying to find their own way independently. Cleo continuously seeks out Fermin for help, and when she finally catches him, he threatens her life. She soon sees him again during a riot where he holds a gun to her and then leaves her for a final time, after which her water breaks and she gives birth to a stillborn baby girl.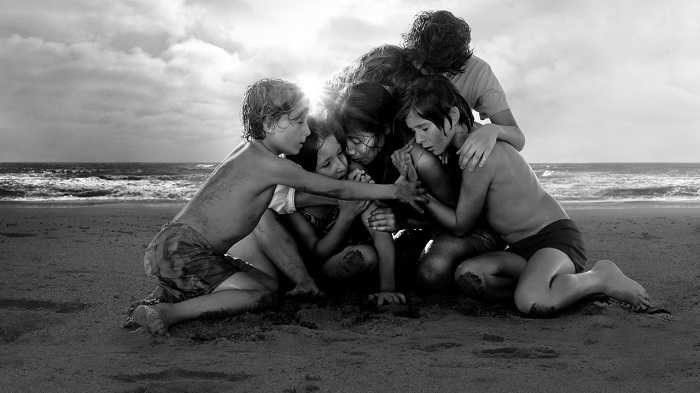 Then, when Cleo takes a trip to the beach with the family, she wades into the water even though she can't swim to save two of the children in the family, after which the family embraces her and tell her they love her. This is her version of a smaller car; she is given the love she deserves from the family she truly is a part of. She has found the space she fits in.
Roma, a Netflix Film Worthy of Awards
Roma is a film that has made waves for being honest and garnered attention for being great. It deserves it. The strength in its writing is impeccable, and Cuarón has demonstrated the value of mining your own experience for a good story. Roma is a great film because it is real, and it allows us all to connect with it in an emotional way, which is what a great film should do.