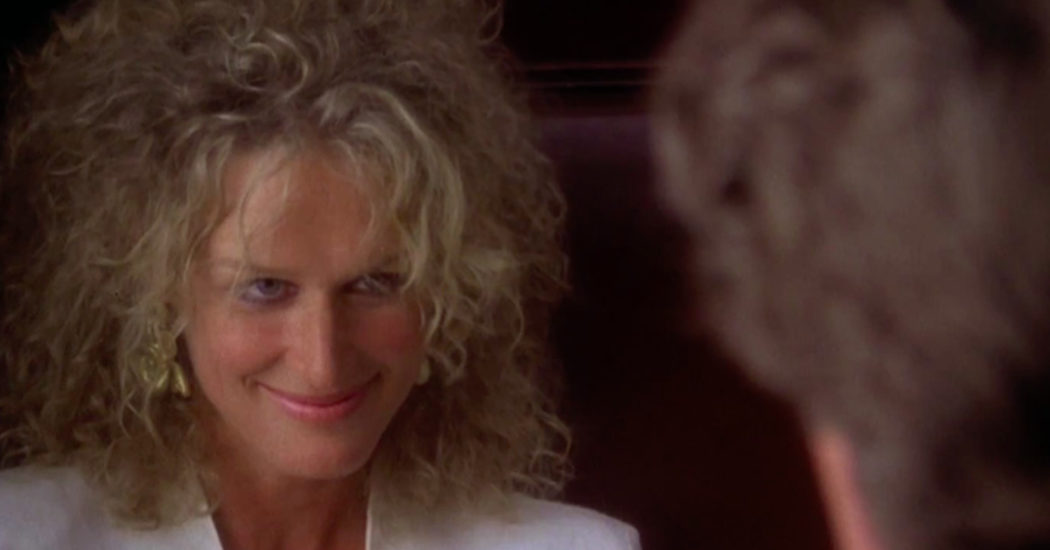 Cinema Fearité presents 'Fatal Attraction'
Erotic stalker flick 'Fatal Attraction' will make you rethink cheating (and owning a bunny).

Not long ago, Cinema Fearité dug into the phenomenon of "Oscar Horror" when we took a look at The Silence of the Lambs.  Although that movie may be the best example of a modern horror movie going mainstream for the Academy Awards, it certainly isn't the only one, and we're not talking about The Shape of Water.  Four short years before The Silence of the Lambs brought home the Big Five, Fatal Attraction earned a slew of Oscar nominations of its own.
Fatal Attraction is about a corporate lawyer named Dan Gallagher (Michael Douglas from Falling Down and The Game) who lives a seemingly idyllic life with his wife, Beth (Too Scared to Scream's Anne Archer), and daughter, Ellen (Ellen Latzen from National Lampoon's Christmas Vacation).  At a company party, he meets a mysterious woman named Alex Forrest (Glenn Close from The Big Chill and Guardians of the Galaxy) who works as an editor at a publishing house that his firm represents.  The pair falls into a passionate two-day affair, but Dan soon comes to his senses and breaks it off.  Alex does not take rejection well, and begins to stalk Dan and his family, resorting to blackmail and extortion in an unhinged attempt to win him back.
The screenplay for Fatal Attraction was written by James Dearden (A Kiss Before Dying), adapted from a short film that he had made in 1980 called Diversion (if you can call a 50 minute film "short").  Director Adrian Lyne (Jacob's Ladder, Flashdance) was fresh off of making the erotic romance 9 ½ Weeks, so he was the perfect director to bring Dearden's sexually charged shocker to life.  Essentially, Fatal Attraction is a pulp movie, but it's a very well made pulp movie, and both critics and audiences loved it.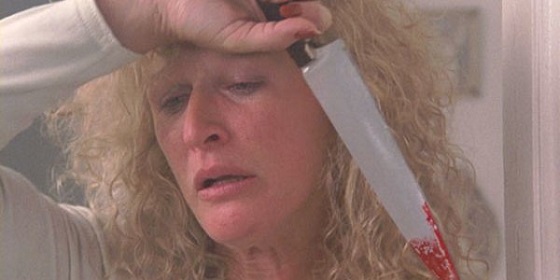 Preproduction on Fatal Attraction was fraught with indecision, almost from the point when Dearden's screenplay was given the green light.  Most of the uncertainty revolved around the role of Alex Forrest, as a who's-who-in-Hollywood list of actresses was considered for the role that included famous names such as Sharon Stone, Elisabeth Shue, Barbara Hershey, Miranda Richardson, Debra Winger, Susan Sarandon, and Meryl Streep before the role was finally – and reluctantly – awarded to Glenn Close.  The role of Dan Gallagher did not always belong to Michael Douglas, either, as actors like Robert De Niro, Harrison Ford, Jack Nicholson, Al Pacino, John Travolta, and even O.J. Simpson were considered.  Even the director's chair was contested, as the film reportedly went through more than twenty candidates, including Brian De Palma and John Carpenter, before it was offered to Adrian Lyne.  In the end, though, a dream team was assembled to make the movie.
And that team was rewarded when Oscar season came around, as Fatal Attraction found itself with no fewer than six nominations, including Best Picture, Best Director, and Best Adapted Screenplay.  Glenn Close and Anne Archer were both nominated for their performances (Michael Douglas would actually win Best Actor that year, but for Wall Street – what a 1987 he had!).  Although it didn't bring home any statuettes, the fact that Fatal Attraction was nominated for any Academy Awards at all was an impressive feat, considering that the film is basically a glorified slasher movie (albeit one with a desperately low body count).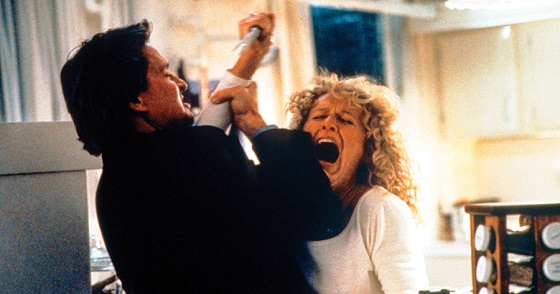 That low body count does not mean that Fatal Attraction is not a shocking movie.  Alex Forrest is a horrifying villain, and Glenn Close plays her with the perfect combination of psychopathy and reason.  The character has been used as a textbook example of borderline personality disorder in psychology classes, and Close's performance earned her character the number seven spot on AFI's 100 years…100 heroes and villains list.  One scene in particular is legendary in its morbidity; it involves little Ellen's pet rabbit, the vengeful Alex, and a boiling pot of water (animal lovers should close their eyes during this scene).  Because of Alex Forrest, Fatal Attraction became a powerful cautionary tale for men everywhere – quite simply, the moral of the story is "don't cheat."
One of the Academy Award nominations that was earned by Fatal Attraction was for its editing, and that nod was well deserved.  Editors Peter E. Berger (Mommie Dearest, Staying Alive) and Michael Kahn (who cut everything from Raiders of the Lost Ark and Close Encounters of the Third Kind to The Post and Ready Player One for Steven Spielberg) masterfully ramp up the suspense through ingenious use of parallel storytelling.  The best example of this is a scene late in the movie where Alex picks up little Ellen from school and takes the child to an amusement park.  Beth arrives at the school just after they've left, and frantically searches for the girl and her abductor.  Meanwhile, Alex takes Ellen on a rollercoaster.  Berger and Kahn switch between the Alex and Ellen's rollercoaster ride and Beth's panicked driving, forcing the audience to wonder what will happen with each cut.  Will Alex stage an accident on the coaster?  Will the inconsolable Beth wreck her car as she recklessly looks for her child?  The audience only has to keep their eyes open to find out.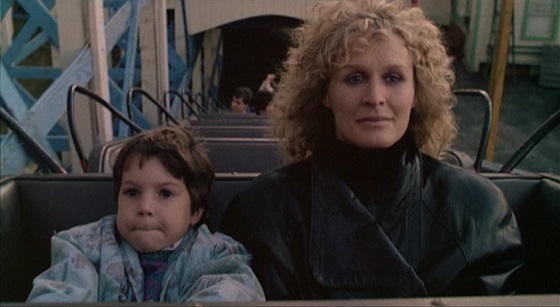 One of the most fascinating things that Fatal Attraction does is turn an unlikeable character into a protagonist.  For all intents and purposes, Dan is a jerk, putting his marriage and family life in jeopardy by giving in to his carnal desires.  But, as bad as Dan is, Alex is worse, with her methodical stalking and maniacal scheming.  When Dan is fully under Alex's thumb, the audience almost feels sorry for him, even though his situation is completely of his own doing.  That's the power of the performances of both Michael Douglas and Glenn Close.  Douglas makes an unsympathetic character sympathetic, while Close makes the audience hate a character that, by all accounts, has little control over her own actions.
There are two endings to Fatal Attraction; a second, more heroic ending was shot when the original ending played poorly at test screenings.  The original ending had Alex committing suicide and framing Dan for the crime, a conclusion that is not only bleaker, but is foreshadowed by the movie's obsession with the Puccini opera Madam Butterfly.  The new ending is more "Hollywood," following through with a traditional comeuppance arc.  The second ending got audiences cheering, but the original is more believable, for what that's worth.
Even though Fatal Attraction didn't win any Academy Awards, it still pioneered its own subgenre of erotic stalker thrillers that would continue well into the nineties with movies like Basic Instinct (also starring Michael Douglas), Single White Female, and Body Chemistry.  And it taught an entire generation of husbands to be faithful to their wives.