Anytime a new technology is introduced into the popular culture, a horror movie will come along to exploit it and make people afraid. Cinema Fearité has already covered this phenomenon with TerrorVision's treatment of cable television and Videodrome's take on home video. Modern movies have explored the darker side of personal computers in films like Cry_Wolf and Smiley. Computers were a target of horror movies well before the 21st century, however; in 1981, when home computers will still relatively new, Evilspeak was there to make them scary.
Evilspeak begins in the Dark Ages with a Satanic priest named Father Esteban (Richard Moll from "Night Court" and Night Train to Terror) being excommunicated from the Catholic Church in Spain. Father Esteban and his followers respond by holding a ritual, complete with the beheading sacrifice of a young woman. Fast forward to present day, where a cadet named Stanley Coopersmith (the legendary Clint Howard, brother of Ron Howard and star of cult films like Carnosaur and The Wraith) at the West Andover Military Academy is being constantly bullied by his classmates. While cleaning out the basement of the school chapel, Coopersmith finds Father Esteban's diary. He takes it, and uses his computer to translate the pages, discovering that the book is full of all of Father Esteban's black magic spells. With the continued aid of his computer, Coopersmith learns how to use Father Esteban's writings to exact revenge on his tormentors, but Father Esteban's spirit is awakened, and wants something in return from Stanley Coopersmith.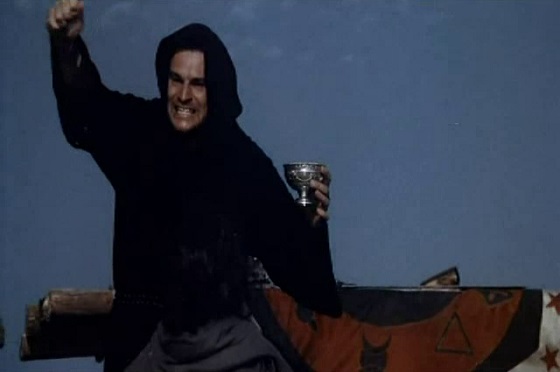 Evilspeak was directed by Eric Weston (Hyenas) from a screenplay written by him and Joseph Garofalo (Shaker Run). Like most eighties horror films, Evilspeak is incredibly dated, from the Adidas soccer uniforms that the cadets wear during their recreation time to the Apple II computer that Coopersmith uses to translate his spells and summon his demons. To a modern viewer, the film is not particularly scary, but it serves as a cool little time capsule of a simpler time. And it's a lot of fun to watch.
In its time, Evilspeak was a controversial film, even ending up on the British list of Video Nasties that were considered too indecent for public consumption. Although it has its share of blood and guts, the reason that Evilspeak was persecuted was due to its graphic depiction of Satanism. Even the founder of the Church of Satan, the late Anton LaVey, claimed to enjoy the film and its sacrilegious messaging. Although it seems tame by today's standards, Evilspeak was thought to be a very "evil" film in its day.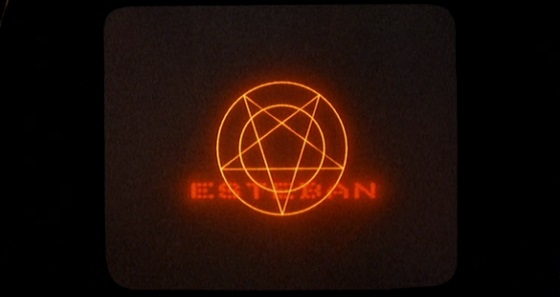 The centerpiece of Evilspeak is a highly effective performance by Clint Howard. By the time he made Evilspeak, Howard was already a seasoned professional actor, with tons of television work that included high-profile roles on "Gentle Ben" and "The Andy Griffith Show." Howard's distinct look and underdog charm makes his portrayal of the bullied Stanley Coopersmith a near-perfect nerd performance. In addition to Howard and Richard Moll, there are a handful of other notable actors in the film; Don Stark ("That '70s Show") plays one of Coopersmith's tormentors, Haywood Nelson ("What's Happening!!") appears as Coopersmith's only friend, and Charles Tyner (Harold and Maude, The Longest Yard) shows up as the Colonel at the Academy. There may not be any household names in Evilspeak, but there are a lot of familiar faces.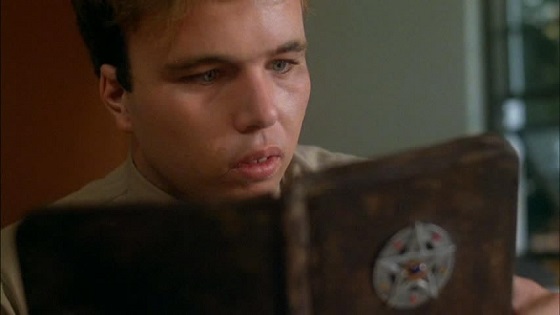 The other cornerstone of Evilspeak is its awesome visual effects. The special makeup effects were designed and executed by Allan Apone and his team at Makeup & Effects Laboratories (MEL for short, also responsible for the effects in films like Friday the 13th Part III and Deadly Eyes), and they include everything from beheadings to disembowelments. The climactic scene is a movie in itself, featuring plenty of pyrotechnic and explosion effects by Harry Woolman (The Incredible Melting Man) and John Carter (Hanger 18). The final showdown even features Clint Howard channeling Father Esteban through a neat in-camera projection effect and levitating through a burning church, sword in hand. So, maybe there was some validity to Evilspeak's Satanism controversy. Nevertheless, the special effects in Evilspeak are one of the stars of the show.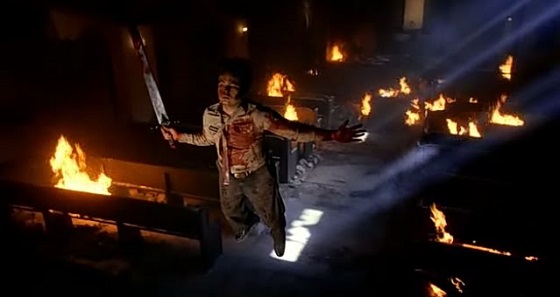 The musical score for Evilspeak was composed by Roger Kellaway (The Silent Scream, The Dark), and is a curious but effective hybrid of styles. The opening scene, where Father Esteban is being cast away from the church, features Gregorian Chant-style pieces that emphasize the religious aspects of the scene. The spiritual hymn motifs continue throughout the movie, but are augmented by the typical eighties synthesizers that are present in most horror movies of the period. The resulting score is a fascinatingly creepy blend of ancient and modern musicality that fits in perfectly with the thematic content in Evilspeak.
Now that there's a computer in just about every home, the general public knows that they can't summon demonic forces with simply a mouse and keyboard. But that's part of what makes eighties horror movies so much fun: the baseless paranoia. As for exploiting the unfamiliarity of technology, few movies did it better than Evilspeak.