The stuffy, bourgeois lifestyle in England was quite the opposite life Christopher Isherwood desired to have as a young man.  In Berlin things would be different for the published author, who was a homosexual during a time where such a lifestyle choice had to be hidden at all costs.  Christopher and His Kind tells the story of Christopher's time in Berlin.  A time of great freedom and passion with the rent boys, of fanciful and daring conservations with the sensational and heartbreaking Sally Bowles; and the first glimpse of real love in a time of great fear and anxiety as the Nazi command begins.
Christopher and His Kind played out on screen like a made-for-television film.  Everything screamed from start to finish, "I belong on the small screen!".  It was not surprising then when I read about the making of the film that it was indeed made for British television.  Does this make it a poorer film?  No, not exactly.  It does make it all seem more logical in how the melodramatic moments are a tad heightened, the music swells at key moments before cutting to another scene (cue commercial break or next installment coming tomorrow moment), as well as the small-scale production design.  While I found the overall effect of the film to be a tad forgettable, it was an entertaining movie to watch and the importance of the subject matter buried beneath the life story of Christopher Isherwood is something of great importance.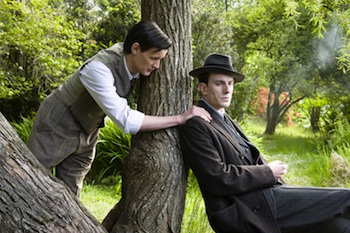 As noted above, Christopher Isherwood was a gay man in the 1930s.  For anyone familiar with gay rights they were not made a public politic until over 30 years later, and remain to this day a taboo subject for many.  At a time in history where homosexual's are fighting for their right to marry, for their right to be equal citizens under every federal and state law in The United States of America, a film like Christopher and His Kind becomes something much greater than a dramatic adaptation of a book by an author who frolicked through Berlin for years, only to come into contact with a variety of interesting characters (who would make it into his novels to come) and great historic moments.
Christopher Isherwood lived a life that was threatened at every moment, having to meet men in tunnel bars, and not knowing whether his "outing" would be the death of him.  But these true statements about life as a gay man in the 1930s are not readily addressed in the film, and it suffers for this fact.  As I have not read the novel I cannot say whether the novel ("Christopher and His Kind" by Christopher Isherwood) touches upon these elements but by them not being included in the film it gives the sense of an easy carefree lifestyle for a gay man.  Something we, as viewer's who are aware of historical contexts and current politics, know to be an incorrect recollection of this time period.  The friends Christopher makes, and even his landlady who witnesses his late-night love affairs, are accepting and impervious to the lifestyle he leads.  Was Christopher Isherwood living in a complete bubble while in Berlin?  Hard to believe, but alas it is the impression given.
On the one partmisrepresents the gay struggle in the 1930s, and on the other part it portrays the accepting and loving nature of people to a gay man in the 1930s.  Quite a conundrum to deal with when deciding whether to love or loathe the film.  It must be loved and loathed for both.  For one, it shows the great accomplishments of a gay man during this time who would go on to publish many novels and become a great success in queer literature.  It can also be praised for not taking the "I'm gay and different" approach to romantic filmmaking.  Christopher's relationships are treated as any "straight" couples', and he experiences the ups and downs as they would.  The only complication, as it would ironically be, is when he tries to save his lover from the Nazi party by bringing him to England as a house worker for his family.  If Christopher had been allowed to marry him he could have remained with him through the war, but given their inability to marry or be seen as a couple, his lover is eventually sent back to Nazi Berlin.
You can fault Christopher and His Kind for the easiness it portrays to Christopher's life, and maybe his life was just this easy.  But it is difficult to simply enjoy a film such as this without the thoughts of the struggles, the politics, and the dangers that exist, and existed, for homosexuals.  Christopher always appears as a kind yet personally selfish man in the film, perhaps that goes to show even further when you consider his writing was all about him and not about the greater struggle of the larger population of those who shared his own type of lifestyle.
Synopsis:
In the 1930s, rising literary star Christopher Isherwood fled uptight England for the wilder shores of Berlin, and, as he famously wrote, "Berlin meant boys." In Geoffrey Sax's sumptuous, sexy and wonderfully cast adaptation of Isherwood's landmark memoir, you'll meet the future author of A Single Man (played by Doctor Who's Matt Smith); the young English singer who was the prototype for Cabaret's Sally Bowles; the rent boys and reprobates who fed off Berlin's decadent nightlife; and the working class boy he fell in love with and tried to save from the Nazis. Christopher and His Kind brings a glamourous and dangerous era to vivid life.
Credits:
(England, 2010, 100 mins)
North American Premiere
Directed By: Geoffrey Sax
Executive Producers: Michele Buck, Kevin Elyot, Damien Timmer, Rebecca Keane
Producer: Celia Duval
Screenwriter: Kevin Elyot
Cinematographer: Kieran McGuigan
Editor: Paul Knight
Cast: Matt, Smith, Imogen Poots, Toby Jones, Lindsay Duncan, Perry Millward
Music: Dominik Scherrer