Most horror movies are meant to be terrifying. Some, like Student Bodies or Saturday the 14th, are comedies first, going for laughs before scares. And then there are those movies which were made seriously, but wind up packed with unintentional laughs in addition to the thrills and chills. Night School is one of these films.
Night School takes place in a New England city where a serial killer is busy beheading young women. Police Lieutenant Judd Astin (Leonard Mann from Flowers in the Attic) and his partner, Taj (Joseph R. Sicari from Partners), figure out that the latest victim was a student at a local night school called Wendell College. Their investigation takes them to the campus, where they find themselves surrounded by suspects, such as the womanizing Professor Millett (Firestarter's Drew Snyder) and the creepy restaurant busboy Gary (Bill McCann, who was also in Mermaids), and potential victims, like Millett's live-in "assistant" Eleanor (The Final Terror's Rachel Ward) and the school headmistress Helene Griffin (Lift's Annette Miller). As the bodies – and heads – start to pile up, Judd and Taj race against the clock to catch the killer before he strikes again.
Night School was directed by Ken Hughes (Chitty Chitty Bang Bang, Of Human Bondage) from a screenplay that was written by Ruth Avergon (her only produced credit). Alternately known as Terror Eyes, The Eyes of Dread, and The Killer of the Night (and any territorial translations of such), the film is a fairly typical college slasher, even by the early standards of its 1981 release. It's full of gory kills, red herring leads, and has a surprise ending that packs a big punch.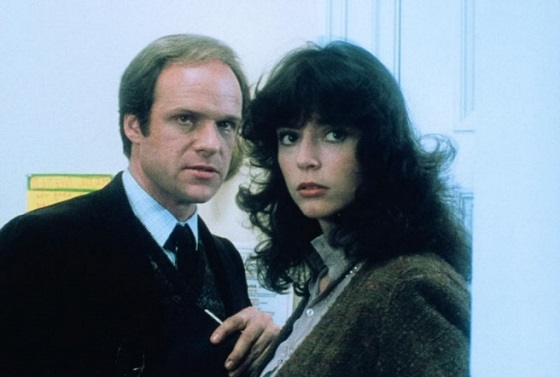 Most of the unintentional hilarity that exists within Night School is due to the overly melodramatic sense of suspense that the film builds up. The killer unnecessarily toys with his victims for extended periods of time, but instead of being a game of cat-and-mouse, it turns into a question of will-he-or-won't-he. The opening murder, for example, sees the killer spinning his victim around on a playground merry-go-round, holding his blade out at neck level and lifting it at the last second right as his prey spins past. It's nail-biting the first few times, but after a while, the viewer wonders if he's ever going to actually finish the kill. Victim discoveries in the film are similarly paced, with the audience being introduced to several false clues before the gruesome crimes are revealed. The long, drawn-out sequences are tense at first, but after a few minutes, the viewer loses patience and can only laugh at how long things are taking.
Of course, because Night School is a slasher movie, the kills are a lot of fun. The murderer dresses in all black and wears a motorcycle helmet, giving him an almost Darth Vader-esque look, the epitome of evil. He uses a long curved knife to do his beheadings, and he stalks his victims in typical slasher movie fashion. There are some cool bits that revolve around the discovery of the bodies, too; one in particular involves a head dropping down into an aquarium while curious onlookers' reactions go from confused to horrified. Serious scares or not, Night School has the slasher vibe down like it learned it from a textbook.
For such a strangely derivative movie, Night School is shot very well. Ken Hughes enlisted the help of experienced cinematographer Mark Irwin (who shot David Cronenberg's early classics like The Brood, Scanners and Videodrome) to bring the look of Night School to life. It's a fairly dark movie, but the colors jump off the screen, particularly during the kill scenes where bright red blood winds up everywhere. Irwin also uses his selective focus to emphasize what the audience should be seeing, whether it's a false flag clue or not. Irwin's photography plays with the viewer in the same way that the direction does, resulting in more of the unintentionally (or are they?) comic moments.
The score for Night School was composed by Brad Fiedel, who is better known as a keyboardist for Hall & Oates, but he also scored Fright Night, The Midnight Hour, and The Serpent and the Rainbow. The music is keyboard based, but not in the same synth-heavy way as most eighties slashers. There's an orchestral and cinematic feel to the soundtrack. It's obviously a movie score, and there's very little there in the vein of memorable melodies or passages, but it's great at communicating the tone and setting the mood for the film.
After a while, every oversaturated genre becomes a bit of a parody of itself. In the case of Night School, that shift happened years before the genre itself had even hit its stride. That doesn't mean it's not a fun movie to watch, though. Not by a long shot.