Greed, blackmail, sex, and…butter.  These are the four components that make-up Director Jim Field Smith's quirky movie aptly titled Butter.  Set in the oh-so-americana State of Iowa, where State Fairs do indeed still exist, there is the royal family of butter carvers, the Picklers.
Bob Pickler (Ty Burrell) has been the Iowa State champion of butter carvers for the past fifteen years, his crowning achievement's include 'The Last Supper' and 'T-Rex Eating Girl', plus the impressive 'Shindler's List'.  It is his wife Laura Pickler (Jennifer Garner) who has been by his side the entire time, making sure Bob achieves greatness, and doing her part to maintain the utmost of poise as the First Lady of butter carvers.
When Bob is asked to step down from competition and become a judge, in order to give someone else a chance at winning he is able to accept this new stage in what has been an illustrious career.  Laura on the other hand is seething with anger, and you do not want to cross Laura Pickler.  She decides to take up competing herself but she is not without competition, a 10-year-old foster-child Destiny (Yara Shahidi) has just moved into the neighborhood and she dreams of achieving great success in butter carving.  Her new foster parents, Julie Emmet (Alicia Silverstone) and Ethan Emmet (Rob Corddry) find the entire thing a bit preposterous but they want Destiny to be happy, and so they jump on the bandwagon of support for her butter carving dreams. 
Destiny may be Laura's greatest competition but she has others, Bob's number one fan Carol-Ann (Kristen Schaal) has signed up, as well as bad-girl stripper Brooke (Olivia Wilde), a woman hell-bent on destroying Laura Pickler.
Butter sounds like a movie about a competition of butter carvers.  It could be nothing further from this, being made quite clear from the dark comedic tone it creates from the beginning, and the following antics that go on behind the scenes and surrounding the butter carving championship.  Bob and Laura have a complicated relationship, and her step-daughter Kaitlen (Ashley Greene) hates her immensely.  Butter strives to be a movie full of biting dark humor and it achieves exactly that.  It also has a sweet side, with Destiny's story of finding a family to call her own–a family she immediately refers to as the whitest people she knows.  Yes, even Destiny has quite the forked tongue on occasion, and it only makes things better.  At the core it is a political allegory, and conjuring up ideas about Barack Obama vs. Hilary Clinton, or Sarah Palin is a definite possibility.
Butter carving aside what makes Butter thoroughly enjoyable has to be the unique and carefully crafted characters splattered throughout the story, and the wry sense of humor.  Garner's Laura Pickler is marvelous in her taffeta dresses, side-swept bangs, perfect hair and make-up, and lest we not forget the string of pearls around her neck.  The perfect picture upper-class housewife goes all to hell when her competitive streak sets in, not to mention her jealous rage.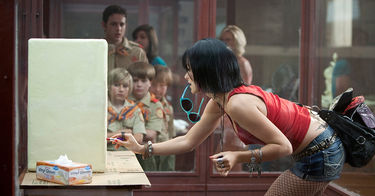 Catching her husband with the local stripper Brooke sets off a chain of events no one saw coming–hilarity of course ensues, and with the help of her ex-highschool boyfriend Boyd Bolton (Hugh Jackman) all sorts of deviant behavior unbecoming of a woman of her stature.  Destiny is a sweet child, with abandonment issues, that has absolutely no filter when it comes to speaking her mind.  She is also a natural with butter, something that Laura despises in this waif of a 10-year-old girl.  Destiny has one person in her corner, stripper Brooke, who believes Laura's husband owes her, and she works her naughty magic to make sure Laura's life is made miserable.  Then there are the smaller roles, that of Ty Burrell's Bob and Schaal's Carol-Ann, plus Silverstone's Julie and Corddry's Emmet who are ready to take-down anyone who stands in the way of Destiny's um destiny.  With a group of characters such as these, and a script that continually challenges the normal expectations of what a comedy should be like, Butter is a welcome diversion to the other options in comedy today.  It is honest, unabashed, gives zero excuses at to its appropriateness, or lack there of, and is quite simply hilarious.
More information on the film from AFI FEST:  Butter