Two of this year's most buzzworthy horror movies have had animals featured in prominent roles. The Witch stars a freaky 210 pound goat named Charlie as the evil Black Phillip, and a charming seagull named Sully almost steals The Shallows away from Blake Lively with his performance as Steven Seagull, her rocky reef-mate for the movie. All of the hype surrounding these two talented non-humans brings to mind another stirring performance by an animal – that of the titular character in the 1985 anthology Cat's Eye.
Cat's Eye follows a curious feline around as he makes his way from adventure to adventure, chasing a vision of a little girl (Drew Barrymore from Firestarter) who beckons to him. First, the cat winds up as a test/torture animal at a corporation called "Quitters, Inc.," where a heavy smoker named Dick Morrison (Videodrome's James Woods) gets more than he bargained for when he hires the company to help him quit smoking. After escaping that situation, the cat is taken in by a wealthy man named Cressner (Kenneth McMillan from Salem's Lot) who catches another man named Johnny Norris (Airplane!'s Robert Hays) in an affair with his wife and forces him at gunpoint to walk around "The Ledge" of his high-rise penthouse, tormenting him the whole way in hopes that he falls to his death. Finally, the kitty ends up as a family pet named "The General," where he learns that his purpose in life is to protect Amanda, the little girl in his vision, from a troll that lives within her walls and comes out at night to steal her breath.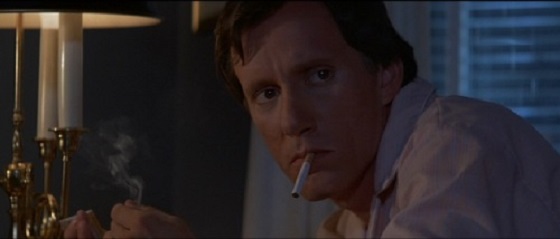 The screenplay for Cat's Eye was written by none other than the master-of-the-macabre himself, Stephen King (The Dark Half, It). The first two segments, "Quitters, Inc." and "The Ledge," are from King's 1978 short story collection Night Shift, while the third was written especially for the film. Director Lewis Teague was no stranger to animal movies, having gotten his big break in horror making the creature feature Alligator and also adapting King's rabid dog novel Cujo, but Cat's Eye was different; the animal is the hero. A very passive hero for the first two segments, but the hero of the movie nonetheless.
Stephen King's fingerprints are all over Cat's Eye. Of course, the stories are all vintage King, and Teague's offbeat sense of comic timing gives the production a Creepshow-esque feel. But there are little Easter eggs for attentive viewers strewn about the movie, too. The very first scene shows the cat running from a foaming Cujo-like Saint Bernard out into the middle of the street where he is almost hit by a red Plymouth Fury that looks suspiciously like Christine (complete with a bumper sticker that spells the gag out for those who might have had trouble keeping up). In "Quitters, Inc.," our crabby ex-smoker tunes in to The Dead Zone on T.V. (and even throws a barb at the scribe by asking "who writes this crap?"). Later, Amanda's mom is seen reading a copy of "Pet Sematary" before bed. Stephen King fans have two reasons to watch Cat's Eye: the terrifying stories and the fun references.
Although they all include that unique brand of Stephen King comedic horror, each segment of Cat's Eye is noticeably different in tone. "Quitters, Inc." has a very (forgive the pun) smoky and fisheyed look, giving it a dirty and gritty feel. With its wind-swept-and-neon-bathed setting, "The Ledge" is the most Creepshow-ish story in the bunch, each frame looking almost like a live-action comic book panel. And "The General" is a warm, safe, and cozy affair, basically a children's horror story with a fairy-tale vibe that features the good cat fighting off the evil troll to save the sweet little girl.
And speaking of the cat – although the human cast of Cat's Eye is remarkable, the movie is stolen by its frisky feline star. The cat's actions and reactions are perfect for every situation that is thrown at him in the film. Truth be told, the lead cat was played by about a dozen different tabby cats, all wrangled by legendary animal trainer Karl Lewis Miller (who did animal action for everything from Cujo to Beethoven). The cats' performances were food rewarded, which explains the need for so many cat actors – once one cat would get full and uncooperative, another hungry and willing stunt cat would be brought in to carry on. Teague's direction and Miller's cat whispering make the cat in Cat's Eye a very memorable kitty cat.
Like many of Stephen King's movies, music plays an important role in Cat's Eye, but in a much more subliminal way than one might expect. Of course, the film features a typically bouncy-and-brooding score from Alan Silvestri (The Avengers, What Lies Beneath), but it's the sparse use of pop songs that is most effective. When the cat is locked up in a torture room in "Quitters, Inc.," as electrical shocks are sent through his feet making him jump (this is to demonstrate what the company will do to Morrison's wife if he smokes), happy classic rock dance numbers like "Twist And Shout" and "96 Tears" play. When our ex-smoker has a fever dream about a nicotine-fueled party, all of the guests puff away to "Every Breath You Take," a song which takes on a different meaning as Morrison realizes that he's being followed ("I'll be watching you"). Later, the song is repeated with the same double meanings echoed as the cat catches the troll stalking the little girl and trying to steal her breath. Subtle, but not really.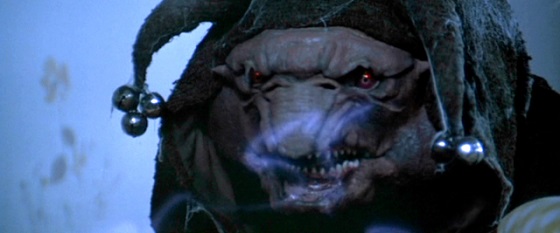 Cat's Eye is often seen as one of the forgotten unsung Stephen King movies, not as hugely popular as the hits like The Shining or Carrie, but that's not for lack of trying on the part of the charismatic kitty cat in the title role.