Synopsis: Welcome to Monsterland! A terrifying place where savage beasts, carnivorous creatures, and grotesque abominations are the new normal; and the human race is now at the bottom of the food chain.
Release Date: June 7, 2016     MPAA Rating: PG-13
Genre(s): Fantasy, Horror
Film Review

There are two ways to approach putting together a horror anthology. One is to hire a director, a cast, and a crew to go out and shoot everything from scratch. The other is to stick together a bunch of existing short films and hope that the results are coherent. Monsterland uses the second method and turns it into a cool gimmick.
The gist of Monsterland is that a guy (Josh LaCasse from Space Clown) who is in the middle of a monster apocalypse takes refuge in a movie theater that happens to still be showing films. He sits down to wait out the danger, and what he sees onscreen is what makes up the content of the anthology. And it must have been an all-night creature feature marathon, because as the title implies, Monsterland is all about monsters.
Like any anthology movie, the segments in Monsterland are a bit hit-and-miss. There's an especially wide berth to it – the good shorts are really good, but the bad ones are real stinkers – but it's more good than bad. Highlights include a segment called "The Grey Matter," about a man who gets a little worm-like thing in his head that tells him what to do, and "Hellyfish," about a fun day at the beach that is interrupted by a plague of radioactive jellyfish. The throwaways are comprised of a weird puppet show type of thing called "Happy Memories" and a well-done yet disposable little animated clip called "Monster Man."
And then, there's one awesomely weird chapter called "Stay at Home Dad" about a man who has breasts surgically implanted onto his body so that he can stay home and nurse his baby while his wife works. It's a great premise that has a bit of a cop-out for an ending, but it's sure to be unlike anything that the viewer has ever seen before.
The rest of the segments are fairly nondescript; there are vampires, mutant rats, a witch, and something evil that is never actually shown onscreen (are you curious yet?). The production value to the shorts varies greatly, with some looking like they were shot on video by film students while others, most notably "Hellyfish," seem like big-budget studio affairs done with professional equipment and slick effects software. The inconsistency of the films fits right into the movie theater film festival theme of the anthology, so it's not as jarring as one might imagine; the wraparound story justifies the differences in quality.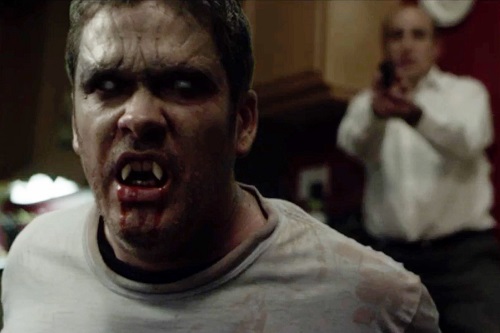 Monsterland was put together by producer Steve Barton (aka Uncle Creepy) and the gang over at Dread Central, and it's kind of a sequel to last year's Zombieworld. In this case, the word sequel is used as loosely as possible, because Monsterland really has nothing to do with Zombieworld aside from the fact that it was put together the same way, only with a zombie theme as opposed to a monster one. With a little luck, they'll keep it going and we'll get Slasherville next.
So, what's the bottom line? Is Monsterland worth the time? In a word, yes. Yes it is. It's not going to become a classic anthology along the lines of Creepshow or Black Sunday, but it's worth being mentioned in the same sentence as the V/H/S movies, or maybe Nightmares. Although all of the shorts are monster movies, they're all different enough in style and tone so that there's bound to be something for everyone…and if you don't like one segment, just wait it out, because they're short enough so that another (hopefully better) one will start soon enough.

There aren't many genuine scares in Monsterland, but that's hardly the point of the movie; it's more about good, old fashioned fun, and like any creature feature worth its weight in slime, it's more entertaining than scary. There are a few scenes of gutsy gore and a couple of moments of suspenseful tension, but for the most part, it's just monster after monster going crazy on the world. It's a lot of fun to watch, but Monsterland is only going to scare the most sensitive of viewers.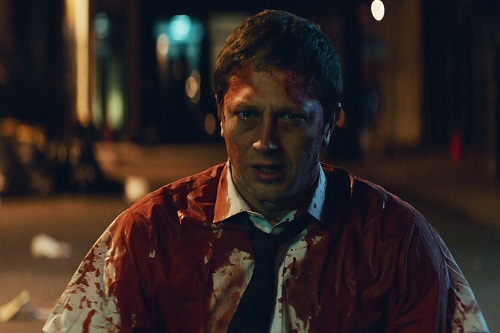 Cast and Crew
Director(s): Jack FieldsPatrick LongstrethMcCoubrey Brothers
Producer(s): Jesse BagetSteven BartonZebediah De SotoAndrea Monier
Screenwriter(s): Kaspar AineloDick GrunertKate Fitzpatrick
Story: 
Cast: 
Editor(s):
Cinematographer: 
Production Designer(s):
Costume Designer: 
Casting Director(s): 
Music Score: 
Music Performed By: 
Country Of Origin: USA