Synopsis: Arch skeptic Professor Phillip Goodman embarks upon a terror-filled quest when he stumbles across a long-lost file containing details of three cases of inexplicable 'hauntings'.
Release Date: April 20, 2018     MPAA Rating: PG-13
Genre(s): Drama, Horror
Film Review

From the silent classic Waxworks to the modern V/H/S franchise, the anthology film has been one of the most lasting cinematic horror experiences. The best anthologies, however, are the ones that trick the viewer into thinking they're all one story through seamless editing and a clever wraparound story. And that's exactly what Ghost Stories does.
Ghost Stories is about a professor named Phillip Goodman (The Commuter's Andy Nyman) who exposes fraudulent psychic mediums on a hit television show. He is summoned by his hero, an old dying paranormal debunker named Charles Cameron (Leonard Byrne from Dead Man's Shoes), who presents him with three cases that he could never solve and asks for his help with finding logical explanations for the hauntings so that he can die without actually believing in an afterlife. Star struck and wanting to help, Professor Goodman takes a crack at the three cases.
The first case involves a night watchman (Paul Whitehouse from The Death of Stalin) who has terrifying visions while patrolling a deserted asylum. The second is about a teenager (Goodbye Christopher Robin's Alex Lawther) who had a horrific experience when he got into a car accident in the woods. The third deals with a man (Martin Freeman from Black Panther and The Hobbit: An Unexpected Journey) who is haunted by a poltergeist while his wife is in labor with their child. Not only do all three cases test Professor Goodman's wits, but they also seem to have strange connections to his own life.
Ghost Stories was adapted from the successful London stage play by Andy Nyman (who, in addition to being an actor, is also an accomplished mentalist and magician) and Jeremy Dyson ("The League of Gentlemen"). Just as they did for the play, Nyman and Dyson share writing and directorial duties on the film, so what ends up on screen is as close to a faithful adaptation as one could expect from a play that is making the jump to the silver screen. As a movie, Ghost Stories draws influence from everything from Rosemary's Baby to Don't Look Now, with its slickly deceptive anthology format being reminiscent of Amicus flicks like Asylum and Tales from the Crypt.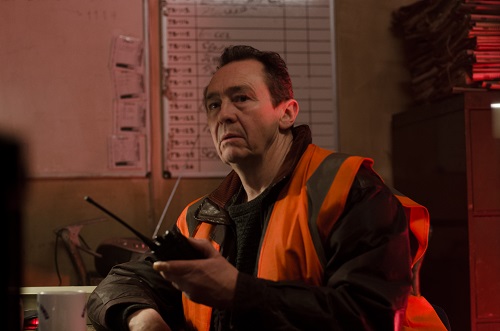 With Ghost Stories, Nyman and Dyson construct a mysteriously spooky throwback that still manages to feel modern. Each of the three cases (as well as the wraparound) are done in distinctly different styles, but they share enough visual and thematic continuity to hold the film as a whole together. Ghost Stories does not feel like a group of shorts that has been haphazardly thrown together and slapped with a "horror anthology" label. The individual segments all build towards a payoff that, although done before, really packs a wallop for the audience. The entirety of Ghost Stories is, as they say, greater than the sum of its parts.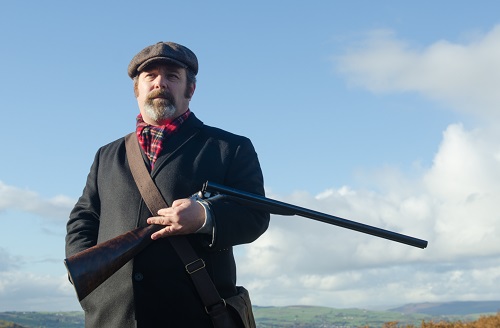 There are plenty of fun surprises in Ghost Stories that are better left to be experienced first-hand by the viewer, so in the interest of keeping things spoiler-free, this review will be cut short. But just know that the elements that make up Ghost Stories are familiar, like a ghost story, but they're also assembled in an original way that makes the film one of the year's must-see discoveries.

Most of the scares in Ghost Stories are jump scares, but they're extremely well-crafted ones that are built on atmosphere and tension. There's nothing cheap about them. The stories are mostly paranormal, so the uncomfortable fear that is generated is based chiefly on what isn't shown onscreen. The audience's terror is reliant on moody cinematography and creepy sound design, but when you're dealing with ghosts, that's the best way to do it. And there's nothing empty about the scares in Ghost Stories; everything pays off in droves.
Cast and Crew
Director(s): Jeremy Dyson
Producer(s): Robin GutchClaire Jones
Screenwriter(s): Jeremy DysonAndy Nyman
Story: 
Cast: Andy Nyman (Professor Goodman)Martin Freeman (Mike Priddle)Paul Whitehouse (Tony Matthews) Alex Lawther (Simon Rifkind)Paul Warren (Woolly)Kobna Holdbrook-Smith (Father Emery)Nicholas Burns (Mark van Rhys)Louise Atkins (Steph)Amy Dyle (Esther Goodman)Deborah Wastell (Mrs. Goodman)Daniel Hill (Mr. Goodman)Lesley Harcourt (BBC Local Newsreader)
Editor(s): Billy Sneddon
Cinematographer: Ole Bratt Birkeland
Production Designer(s):
Costume Designer: Matthew Price
Casting Director(s): Shaheen Baig
Music Score: Haim Frank Ilfman
Music Performed By: 
Country Of Origin: UK