Synopsis: Set in Los Angeles in the slight future, Her follows Theodore (Joaquin Phoenix), a complex, soulful man who makes his living writing touching, personal letters for other people.  Heartbroken after the end of a long relationship, he becomes intrigued with a new, advanced operating system, which promises to be an intuitive and unique entity in its own right.  Upon initiating it, he is delighted to meet "Samantha," a bright, female voice (Scarlett Johansson) who is insightful, sensitive and surprisingly funny.  As her needs and desires grow, in tandem with his own, their friendship deepens into an eventual love for each other.
Release Date: December 18, 2013     MPAA Rating: PG-13
Genre(s): Romance, Drama
Film Review

Spike Jonze's Her opens on an almost bitter, cynical note, but it will ultimately leave you hopeful. We meet our protagonist Theodore Twombley (Joaquin Phoenix) in the near future, and soon learn that Theodore's life doesn't have much purpose. He works for a company called BeautifulHandwrittenLetters.com, where he ghost writes letters for customers, and is one of the best at what he does. Yet, Theodore's life, despite his professional success, is filled with plenty of emptiness.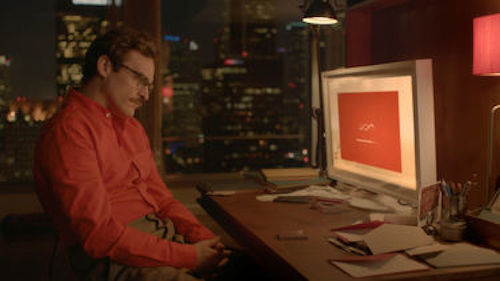 Personal connections are a rarity in Jonze's version of the future, with technology dominating nearly every element of our lives. But, things soon change for Theodore, as he comes to form a close bond with his new Operating System, Samantha (voiced by Scarlett Johansson). Samantha, although simply a series of 1's and 0's seems to understand Theodore more than anyone, and she soon shakes him from his semi-reclusive funk. More than that, Samantha becomes the love that Theodore has always been looking for; the love he writes about in his artificially manufactured letters.
Part science fiction and part love story, Her challenges the viewer from beginning to end. It's not an easy movie to digest – its very premise is absurd – but Jonze and his cast approach the subject matter with the unflinching honesty necessary of doing it justice. Sure, the film plays up some of its odder aspects for laughs, but it doesn't shy away from exploring every facet of this human/computer relationship either. Because of that, the film required a certain amount of dedication from its leads, who give the performances of their careers here. Phoenix is perfect as Theodore, conveying a wide range of emotions through even the most subtle of expressions. Johansson is also in top form, and equally as dedicated to making the film sing. You witness her grow and begin to fall in love with her yourself, and Johansson achieves all of that using only her voice.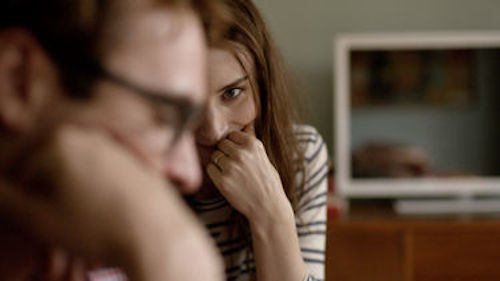 From a filmmaking perspective, Her presents the future through a clever use of close-ups and unobtrusive background CGI. You believe this version of Los Angeles is only a stone's throw from ours, but it's hard to pin down what makes it so. At the same time, this is not an in-your-face interpretation of the future, but one where the science fiction concepts come more from the personal connections formed between human and technology.
Science fiction trapping aside, Her is, at its core, a beautiful love story; one that will resonate with anyone. Jonze's script is filled with poignant maxims on the human condition, but it isn't showy or unnatural. You truly believe Theodore and Samantha's relationship, and you're heartbroken anytime things go south. It's also a surprisingly funny film, both in how it depicts our future and the ways it imagines a relationship between human and disembodied voice might evolve.
This film will stick with audiences for a long time, and will give them a unique perspective on everything from love to sex to our over reliance on technology. Jonze, Phoenix, and Johansson showed the bravery necessary to tell this story the way it needed to be told, and the film is all the better because of that. Her is one of the smartest films to come along in years; it will make you think, make you laugh, and most importantly make you feel.

Her would have completely fallen apart if it weren't for the tremendous performances of its leads. Joaquin Phoenix carries this film almost exclusively, and does so with the camera less than a few feet from his face. He brings nuance to a character that starts out an introvert, and he shows joy, pain, and disappointment without being showy.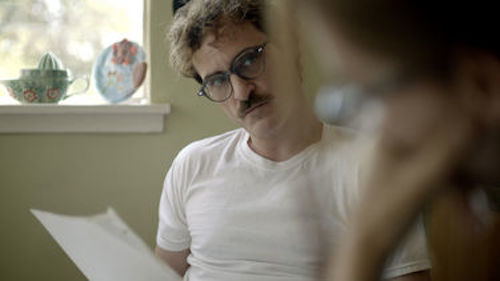 If Phoenix is the face of Her, then Scarlett Johansson is most assuredly, and quite literally, the voice of the film. She has arguably the harder task of the two, having to communicate a wide range of emotions using only her voice, and she nails every aspect of Samantha. Ultimately, Samantha is a "character" that could have easily rang false if not executed properly, but Johansson rises to the occasion.

As both writer and director, a lot of Her's success relies solely on Spike Jonze. Yes, the actors need to deliver in their respective roles, but a film like this requires a certain tone, carefully constructed dialogue, and proper mise-en-scene. With Her, Jonze creates a world and a relationship that is not just believable but that the audience will connect with and care about. His work might be lost on most, but Jonze is the true genius behind every charming moment of Her, and he deserves as much recognition as his actors.
Cast and Crew
Director(s): Spike Jonze
Producer(s):
Screenwriter(s): Spike Jonze
Story: 
Cast: Joaquin Phoenix (Theodore)Chris Pratt (Paul)Scarlett Johansson (voice of Samantha) Kristen Wiig (voice of SexyKitten)Rooney Mara (Catherine)Amy Adams (Amy)
Editor(s): Jeff Buchanan
Cinematographer: Hoyte Van Hoytema
Production Designer(s):
Costume Designer: 
Casting Director(s): 
Music Score: Owen Pallett
Music Performed By: 
Country Of Origin: USA