Synopsis: Forushande (The Salesman) is the story of a couple whose relationship begins to turn sour during their performance of Arthur Miller's Death of a Salesman.
Release Date: February 17, 2017     MPAA Rating: PG-13
Genre(s): Drama, Thriller
Film Review

One of the bigger stories coming out of this year's Oscar race has nothing to do with movies. Writer/director Asghar Farhadi's The Salesman is nominated for Best Foreign Language Film. With his home country of Iran falling under Trump's new visa ban, Farhadi has been denied entry into the U.S. for the ceremony. Farhadi has since said that he would not attend even if he were to be granted a waiver by the U.S. Government. It's all pretty much of a mess, and it's forming a cloud over what could very well be a triumphant night for Farhadi, whether he's there or not, because The Salesman is a pretty good movie.
Known in its home country as Forushande, The Salesman is about a married couple named Emad and Rana Etesami (Shahab Hosseini and Taraneh Alidoosti, respectively) who are forced to quickly find a new place to live when their home is condemned. A friend of theirs named Babak (Babak Karimi) comes through and finds the couple an apartment to use while their home is being repaired. One evening in the new apartment, Rana is assaulted and hurt badly by a mysterious intruder. Emad snoops around looking for the assailant, and learns some seedy facts about the apartment and its former tenant.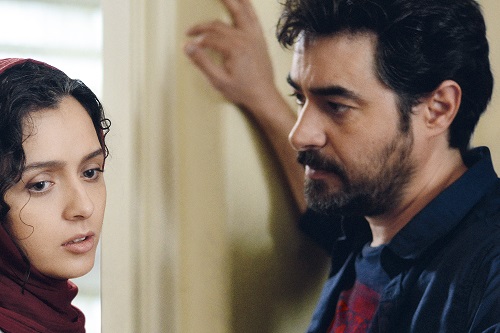 What The Salesman boils down to is a low-stakes mystery that never quite boils over into a revenge film. It's low stakes because, well, one never gets the feeling that Emad wants to do any more than just figure out what happened to his wife. And that's why it never really boils over into a revenge film, because even once the mystery is solved and he's learned all that there is to know (or at least as much as he's going to figure out), he's more calm and rational about it than most men would be. Even though The Salesman does get dark in places, this is not Straw Dogs territory here. It's smarter, and a little more refined.
About the title; The Salesman takes its name from a production of Arthur Miller's Death of a Salesman in which both Emad and Rana are performing. The play serves as a cornerstone to the film, with the action returning to the rehearsal hall every so often, as if it is a home base of sorts, like it's the couple's safe zone or happy place. There are also certain parallels between Emad and Rana's relationship and that of the roles that they play onstage that are apparent to those who are familiar with the play. Death of a Salesman functions as a framework for the real story as well as an escape from it. So, anyway. The name is symbolic – there's little-to-no selling in The Salesman.
For what it's worth, the immigration/travel ban controversy may work in The Salesman's favor. There seems to be a social conscience to the Academy this year, and it wouldn't be surprising to see the backstory sway some on-the-fence voters in a muddled category like Best Foreign Language Film. Win or lose, The Salesman deserves its nomination. It's a terrific film.

There are some fine bits of acting in The Salesman, courtesy of Shahab Hosseini and Taraneh Alidoosti. Both give very subdued, subtle performances, putting out nothing that overpowers the viewer while remaining completely believable the whole time. Alidoosti plays the vulnerable victim while Hosseini portrays the reluctant protector, but there are layers to the performances. For example, Alidoosti's Rana finds herself unable to open up to her husband, yet is also deathly afraid to be left alone. Similarly, Hosseini's Emad is frustrated by her lack of communication, wanting to do whatever he can to help her feel safe and worry-free, but lacks the backbone to really avenge her beating. The give-and-take between Alidoosti and Hosseini is natural and organic, like they themselves been married for years and have just had a traumatic event tear them apart. The performances are overtly gritty and subliminally heart-wrenching.
Cast and Crew
Director(s): Asghar Farhadi
Producer(s): Asghar FarhadiAlexandre Mallet-Guy
Screenwriter(s): Asghar Farhadi
Story: 
Cast: Taraneh Alidoosti (Rana Etesami)Shahab Hosseini (Emad Etesami)Babak Karimi (Babak) Mina Sadati (Sanam)Farid Sajjadi Hosseini (Naser)Mojtaba Pirzadeh (Majid)Emad Emami (Ali)Maral Bani Adam (Kati)Mehdi Koushki (Siavash)Sam Valipour (Sadra)Shirin Aghakashi (Esmat)Sahra Asadollahe (Mojgan)
Editor(s): Hayedeh Safiyari
Cinematographer: Hossein Jafarian
Production Designer(s):
Costume Designer: Sara Samiee
Casting Director(s): 
Music Score: Sattar Oraki
Music Performed By: 
Country Of Origin: IranFrance