A mere day after the great Carrie Fisher died last week, her mother, the equally great Debbie Reynolds, passed away. Like Fisher, Reynolds was mainly known for a single role, that of Kathy Selden in Singin' in the Rain. But, also like Fisher, Reynolds had a long and versatile list of credits to her name. Since this is Cinema Fearité, you have probably guessed that she appeared in some horror movies. Yes, faithful reader, she did. In 1971, Reynolds starred in the musical mystery What's the Matter with Helen?
What's the Matter with Helen? features Debbie Reynolds as Adelle Bruckner, a woman whose son, along with the son of Helen Hill (Shelley Winters from Tentacles, Poor Pretty Eddie, and Bloody Mama), is convicted of a high-profile murder. After the trial, Adelle and Helen start getting harassing phone calls, so they decide to move out west to Hollywood, change their names to Adelle Stuart and Helen Martin, and open a dance studio for star-struck children. Their studio, although a bit of a sham, is a success, and the women's lives seem to take an uptick, with Adelle even gaining the affections of one of her students' rich father, Linc Palmer (Duel's Dennis Weaver). But when the phone calls start up again, the psychological loneliness coupled with the stress of having a stalker gets to Helen, causing the poor woman to crack under the pressure.
Director Curtis Harrington (Devil Dog: The Hound of Hell, Killer Bees) approached writer Henry Farrell after the success of the latter's What Ever Happened to Baby Jane? in 1962 and Hush…Hush, Sweet Charlotte in 1964 and asked for a screenplay, and What's the Matter with Helen? is what he got. The basic framework of the story itself, about two women running a dance studio for wannabe child stars, had bounced its way around in Farrell's mind for quite some time, but with Harrington's direction, it became a suspenseful, noir-type mystery. Initially, it doesn't feel much like a horror film, more like a tension-packed thriller, but by the time it hits its stride, What's the Matter with Helen? ends up like a full-blown episode of "Tales from the Crypt."
It may seem strange that Debbie Reynolds would wind up in a movie like What's the Matter with Helen?, but she's perfectly cast in it, essentially playing an extension of her Singin' in the Rain character, the radiant and rational yin to Shelley Winter's paranoid and psychopathic yang. Winters takes to her role as the unhinged half of the pair like a duck to water, showing an even more crystal clear psychological dichotomy between the two women – it was even rumored that Winters' performance is so naturalistic because the woman was, just like her character, really on the verge of a nervous breakdown during filming. Reynolds plays the straight woman to Winters' madness.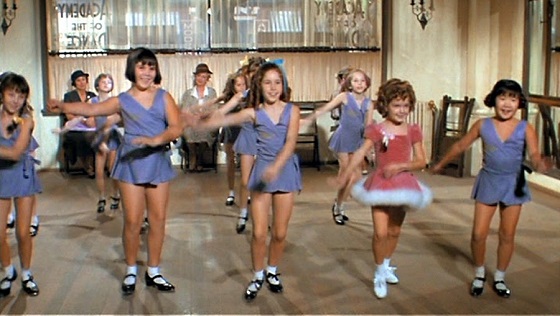 Still, Debbie Reynolds is given plenty to do in What's the Matter with Helen? Her musical theater roots are out in full force, whether Adelle is whole-heartedly injecting herself into her students' routines or just fiddling around singing "Did You Ever See a Dream Walking?" to no one in particular around the house. There are quite a few classic Hollywood song-and-dance numbers in the film, and not just by Reynolds – a cute little girl named Samee Lee Jones gives a note-perfect rendition of Shirley Temple's "Animal Crackers in my Soup" as part of one of Adelle's Kiddystar Revue recitals. For such a dark and grim movie, there are a lot of fun musical interludes in What's the Matter with Helen?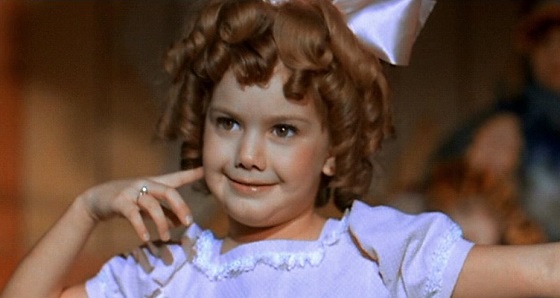 In between the songs and dances, there are moments of cringe-worthy violence in What's the Matter with Helen? Much of the gore is implied, either taking place inside of Helen's mind or else censored by creative editing, never quite letting the teeth of the plow or the blades of the fan reach the human flesh before the shot mercifully cuts away. The most graphic images in the film are crime scene photos from the ladies' sons' trial, but they come into play over and over in the film, so it's not just a one-and-done shock. Still, for the most part, the blood and guts are kept under wraps until the final gory scene, making the conclusion of the film all the more startling.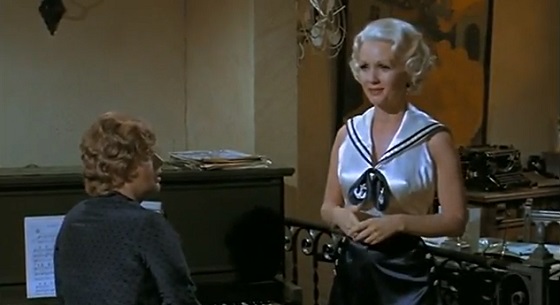 Some of the censorship in What's the Matter with Helen? was not an artistic choice. In order to keep a suitable rating, some material did end up on the cutting room floor. Originally, Helen had more obviously lesbian thoughts towards Adelle, but they were toned down to prevent offending the ratings board. Furthermore, the climax of the film initially included more brutality, with Harrington wanting to go for a more Psycho-esque vibe, but that, too, was excised. By today's standards, the director's vision of What's the Matter with Helen? would have been tame, but the studio didn't think the 1971 audience was quite ready for it at the time.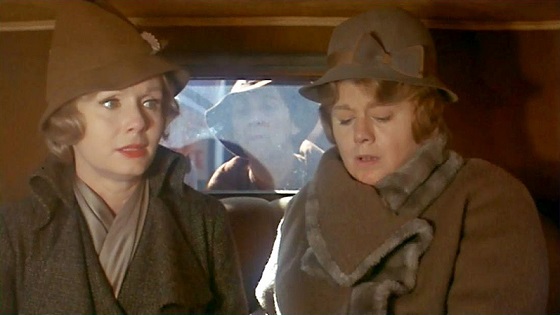 It's a family tragedy that Debbie Reynolds passed away so soon after her daughter Carrie Fisher. According to Reynolds' son/Fisher's brother, Reynolds wanted to be with Carrie. The official cause of death was a stroke, but it seems almost as if Debbie Reynolds died of a broken heart. May she rest in peace with her beloved daughter.