Synopsis: In Dope, life changes for Malcolm, a geek who's surviving life in a tough neighborhood, after a chance invitation to an underground party leads him and his friends into a Los Angeles adventure.
Release Date: June 19, 2015     MPAA Rating: PG-13
Genre(s): Comedy, Drama
Film Review
Production
At the beginning of Dope, a title card appears on the screen with the three common definitions of the word; it can mean illegal drugs, it can mean a person of sub-standard intelligence, or it can be a descriptor that refers to something cool or good. All three meanings can be applied to the film in one way or another.
The central figure of Dope is a high school kid in Inglewood, California, named Malcolm (Shameik Moore from "Incredible Crew") who, along with his friends Diggy (Kierset Clemons from "Extant") and Jib (The Grand Budapest Hotel's Tony Revolori), worships everything about 90's hip-hop, plays in a punk rock band, and gets straight A's in school. Because of their geekiness, Malcolm and his friends are bullied by the gang members at school.
After a chance meeting with a drug dealer named Dom (rapper A$ap Rocky) and his girlfriend, Nakia (Mad Max: Fury Road's Zoë Kravitz), Malcolm and his friends wind up at the dealer's birthday party, which promptly gets raided by a rival gang. Unbeknownst to Malcolm, Dom stashes his drugs into the boy's backpack, setting off a chain of events that keeps Malcolm running from both cops and thugs. Malcolm and his crew are forced to navigate the slippery slope of the Los Angeles drug world when all they want to do is go home.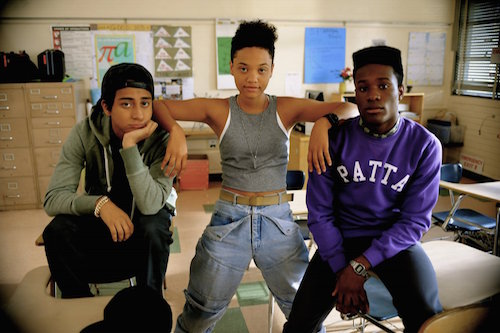 Written and directed by Rick Famuyiwa (
Brown Sugar
), Dope reads like a love-letter to the nineties hip-hop movies like
Do the Right Thing
and
Boyz n the Hood
that the characters cherish so much, yet filtered through the lens of a more modern cinematic auteur like Harmony Korine or Edgar Wright. It's heavily stylized like one of the revolutionary "'Hood" movies, yet seems like a pale imitation, sort of like what would happen if "The Fresh Prince of Bel Air" were to do gangsta rap – it's like ghetto-lite. And that's fine because that's what the characters are; Malcolm and his buddies are not real thugs, they're good kids in a bad neighborhood, so when they find themselves involved in mischief and mayhem, their actions are more comical than fearsome.
It's easy to see why Dope made such a splash at the Sundance Film Festival this year; it's a great independent film. It's got a likable cast, stylish photography, clever writing, and a butt-shaking soundtrack, and it's able to blend all of those ingredients together into a highly enjoyable movie. If it were made twenty years ago, it would be a classic today. Time will tell if it becomes one in the future, but for now, Dope is, well, dope (and I've never felt nerdier than right now after typing that).
Score and Soundtrack
The soundtrack for Dope was curated by Grammy-winning musician and "The Voice" judge Pharrell Williams. Williams shows that he has a vast knowledge of hip-hop and dance music, bringing together hits like Digital Underground's "The Humpty Dance" and Naughty by Nature's "Hip Hop Hooray" with slightly deeper cuts like Public Enemy's "Rebel Without a Pause" and A Tribe Called Quest's "Scenario." Sprinkled amongst the classics are a handful of newer songs from artists like Kap G and Watch the Duck. There are also a couple of surprises – Williams takes it back a couple of decades with Gil Scott-Heron's "Home is Where the Hatred Is," and tosses in a song from Zoë Kravitz's band, Lolawolf, as well.
To top it all off, Dope includes four original compositions from Williams himself: the punk-dance songs that are performed by Malcolm and his pals' band, Awreeoh (say it out loud). A movie like Dope really is only as good as its soundtrack, and Pharrell Williams selects tracks that bring up memories of the nineties while still managing to capture the spirit of today. Dope is packed beginning to end with hard-hitting grooves and slick beats that drive the film in the right direction with head-bobbing abandon.
Cast and Crew
Director(s): Rick Famuyiwa
Producer(s): Forest Whitaker, Nina Yang Bongiovi
Screenwriter(s): Rick Famuyiwa
Cast: Shameil Moore, Kiersey Clemons, Tony Revolori, A$ap Rocky, Zoë Kravitz, Blake Anderson, Chanel Iman, Quincy Brown, Roger Guenveur Smith
Editor(s): Lee Haugen
Cinematographer: Rachel Morrision
Costume Designer: Patrik Milani
Casting Director(s): Kim Coleman
Music Score: Germaine Franco
Country Of Origin: USA