After a string of highly successful films that started way back in 1931, the legendary Bette Davis made a seamless transition to television in the early fifties. When she returned to film about a decade later in Whatever Happened to Baby Jane?, the actress found that she had become a bit of a horror movie icon. Never one to disappoint her fans, Davis followed up with another spooky film in 1964 when she played a pair of twins in Dead Ringer.
Dead Ringer begins with Margaret DeLorca (Davis) at the funeral of her dead husband, Frank. At the graveyard, Margaret encounters her estranged twin sister, Edith Phillips (also Davis), who accompanies Margaret back to her mansion. Edith accuses Margaret of simply going through the motions of mourning, claiming that she never loved Frank. Edith believes that she should have been the one to end up with Frank, accusing Margaret of tricking the man into marrying her by faking a pregnancy. When Edith returns home to her tiny apartment above a jazz nightclub that she owns, she is given an eviction notice. Desperate, Edith coaxes Margaret into coming over to her place. When Margaret arrives, Edith kills her and swaps places, setting it up to appear that Edith has committed suicide. Edith takes over Margaret's life, but arouses suspicion with Margaret's housekeepers. Not only does Margaret's staff suspect something is wrong, but Edith's boyfriend, a police inspector named Sergeant Jim Hobbson (Karl Malden from "The Streets of San Francisco"), smells something fishy as well. As Edith struggles to convince people that she is Margaret, she quickly realizes that her sister did not have the idyllic life that she thought she did. As secrets are divulged and details start to surface, Edith's charade becomes more than a matter of money and comfort; it becomes a matter of life and death.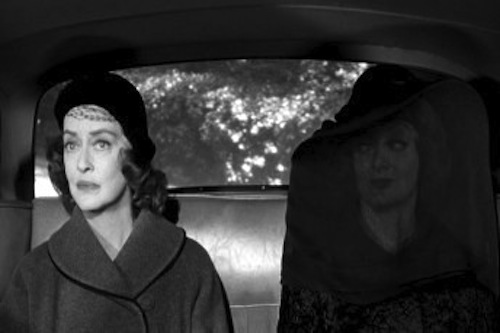 Often seen as a classic of film noir, Dead Ringer has all of the conventions of a great crime film. The script, written by television writers Albert Beich ("Mannix") and Oscar Millard ("The Alfred Hitchcock Hour") from a story by Rian James (42nd Street), is full of surprises and twists that keep the viewer guessing until the final scene. The film was directed by Paul Henreid, a man who is much better known as an actor, particularly for his role as Victor Laszlo in Casablanca. Henreid takes the suspenseful script and gets his actors to pour their performances right up to the edge without going over, making Dead Ringer a perfect combination of crime drama and horror flick.
Because of her unique mixture of distinct looks and over-the-top mannerisms, Bette Davis is the queen of camp. The only thing campier than a Bette Davis horror performance is two Bette Davis horror performances, and Dead Ringer has them. Davis is a perfect antagonist in the film, playing both parts so well that it's often difficult to pick sides; both women are reprehensible. Initially, the audience feels for Edith as the cruel and unfeeling Margaret treats her with contempt. The villainy shifts when Edith commits her murder, however, leaving neither woman as a sympathetic character. When all is said and done, Bette Davis has masterfully created two terrible characters in Dead Ringer, and the audience is satisfied with both of their comeuppances.
Dead Ringer was shot by cinematographer Ernest Haller, the man who photographed such Hollywood classics as Gone with the Wind and Rebel Without a Cause. He was also the man who shot A Stolen Life, another film in which Bette Davis played twins in 1946, so he knew a thing or two about carbon copying the actress. The effect is achieved through a slick combination of body double usage and split-screen trickery that is pretty convincing, considering the lack of CG technology in the sixties. As much fun as the visual effects are, cloning Bette Davis was not Haller's only contribution to the atmosphere and style of the film. His stylistic use of active lighting breathes plenty of life into the picture, with setups that change when characters flicks on lamps or light cigarettes. Haller is a master at painting with light and, although Dead Ringer is not one of his household name credits, his work on the film is spectacular.
The soundtrack to Dead Ringer, credited to André Previn (Rollerball, Bad Day at Black Rock), is a mix of innovative harpsichord flourishes and straight-up suspenseful horror fare. The score is fresh without sounding too left-of-center, punctuating the visuals without distracting from the film. The music that is featured in Edith's jazz club is provided by an uncredited jazz combo consisting of organist Perry Blackwell and drummer Kenny Dennis, and the tunes that they supply are exactly what one could expect to hear in such an establishment. Between Previn's film score and the jazz combo's diegetic music, Dead Ringer boasts a soundtrack that is more memorable than its contemporaries.
Bette Davis would go on to follow up Dead Ringer with another horror classic, teaming up again with Whatever Happened to Baby Jane? director Robert Aldrich for Hush…Hush, Sweet Charlotte. Although Dead Ringer sits unsung between these two higher-profile horror masterpieces, it is every bit as intriguing, if not quite as frightening.