When you want to know how to make a movie, the best advice comes from people who have made movies successfully, like Jodie Foster, Martin Scorsese, and Werner Herzog.
Film school is great, but the hefty tuition tag is not. Enter MasterClass, where you can learn filmmaking online from some of the best directors working today, and get the inside scoop on how they craft award-worthy movies.
The Directors Behind MasterClass Filmmaking Courses
When gathering the best directors to create online filmmaking classes, MasterClass did not go for filmmakers who stick to a specific genre or who don't have a signature style. Filmmaking courses through MasterClass are taught by high-profile directors that have extensive experience in the entertainment world. And it's not just men teaching online filmmaking courses for MasterClass — Jodie Foster is part of the group, too.
Whether you want to direct documentaries, original dramas destined for the Academy Awards, or independent features that will make a lasting impression, there's a MasterClass filmmaking course for you.
Here's who is teaching an online filmmaking class through MasterClass:
Sitting in a room listening to Martin Scorsese explain his auteur style of filmmaking is any filmmaker's dream. That dream can be a reality with Martin Scorsese's MasterClass on filmmaking. The Oscar winner goes over how he approaches filmmaking, which includes the storytelling process to the editing room (he's worked with the same editor for decades, Thelma Schoonmaker), as well as how to work with actors. And he would know, considering Martin Scorsese has worked with many great talents, such as Robert De Niro, Leonardo DiCaprio, and Daniel Day-Lewis, to name a few.
Martin Scorsese's MasterClass is full of valuable information on filmmaking that you can't get in a standard classroom setting, and you will never watch a film the same way again afterward.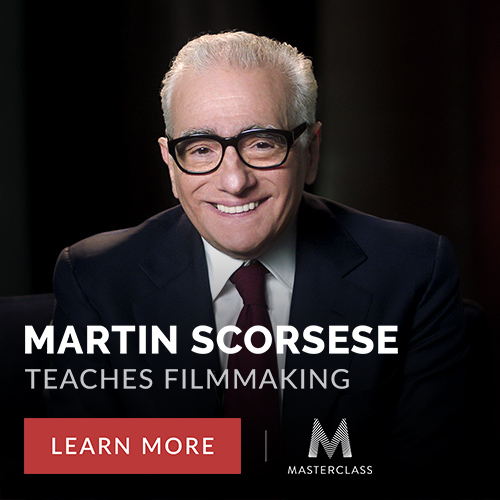 A director that has always followed his own path, Werner Herzog has a great deal to share in terms of filmmaking. He's made over 70 movies, and won 50 awards, in both the documentary and feature film space. Werner Herzog's MasterClass focuses on storytelling, cinematography, location shooting, and interviewing documentary subjects. Perhaps the most vital information found in Werner Herzog's filmmaking MasterClass is the section on self-financing, and how $10,000 can make a movie just as well as a million dollars.
And if all that is not enough, you get Werner Herzog's incomparable personality in his online filmmaking course. There isn't anyone else like him, and spending hours under his guidance learning filmmaking is truly a rare and special gift. It's a wonder in itself that MasterClass managed to get Werner Herzog to make an online filmmaking course – don't waste the opportunity.
Experience in front of and behind the camera can make a director truly great. Jodie Foster is one such director. She began her career as an actress and moved on to directing, securing Oscars along the way. The Jodie Foster MasterClass on filmmaking isn't all about how to make a movie, but also how to overcome failure and use your own personal experiences to craft great films. She also covers developing a screenplay, finding your "big idea," and vision – an imperative part of filmmaking that creates movies people remember long after they leave the theater.
More MasterClass Filmmaking Courses
Filmmaking is a general term, and each of the MasterClass filmmaking courses covers a wide array of important details that go into creating a movie. The beauty of MasterClass, though, is that an all-access subscription gets you access to more than the general filmmaking courses. An all-access subscription to MasterClass gives you access to:
Mira Nair and Spike Lee teaching independent filmmaking in separate courses
Hellen Mirren and Samuel L. Jackson teaching acting

Ron Howard on directing

Aaron Sorkin teaching screenwriting

Hans Zimmer teaching film scoring
Filmmaking courses from MasterClass are only the beginning, and, of course, you can try one class in the beginning and then grab an all-access pass once you realize how valuable the MasterClass filmmaking courses are for your budding career. Or give them as a gift to the filmmaker in your life, and even film lovers who have no interest in getting behind the camera love MasterClass. Film is an art form and learning from great filmmakers never a dull way to spend the afternoon.