Synopsis: Set in 1950's London, Reynolds Woodcock is a renowned dressmaker whose fastidious life is disrupted by a young, strong-willed woman, Alma, who becomes his muse and lover.
Release Date: January 19, 2018     MPAA Rating: PG-13
Genre(s): Drama, Romance
Film Review

With the exception of maybe Quentin Tarantino and M. Night Shyamalan, Paul Thomas Anderson (Inherent Vice, The Master) is probably the purist modern film auteur working today. Taking on music video and documentary projects in between feature films, his big releases generally land a few years apart. Well, it's a lucky year for PTA fans, as his newest movie, Phantom Thread, is here.
Phantom Thread is about a renowned London dressmaker named Reynolds Woodcock (Lincoln's Daniel Day-Lewis) who has built an empire crafting exquisite garments for rich British women. His life is a string of failed relationships, until he meets a waitress named Alma (Vicky Krieps from A Most Wanted Man). Instantly smitten, Reynolds moves quickly and invites the girl into his home, first as a model, then as a seamstress, and finally as a lover. The entire time, however, Alma is exactly what Reynolds needs in his life – a muse. But will his relationship with her be any different from his past ones?
Written and directed by Anderson, Phantom Thread is more of the same beautifully made, pretentious drivel that audiences have come to expect from the filmmaker. PTA knows how to make a wonderful film, and Phantom Thread is no exception, full of stunning visual imagery and fluid camera work. He also knows how to get stellar performances from his actors, a feat which is helped out immensely by the simple casting of Daniel Day-Lewis and Vicky Krieps.
Where Phantom Thread falls flat is in the story itself. There's not a whole lot to it, and the film's pacing is slow (even by PTA standards) in an effort to pad its running time to an Oscar-worthy two-hours-and-ten-minutes. There are only so many scenes of Day-Lewis measuring garments and fitting dresses that one can see before they are just begging for something else to happen. The stuffy dialogue doesn't do the film any favors, either, giving it just enough of an air of condescension to alienate viewers instead of illustrate how conceited the character of Reynolds Woodcock really is. Phantom Thread is the type of movie that people pretend to like so that others think that they "get it," but in reality, it just bores them to tears.
In the interest of full disclosure, I must reveal that I myself am not a big PTA fan. Boogie Nights is probably my favorite movie of all time, and I like Punch Drunk Love, but the rest of his films have failed to connect with me. So, when I say something like "Phantom Thread is more of the same beautifully made, pretentious drivel that audiences have come to expect from the filmmaker," take it with a grain of salt. All that said, though, Phantom Thread is my third favorite PTA movie. So there's that.

If the rumors are to be believed, Phantom Thread is the last movie for three-time Academy Award winner Daniel Day-Lewis. If this is actually the case, it's a bit of a shame, because although he is head and shoulders the best aspect of the film, it's still only an average performance from him; audiences can usually expect much more. Of course, Day-Lewis on an average day is still much better than other actors at their best, so he should still garner an Oscar nom for this film, but there's really nothing special about him in it. He prepared for the role with typical Day-Lewis style, learning to sew and constructing a dress from scratch just so he could authentically tackle the little details of the menial task. He hits the right emotional cues and delivers the (sometimes corny) dialogue with subdued authority, and PTA shows him off with long takes that allow his talents to really shine, but the role doesn't give Day-Lewis a chance to be as impressive as he has been with, say, My Left Foot or There Will Be Blood. It's an average performance from an incredible actor, which is probably better than a great performance from a mediocre actor.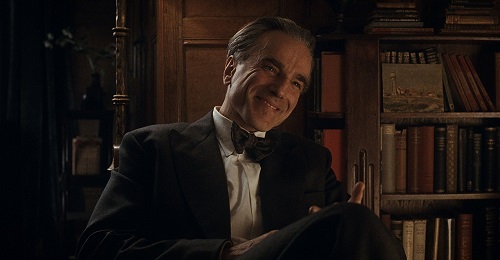 For the musical score to Phantom Thread, Paul Thomas Anderson turned to his old pal and Radiohead guitarist Jonny Greenwood, who also scored The Master, Inherent Vice, and There Will Be Blood for the director. Greenwood's score for Phantom Thread is primarily piano-and-string stuff, with a "modern-vintage" sound, meaning that it's got traditional orchestrations and melodies, but still hangs on to a bit of the Greenwood dissonance to let it sound a little haunting and forlorn. It's quite an accomplished soundtrack that adds layers to the film. It's a beautiful score that matches the stunning visuals very well.
Cast and Crew
Director(s): Paul Thomas Anderson
Producer(s): Paul Thomas AndersonMegan EllisonDaniel LupiJoAnne Sellar
Screenwriter(s): Paul Thomas Anderson
Story: 
Cast: Vicky Krieps (Alma)Daniel Day-Lewis (Reynolds Woodcock)Lesley Manville (Cyril) Sue Clark (Biddy)Joan Broewn (Nana)Harriet Leitch (Pippa)Dinah Nicholson (Elsa)Julie Duck (Irma)Maryanne Frost (Winn)Elli Banks (Elli)Amy Cunningham (Mabel)Amber Brabant (Amber)
Editor(s): Dylan Tichenor
Cinematographer: Paul Thomas Anderson
Production Designer(s):
Costume Designer: Mark Bridges
Casting Director(s): Cassandra Kulukundis
Music Score: Jonny Greenwood
Music Performed By: 
Country Of Origin: USA