A couple of years ago, Cinema Fearité explored a glorified student film from 1984 by now-music documentary filmmaker Gorman Bechard (Color Me Obsessed: A Film About The Replacements, Every Everything: The Music, Life & Times of Grant Hart) called Disconnected. Well, in 1987, Bechard followed up the crazy Disconnected with the equally crazy Psychos in Love.
Psychos in Love is about a strip club owning psycho named Joe (Bikini Bloodbath's Carmine Capobianco) who meets a manicurist psycho named Kate (Debi Thibeault from Assault of the Killer Bimbos). The pair has two things in common; they're both serial killers, and they both hate grapes. They fall in love (hence the title) and continue on with their murderous ways for a while, only together instead of alone. However, now that their love has given their lives purpose, they find that they get very little satisfaction from killing and decide instead to spend their evenings watching horror movies on their new VCR (remember, this was made in 1987). Their retirement ends when they meet up with a similarly murderous plumber named Herman (Bad Blood's Frank Stewart), and it's kill-or-be-killed.
Like Disconnected, Psychos in Love was a passion project for Gorman Bechard. The renaissance man handled the directing, cinematography, and editing, as well as co-writing the screenplay with Carmine Capobianco, who played the main male psycho Joe and, not to be outdone by Bechard, also provided the musical score and some of the special effects for the film. Psychos in Love has a sleazy documentary feel to it at times, with both Joe and Kate addressing the camera in interview segments, but still keeps the narrative flowing through traditional dramatic means. It's not trying to be a faux-documentary like Cannibal Holocaust, or a found-footage movie by the way of The Blair Witch Project. It just has a low-budget, TV crime re-enactment vibe to it.
There's some real self-aware, almost meta humor going on in Psychos in Love. Joe breaks the fourth wall Woody Allen-style several times, and even the boom mic and film crew get caught up in the shot in some places (another aspect that hints towards the faux-documentary angle). Bechard is also a student of horror movies, paying homage to every classic from Psycho to The Texas Chain Saw Massacre. Even in 1987, VCRs were common tech gadgets, but Joe and Kate embrace their new toy with the fury of fright flick cinephiles, nodding their approval on just about every psycho killer movie ever produced. For being on the later cusp of the golden age of the slasher, Psychos in Love displays a true love and respect for the genre.
Bechard's editing further cements the "reality TV" vibe of Psychos in Love. The film is stylishly cut mostly in a montage style, with non-continuous shots and jump cuts that make it look almost like a long-form music video. There is a coherent story, and the editing has continuity in regards to the narrative, but there are several instances where the cutting goes off the rails in a way that makes it seem as if the film was running short and Bechard just tossed in a few time padding sequences. These sequences either make the murders more surreal or show the passage of time, so they're functional, but they do seem a little like fat that could be trimmed.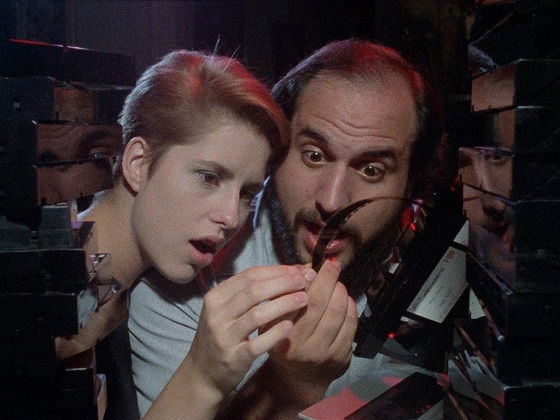 As mentioned earlier, the music in Psychos in Love was composed by the multi-talented fellow who also played Joe, Carmine Capobianco. It's a synth heavy score, but not a heavy synth score; it's not like the usual moody Moog melodies and spooky low-end rumbling that is usually heard in eighties horror scores. The music is more traditional, but with a low budget feel. It sounds almost as if it were performed on an old Casiotone keyboard, and it raises the camp factor by quoting more famous scores likes Jaws and Psycho. To top it all off, there's a musical interlude set to a funky ska song written by Bechard and Capobianco that tells the story of Joe and Kate's relationship (the duet is actually performed by Joe and Kate themselves, Capobianco and Debi Thibeault). It's a silly soundtrack for a silly movie.
Psychos in Love is a corny, campy, flawed-yet-fun movie, as was Disconnected. Gorman Bechard would make a couple more movies like them before graduating to more serious films and, finally, ending up doing the music documentaries for which he is best known. Nevertheless, Psychos in Love is a cool reminder of where the maestro started.