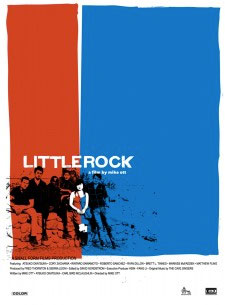 California, a place known for its idealistic landscapes and plethora of tourist destinations. Los Angeles, San Francisco, and San Diego lay in wait every year, welcoming people from all over the world who embark on seeing how the people of these romanticized places live. There are other parts of California as well. Places locals may refer to as pit stops along the way to better destinations. Areas where you may stop to re-fuel or grab a snack. These are the towns that go unnoticed in guide books, and barely make it onto maps. This is small town America, nestled among the bright lights of big cities; places they are so close to but feel alienated from. The film Littlerock explores one such town, through the eyes of two travelers who inadvertently find themselves stuck there, fittingly named Littlerock, California.
Synopsis: When her car breaks down on a site-seeing tour of California, a Japanese student winds up stranded in a small desert town. Exhilarated by a sudden sense of freedom, she extends her stay and finds friendship, romance, and what promises to be a new home. But as she pulls back the layers on this unlikely paradise, she discovers a different America than the one in her dreams.
Littlerock does have all of the makings of an American independent film. Great sprawling sunsets with characters lit from behind, begetting an ethereal quality to scenes. The typecast characters we picture in small towns: the racist, the cool boy all the girls want, the lone foreigner who struggles to fit in, and the local, awkward boy with big dreams he will never accomplish. As well as the strong focus on the pangs of discovering yourself amongst the foreign landscape that is life, regardless of where you come from. But the film manages to touch on these banalities just enough as to be familiar to a viewer but also introduce additional layers that help it stand out from just another American independent film. This standout comes in the form of the lead actress, Atsuko Okatsuka (also a co-writer of the screenplay) and how her character does not speak a word of English. Shocking as that may sound to most people today it is true that not everyone speaks English. Honestly, it is a hard sell in a modern film as most countries in the World have introduced teaching English at an elementary school level. Nothing is impossible though, and for the sake of the film the viewer must believe that Atsuko has managed to go her entire young life without learning any of the English language while living in Japan. That said, she relies on her brother Rintaro to communicate for her with their newfound friends in Littlerock as he does speak English.

When Rintaro leaves her there, at her own pleading, she becomes incapable of communication through voice. This is what [begins to] make Littlerock interesting; as opposed to a quaint, forgettable indie. The reliance on Atsuko, the actress, multiplies tenfold as she must use her facial expressions, body language, and most importantly her eyes, to express any emotion, feeling, attachment, or reaction to any one person or thing. The relationship's she builds are built upon a deeper bond because they resonate without vocal communication.
Her friend Cory may try continually to speak to her in English but her blank yet pleading stare portrays that she has no understanding of what he is saying. With her love interest, music plays a role in them building a connection but physical desire and general kindness are what bring them together, as well as curiosity and lust. Yes, you do have to wonder why no one picked up a book on Japanese to/from English translation at the bookstore; suspend disbelief and assume there are no bookstores in Littlerock and the Internet is non-existent. The film is stronger for its depiction of a character who is alienated just by being a foreigner in a town where foreigner's do not tread and handicapping her even more by stripping away language. When Atsuko is surrounded by people speaking English, and at times about her directly, she listens intently, studies them, but we know she is unable to comprehend what they are saying. The camera catches these moments often in direct close-ups, revealing everything that she is feeling in her complete silence. It makes for the weaving of a film full of the most basic plot points but with an incredible amount of empathy between Atsuko and the viewer.
As the film chronicles Atsuko's journey in this small town it goes one step further to examine a hidden secret in the Golden State. A place where the glamour and beauty of California, and the United States as a whole, is diminished…Manzanar. When Rintaro and Atsuko first mention this planned destination on their trip it goes almost unnoticed in the story as a whole. If one is not familiar with American history they may not even know this place exists or see the importance and emotional toll it holds for a Japanese citizen. It is a dirty word for Americans. A place we would like to forget as it brings up memories of a time in our history that is tainted. Manzanar is our concentration camp. Californians never visit it, or speak of its existence. It lies around 226 miles outside of Los Angeles, and is a National Historic Site.
During World War II the United States Government ordered more than 110,000 Japanese American Citizens and resident Japanese aliens detained there for fear that they were traitors to our Nation. Fear is what created Manzanar, and remorse and penance are what keep it existing today as a memorial to fragile civil liberty.
If you watch a great deal of films based on historical events you know for a fact that this part of American history is rarely mentioned. In American schools it is not discussed openly in history classes, but merely briefly touched upon or not brought up at all. I had to fly over four thousand miles, to Reykavik, Iceland, in order to see a film that mentions Manzanar and actually takes its characters there; making Manzanar a character itself at the end of the film as it stands in for everyone who lived through the WWII internment camps. The brief sidelines to introducing the character of Manzanar in the script are subtle. Atsuko is in contact with her father through letters, and lies to him about where exactly she is, because of his distaste for America. She writes at one point how well she is being treated and how much she likes America, and its people. Noting how different her view of America is from his and that with a new generation comes change. This is a layer to the film that could have gone unnoticed had Atsuko and Rintaro never made it to Manzanar. They do, and it is emotional. It is also very quiet. A deep level of respect and care went into the manner in which Manzanar was filmed by Director Mike Ott and how these scenes played out for the viewer. Things could have turned exploitive, or overly melodramatic. Thankfully, this does not occur. Instead it is a small tome to a part of history that has ties that reach farther than the United States' borders.

When Littlerock draws to a close you almost feel like you have watched two films tied together in one. The tone remains consistent, varying as need be given the circumstances, but it remains solid throughout. The synopsis evokes an unfavorable outcome for Atsuko and Rintaro, and there is a constant presence in the back of your mind as to when the horror will begin for these two travelers. The exact opposite occurs, and you leave feeling good about the inhabitants of small town America and their treatment of outsiders, as well as more knowledgable about the ripple effect of Manzanar. Two very distinct parts of a larger story have been created, and they meld together with great effort, but without err.
The film was screened at The Reykjavik International Film Festival, 2010 as part of the New Visions section and went on to win the audience award.

More information on the film may be found at its website here
Update on Littlerock as of January, 2011.
The film has gone on to win two prestigious awards in the independent filmmaking community. The Gotham award for Best Film Not Playing At A Theatre Near You and the Spirit Awards Acura Someone To Watch Award for Director Mike Ott. The film continues to screen at festivals around the world. Thanks to the Gotham win it will also be given a limited one-week release in New York City this year.
Credits:
Written & Directed By: Mike Ott
Story By: Mike Ott, Atsuko Okatsuka, Carl McLaughlin
Produced By: Fred Thornton, Laura Ragsdale & Sierra Leoni
Executive Producer: Hsin-Fang Li & Denny Densmore
Edited By: David Nordstrom
Original Music: The Cave Singers
Director of Photography: Carl McLaughlin
Sound Recordist: Fred Thornton
Sound Design: Ron Salaises
Re-recording Mixer: Mark Ettel
Cast:
Atsuko Okatsuka (Atsuko Sakamoto)
Cory Zacharia (Cory Lawler)
Rintaro Sawamoto (Rintaro Sakamoto)
Brett L. Tinnes (Jordan Doniel)
Roberto Sanchez (Francisco)
Matthew Fling (Garbo)
Ryan Dillon (Brody Butler)
Markiss McFadden (Marques Wright)
Sean Neff (Sean Tippy)
Trailer 1 from Small Form Films on Vimeo.
LiTTLEROCK Trailer from Small Form Films on Vimeo.