One of the biggest challenges in making an alien invasion movie is giving the audience something new and different. Should the aliens be bobble-headed egg-brains like the campy classics in This Island Earth and Mars Attacks!, or should they be the sleek and swift, genuinely terrifying beings from Alien or Independence Day? In 1959, screenwriter Sam Newman (The Giant Claw) and director Edward L. Cahn (It! The Terror from Beyond Space) found a way to approach aliens in a way that no one had ever seen…literally…in Invisible Invaders.
Invisible Invaders starts with Dr. Karol Noymann (John Carradine from The Howling) conducting nuclear experiments in his lab with the intent of using his knowledge to build atomic weapons. Something goes horribly wrong, and Dr. Noymann is killed in an explosion. The night of Noymann's funeral, his best friend and colleague, Dr. Adam Penner (Phillip Tonge from Miracle on 34th Street), is visited…by Karol Noymann! It is Noymann's body, but the voice belongs to an alien who says that he and his people have lived on the moon for thousands of years, invisible to human eyes. The alien tells Dr. Penner to get the people of Earth to stop their nuclear testing or they will be invaded in 24 hours. When Dr. Penner relays the message, he is met with contempt and scorn from his superiors. When the invasion comes, it is in the form of the alien beings supplanting themselves into the bodies of dead humans to ransack the Earth. Believing that Dr. Penner may be the only person who can help stop the invasion, Lieutenant General Stone (Paul Langton from "Peyton Place") sends Major Bruce Jay (Revenge of the Creature's John Agar) to transport Dr. Penner, his daughter Phyllis (Jean Byron from "The Patty Duke Show"), and his assistant John Lamont (The Steel Helmet's Robert Hutton) to a secret bunker. Once there, the group races against time to come up with a way to fight the invisible invaders.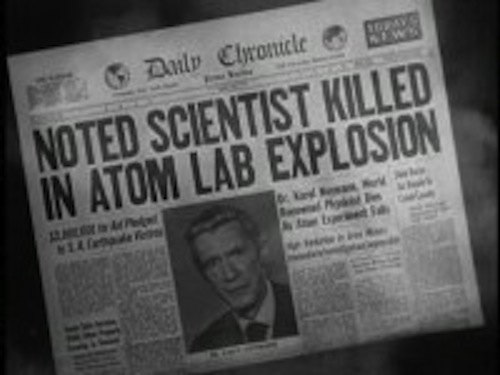 By 1959, Edward L. Cahn was already somewhat of a B-movie legend, having already made The She-Creature, Invasion of the Saucer Men, and Creature with the Atom Brain. Invisible Invaders is the epitome of a 50s sci-fi B-movie; it's got aliens, zombies, and a nuclear disaster. The story is a fun and unique take on the alien invasion motif and the legendary cast turns in some typically campy performances. For as much fun as it is, Invisible Invaders is an unappreciated picture.
Like many other post World War II movies, Invisible Invaders plays upon the conscious fear of atomic energy and nuclear weaponry. In this way, the aliens can be viewed as the good guys, playing hardball to get the humans to stop their nuclear tests. While it may not make quite as strong of a statement as, say, Godzilla, Invisible Invaders still has plenty to say about the evils of atomic bombs.
Given the budgetary constraints of Invisible Invaders, the methods by which Edward L. Cahn displays his aliens are ingenious. First off, they are invisible. Their whereabouts are depicted with footprints sliding along in the dirt, and with trees and shrubbery moving aside as the invisible beings move through them. When the aliens embody dead humans, they appear as Romero-esque zombies with an effect that is very similar to an Ed Wood film. It's only during the climax of the film that the aliens need any kind of slick visual effects to be shown, and Cahn uses double-exposure camera tricks to convincingly get the point across. Invisible Invaders forces the audience to use their imagination to picture the aliens' true forms, and whatever the viewer imagines is better than anything that could be dreamt up by Cahn.
Another way that Invisible Invaders saves on its budget is by liberal use of stock footage and miniature models for its special effects. Film clips of explosions and building collapses are included seemingly everywhere in the film, making the destruction sequences look realistic. Automobile accident and natural disaster footage is "borrowed" from other B-movies to get extra mileage out of the original clips. Where new footage was shot, Cahn used miniature model sets for additional carnage. Invisible Invaders' recycled film snippets give it the most bang for its buck when it comes to scenes of damage and destruction.
With Edwards L. Cahn's legendary reputation as a B-movie director, it's only right that he should be able to assemble a first-rate cast. Nearly every member of the ensemble in Invisible Invaders has extensive experience in B-movies. John Agar had starring roles in The Mole People, Attack of the Puppet People, and Tarantula. Paul Langton was in The Incredible Shrinking Man and The Snow Creature. Robert Hutton was in The Colossus of New York before Invisible Invaders, and would go on to play roles in The Slime People and They Came from Beyond Space in the years that followed. Philip Tonge was in House of Wax, and Jean Byron was in Jungle Moon Men. And John Carradine, well he was in everything from House of Frankenstein and House of Dracula to The Invisible Man's Revenge and The Mummy's Ghost. Invisible Invaders brought together a veritable dream-team of B-movie talent, and the performances of the cast do not disappoint.
As far as science fiction goes, the fifties were a prolific time. B-movies were a dime a dozen. Unfortunately, Invisible Invaders slipped through m the cracks and has dropped off many horror fans' radars. For those looking for something new, they only need to go back fifty years or so and check out Invisible Invaders.