Them That Follow Review
'Them That Follow' takes ophidiophobia to a new level.
Release Date: August 9, 2019
Set deep in the wilds of Appalachia, where believers handle death-dealing snakes to prove themselves before God, Them That Follow tells the story of a pastor's daughter who holds a secret that threatens to tear her community apart.
Directors: Brittany Poulton, Daniel Savage
Screenwriters: Brittany Poulton, Daniel Savage
Producers: Gerard Butler, Bradley Gallo, Michael A, Helfant, Danielle Robinson, Alan Siegel
Cast: Alice Englert (Mara), Walton Goggins (Lemuel), Kaitlyn Dever (Dilly), Olivia Colman (Hope), Jim Gaffigan (Zeke), Lewis Pullman (Garret), Thomas Mann (Augie)
Editor: Joshua Raymond Lee
Cinematographer: Brett Jutkiemicz
Production Designer: Carmen Navis
Casting Directors: John McAlary, Orly Sitowitz
Music Score: Garth Stevenson

There's something about religious cults that makes good movie fodder. So far this year, cults/communes have been at the center of one of the year's best movies in Midsommar. We've also gotten several different takes on the Manson family, including those in The Haunting of Sharon Tate and Once Upon a Time…In Hollywood. But the scariest cult of the year may be the one in Them That Follow.
Set in the Appalachian mountains, Them That Follow is about a young woman named Mara (Alice Englert from Beautiful Creatures) whose father, Lemuel (The Hateful Eight's Walton Goggins), is the leader of a weird religious sect that bases its beliefs around poisonous snakes. Mara's faith seems to be faltering, however, as she is betrothed to marry one boy named Garret (Lewis Pullman from Bad Times at the El Royale) while she has stronger feelings for another named Augie (Thomas Mann from Me and Earl and the Dying Girl), who himself has expressed an interest in leaving the "church." Mara finds comfort in her best friend, Dilly (Booksmart's Kaitlyn Dever), but gets resistance from her father and Augie's parents (The Favourite's Olivia Colman and Experimenter's Jim Gaffigan), who want to cleanse her sins and force her to commit to the church forever.
Written and directed by Britt Poulton and Daniel Savage (who also collaborated on the short film Lizard King a few years back), is more than just a movie about a girl struggling with her inherited belief system. But it's also more than a terrifying look inside of a wacky religious cult. For the most part, it's a character piece, with most of the movie dedicated to setting up the colorful players and the troubling situations. It's one of those slow burners where everything moves deliberately and methodically towards a jaw-dropping climax.
The world that Poulton and Savage have built in Them That Follow is an expertly-crafted one, painted in fine strokes while still managing to stay contained within the small scale that it deserves. The congregation is Mara's whole life and all she's ever known, and that isolation plays a big part in the effectiveness of the movie. The fact that Augie and Garret are probably the only two boys her own age that she knows makes her universe that much smaller and more claustrophobic. She's not only torn between two lovers, but she's got to choose between the one that ties her to her past and the one that represents a future independent of the church…and of her father's strict hand.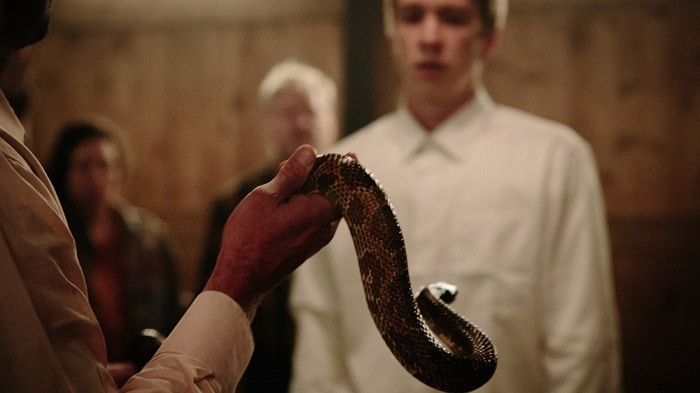 What Them That Follow boils down to is a dark coming-of-age tale, one in which the protagonist has to come to terms with both growing up and questioning her faith. This movie was made for those who enjoy folk legends about Appalachian religious cults. If that's you, check it out. And even if it isn't, it's still worth a look. It may help you become one of those who enjoy folk legends about Appalachian religious cults.

The only thing more astounding than the cast in Them That Follow is how little some of the big names have to do in the movie. Oscar winner Olivia Colman is used sparingly in just a handful of scenes, and although her performance is great and her character contributes heavily to the story, she seems a bit wasted. Kaitlyn Dever is wasted even more, relegated to being little more than a sounding board for Mara with no real arc of her own. Lewis Pullman and Thomas Mann carry their weight, and Alice Englert's sympathetically confused naivety holds the whole movie together, but it's Walton Goggins who unsurprisingly steals the show as the fire-and-brimstone preacher. Even if he doesn't convince the audience to believe, he convinces them that he believes, and that's the bigger goal. There are no weak links in the cast of Them That Follow, but Walton Goggins and Alice Englert do the heavy lifting for everyone else.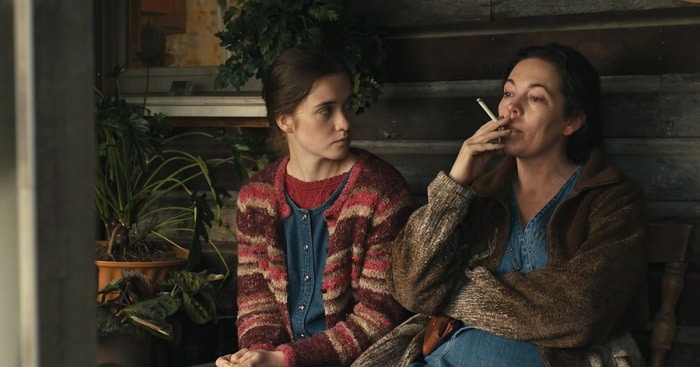 Even though it hardly pretends to be one, Them That Follow is not a traditional horror movie. There's not a single jump scare in the entire film, just a whole lot of unsettledness paired with a complete feeling of discomfort. It's packed with tension, mostly targeted at those who might be afraid of snakes. Much of the church's proceedings revolve around parishioners holding snakes and letting them slither all over them until they are either bitten or until Lemuel decides that they are pure. These moments are horrifyingly anxious. For a non-horror movie, Them That Follow is pretty horrific.