Once Upon a Time...in Hollywood Review
Quentin Tarantino does Quentin Tarantino things in 'Once Upon a Time...in Hollywood.'
Release Date: July 26, 2019
A faded television actor and his stunt double strive to achieve fame and success in the film industry during the final years of Hollywood's Golden Age in 1969 Los Angeles.
Director: Quentin Tarantino
Screenwriter: Quentin Tarantino
Producers: David Heyman, Shannon McIntosh, Quentin Tarantino
Cast: Leonardo DiCaprio (Rick Dalton), Brad Pitt (Cliff Booth), Margot Robbie (Sharon Tate), Al Pacino (Marvin Schwarzs), Margaret Qualley (Pussycat), Austin Butler (Tex), Dakota Fanning (Squeaky Fromme), Kurt Russell (Randy), Luke Perry (Wayne Maunder), Emile Hirsch (Jay Sebring), Mike Moh (Bruce Lee), Timothy Olyphant (James Stacy), Lorenza Izzo (Francesca Capucci), Bruce Dern (George Spahn), Scoot McNairy (Bob Gilbert), Nicholas Hammond (Sam Wanamaker), Damon Herriman (Charles Manson)
Editor: Fred Raskin
Cinematographer: Robert Richardson
Production Designer: Barbara Ling 
Casting Director: Victoria Thomas

Recently, auteur filmmaker Quentin Tarantino, writer/director of modern classics like Pulp Fiction, Reservoir Dogs, and The Hateful Eight, has mentioned that he's going to retire from Hollywood after making ten movies. He's almost there; his ninth film is Once Upon a Time…in Hollywood.
Set in 1968, Once Upon a Time…in Hollywood is about an actor named Rick Dalton (Leonardo DiCaprio from Django Unchained and The Revenant) who struggles with his fading stardom after leaving a successful television series for a doomed film career. His best friend and stunt double, Cliff Booth (Brad Pitt from Inglourious Basterds and World War Z), also feels the effects of Rick's faltering career, as his own career is directly dependent upon it. One afternoon, Cliff meets a young hitchhiker (The Nice Guys' Margaret Qualley) who takes him to meet her "family," a hippie clan that lives at the Spahn Movie ranch where Cliff and Rick worked years before on their TV show. However, The freeloading flower people have sinister plans for the director Roman Polanksi (Rafal Zawierucha from The Soviet Sleep Experiment) and his wife, actress Sharon Tate (Margot Robbie from I, Tonya and Suicide Squad), who just so happen to be Rick's new neighbors.
Once Upon a Time…in Hollywood is almost like an anthology movie that is composed of the separate adventures of its main characters, sort of like what Tarantino did with Pulp Fiction (or, better yet, what Paul Thomas Anderson did with Boogie Nights). The stories obviously intersect, and brilliantly in most cases, but really, the whole thing is just Rick, Cliff, and Sharon going about their daily lives and struggling to keep their respective things going. DiCaprio, Pitt, and Tate are supported by a huge ensemble cast, most of whom only pop in for a scene or two, talented actors like Al Pacino (Danny Collins), Dakota Fanning (Ocean's Eight), Luke Perry ("Beverly Hills, 90210"), Timothy Olyphant (Snowden), Scoot McNairy (Destroyer) , and Emile Hirsch (Killer Joe), as well as almost half of QT's The Hateful Eight cast (Kurt Russell, Bruce Dern, Michael Madsen, and Zoë Bell). It almost seems as if the stars are lining up to work with Tarantino before he calls it quits.
From a cinematic standpoint, Once Upon a Time…in Hollywood is one hell of a movie. Quentin Tarantino is a master of the filmic language, and he knows exactly how to capture and deliver what he wants to put on celluloid. Sure, he's self-indulgent, but with the amount of vision that he has displayed in the past, he's earned that right. One gets the feeling that each and every aspect of Once Upon a Time…in Hollywood appears onscreen exactly as QT drew it up in his head. Even the "tributes" to other movies of which he's so fond make sense within the Hollywood Heyday theme of the film.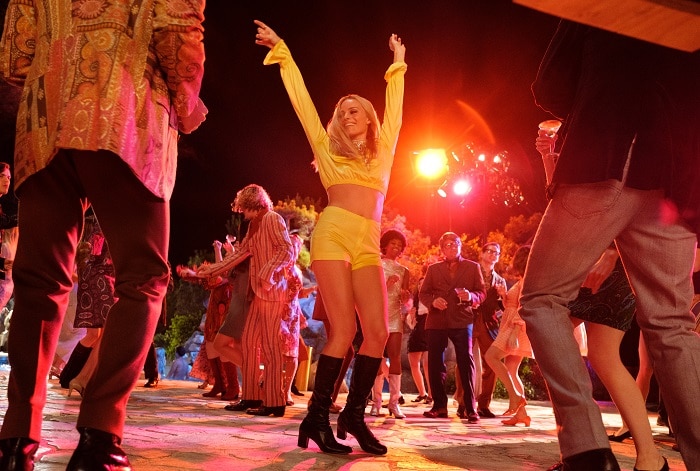 Now, from a narrative viewpoint, things get a little long in the tooth. Parts of Once Upon a Time…in Hollywood drag out a bit. The movie is never boring, and it's packed with plenty of those trademark QT conversations about nothing (although their lengths seem to be reeled in a little). But, as interesting as watching Rick, Cliff, and Sharon go about their business is, there are times when the viewer just wonders when (or if) something – anything – is going to happen. Thankfully, everything collides brilliantly in an incredibly satisfying third act. Have a little patience with Once Upon a Time…in Hollywood. It'll be rewarded handsomely.
There's already talk of Quentin Tarantino's next movie being a Star Trek entry, and rumors about Kill Bill 3 are swirling around as well. Which, for those keeping track, will put him at eleven movies, one over his projected limit. Hopefully, the ten movie thing is a bluff, because as long as QT keeps making good movies, he can (and should) do it forever.

For the photography in Once Upon a Time…in Hollywood, Quentin Tarantino called upon his usual cinematographer Robert Richardson, who has shot all of QT's movies since the Kill Bill saga. Richardson knows the Tarantino style well, shooting with long takes that let the actors breathe their dialogue, as well as using dramatic sweeping camera motion that forces the viewer to become a character in each scene. Once Upon a Time…in Hollywood is absolutely in love with a repeated overhead crane shot that reveals massive sets while following specific characters around. These are tough shots to execute, and Richardson makes it all look easy.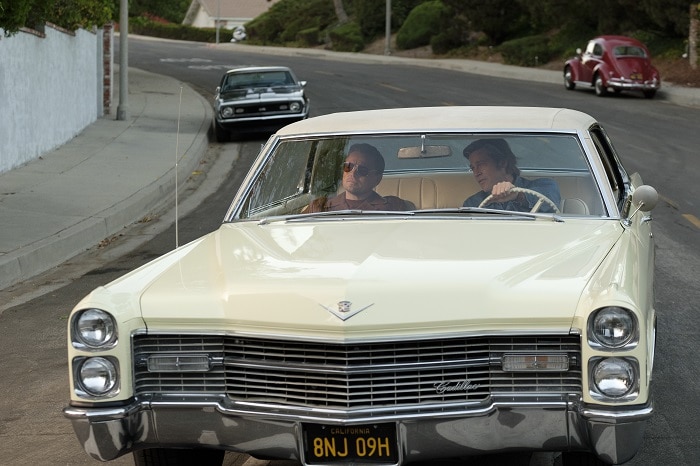 Speaking of massive sets, QT's whole production design and art direction teams deserve a heap of credit as well, for they seriously transform modern day Los Angeles into a late sixties version of itself. How they got Brad Pitt to drive on the 101 without accidentally getting any modern cars in the shots is a miracle. Even if it's all done with computers, it's impressive. When QT does a period piece, he does it right.

Of course, because Once Upon a Time…in Hollywood is a Quentin Tarantino movie, it's got a carefully curated soundtrack. Most of the music in the film is diegetic, either being provided by the AM radio station in Cliff's car while he tools around town or screaming from the speakers connected to Sharon's turntable stereo as she leisurely spins records. The songs are all period music from artists as varied as Deep Purple and Neil Diamond, so it feels like a cohesive radio soundtrack, and the stuff Cliff hears even has a DJ in between tracks (although it's not K-Billy). To complete the Hollywood experience, there are even a few different versions of "California Dreamin'" peppered throughout the movie. The musical soundtrack is important to a Tarantino joint, and every song in Once Upon a Time…in Hollywood has been placed in the movie for a reason.