Synopsis: A frontiersman named Hugh Glass on a fur trading expedition in the 1820s is on a quest for survival after being brutally mauled by a bear.
Release Date: January 8, 2015     MPAA Rating: PG-13
Genre(s): Adventure, Drama
Film Review

The word "Revenant" is derived from the Latin word "reveniens," which means "returning." The term has come to represent a ghost or a person who has come back from the dead. It was also the nickname given to a nineteenth century American frontiersman named Hugh Glass who, of course, seemed to cheat death. It's no wonder that a movie about Glass would bear the title The Revenant.
The Revenant begins with Glass (Leonardo DiCaprio from The Great Gatsby) guiding a group of fur trappers through a cold and frigid section of South Dakota. While scouting ahead for food, Glass is attacked by a giant grizzly bear. When his party finds him, he is close to death. They try in vain to transport him, but the terrain is too rough, so it is decided that they will leave him behind. Captain Andrew Henry (Ex Machina's Domhnall Gleeson) asks for volunteers to stay with Glass until he dies to give him a proper burial, and after some financial rewards are offered, John Fitzgerald (Tom Hardy from Mad Max: Fury Road) and Jim Bridger (Will Poulter from We're the Millers) volunteer to hang back. As soon as the party is out of sight, Fitzgerald convinces the young Bridger to leave Glass before he's dead. Of course, Glass does not die, but instead tracks his way, wounded and freezing, across the rugged and treacherous land in an effort to reach the trapper's base, both for his own survival and to have his revenge on those who left him to die.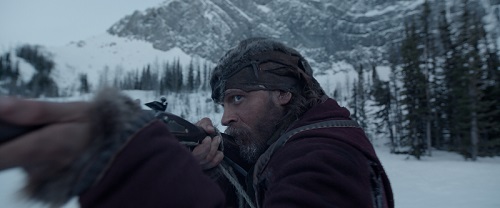 After his last picture, Birdman, won four Oscars (including Best Picture and Best Director), Alejandro G. Iñárritu had to follow it up with something truly impressive. The Revenant is it. Adapted by Iñárritu and Mark L. Smith (Martyrs, Vacancy) from Michael Punke's novel The Revenant: A Novel of Revenge, the film is a somewhat fictionalized account of a true story; the real Hugh Glass really did almost get mauled to death by a bear and actually did have to traverse unforgiving terrain in order to survive, but there aren't a lot of details known about his true struggle, so Iñárritu and Smith filled in the gaps with a bit of dramatic licensing. Even with the tall-tale-telling, there's still a ton of authenticity and realism present in the film, and that's what makes The Revenant so great – it's the perfect combination of fact and fiction, believable enough for the audience to get on board, but still exciting enough to keep them there.
On a technical level, The Revenant is amazing. It's more than simply a movie; it's an experience. From its opening scene of the fur traders being ambushed by a band of Arikara Indians to the inevitable climactic showdown that comes some two-and-a-half hours later, The Revenant is a master class in grand-scale filmmaking. With Birdman, Iñárritu showed what he could do on a claustrophobic level. With The Revenant, he spreads his wings and flies.
The scene in The Revenant that has everyone talking is the bear attack scene. No, the bear does not rape Leonardo DiCaprio, but yes, it severely beats the hell out of him in a seemingly never-ending assault of claws, fangs, and fur. And by the time it's over, the audience is just as ready to collapse from exhaustion as DiCaprio's character is. It's one of the most memorable scenes in an already extraordinary film, but those hoping to see Leo get violated by an ursine assailant will need to keep hoping. They'll have to settle for him getting mauled to within an inch of his life. It's such an incredible scene that it's difficult to imagine anyone would be disappointed with the tradeoff.
It's actually hard to imagine anyone being disappointed with The Revenant in general. It's a well-crafted, perfectly executed exercise in immersive filmmaking.

Just about every character in The Revenant is based on a real person, and for the most part, the actors do well with their roles. The obvious standout is Leonardo DiCaprio; he's onscreen for the majority of the movie, and he jumps into the part of Hugh Glass with both feet, generating empathy and making the audience suffer his trials and tribulations along with him. The rest of the cast is a mixed bag; Tom Hardy is expectedly good, while Will Poulter and Domhnall Gleeson are serviceable, although neither offers anything special.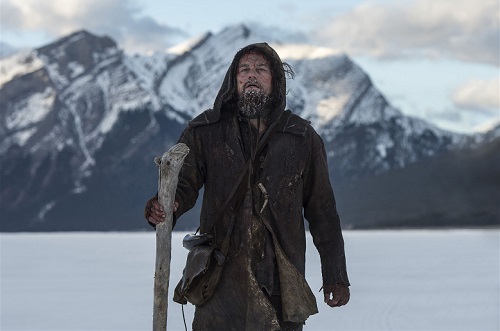 A couple of Alejandro G. Iñárritu's directorial decisions really helped his actors get into character for their parts. First, Iñárritu elected to shoot the film in sequence, which helped the cast with the logical flow of what Joseph Campbell would call the Hero's Journey, and second, the cast was actually roughing it in the woods for the duration of the shoot, which only made the performances more authentic. So, when it looks like Leonardo DiCaprio is freezing to death, how much of it is brilliant acting and how much of it is DiCaprio's real-life suffering? Only DiCaprio and Iñárritu know for sure, but if he wins that elusive Best Actor Oscar for The Revenant, DiCaprio may just have Iñárritu and the cold Canadian wilderness to thank for it.

The actual photographic images in The Revenant are almost as impressive as the methods by which they were captured. The film was shot by Emmanuel Lubezki (who not only won the Academy Award last year working with Iñárritu on Birdman, but also won it the year before for Gravity), and it's full of more of the same long takes that audiences have come to expect from the cinematographer, breath-holding shots that go on for ten or twelve minutes before the viewer realizes that there hasn't been a cut. The Revenant was shot in the middle of nowhere: the misty forests and snowy mountains of Canada and Argentina that have rarely (if ever) been touched by the hands of human progress. The cameras were equipped with wide lenses that created huge depth of field so that they could move fluidly throughout the scenes, whether on a crane, attached to a Steadicam, or held in an operator's hand. Lubezki and Iñárritu used only natural light, sunlight during the day and campfire flames at night, to give the film the most natural look possible. The resulting film is a very visceral experience, a movie that is felt more than it is seen, with the audience feeling the cold, pain, and exhaustion along with the characters. Emmanuel Lubezki is a pretty safe bet to three-peat this year at the Academy Awards with his work on The Revenant.
Cast and Crew
Director(s): Alejandro G. Iñárritu
Producer(s): Alejandro G. IñárrituSteve GolinDavid KanterArnon MilchanMary ParentKeith RedmonJames W. Skotchdopole
Screenwriter(s): Mark L. SmithAlejandro G. Iñárritu
Story: Michael Punke
Cast: Leonardo DiCaprio (Hugh Glass)Tom Hardy (John Fitzgerald)Domhnall Gleeson (Captain Andrew Henry) Will Poulter (Jim Bridger)Forrest Goodluck (Hawk)
Editor(s): Stephen Mirrione
Cinematographer: Emmanuel Lubezki
Production Designer(s):
Costume Designer: Jacqueline West
Casting Director(s): Francine Maisler
Music Score: Bryce Dessner, Carsten Nicolai, Ryûichi Sakamoto
Music Performed By: 
Country Of Origin: USA