In the horror world, there are a handful of movies that are household names, movies that are well known by even those who aren't fans of the genre.  Movies like Halloween, Friday the 13th, The Texas Chain Saw Massacre, and Night of the Living Dead have transcended the genre and have leapt into the vernacular of everyday cinema.  Then, there are films that are just as legendary but are only revered and worshipped by the insiders, the hardcore horror fans.  Suspiria is one of those movies.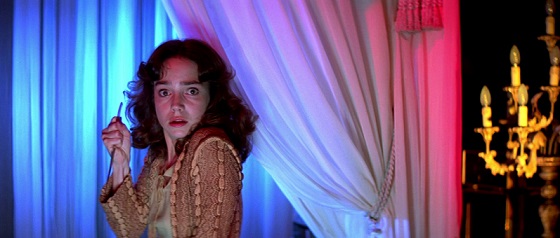 Suspiria is about a young American ballet dancer named Suzy Bannion (Jessica Harper from Phantom of the Paradise) who is accepted into a prestigious dance school in Germany.  When she arrives on a dark and stormy night, she can't find anyone who will let her in, but she does see a girl frantically trying to get away from the school.  Suzy returns the next day to meet headmistress Madame Blanc (Joan Bennett from "Dark Shadows") and lead instructor Miss Tanner (Alida Valli from Lisa and the Devil and Eyes Without a Face), and she discovers that the girl she saw fleeing the night before has been brutally murdered.
During her first class, Suzy collapses and is put on bedrest for a few weeks.  With nothing by time on her hands, Suzy begins to snoop around the academy, and she discovers that the school has a darker side that revolves around the occult, witchcraft, and murder.
Legendary Italian horror director Dario Argento wrote Suspiria with his girlfriend, Daria Nicolodi (some reports have her as having written all of it).  The story was inspired by tales told by Nicolodi's grandmother, who was said to have escaped from a German music school that was a cover for a coven of secret witches.  Made in 1977, Suspiria is considered to be the first part of a loose trilogy of Argento movies called "The Three Mothers," which also includes 1980's Inferno and 2007's The Mother of Tears.
It was shot in Italy and Germany using a multi-national cast, so all dialogue was overdubbed rather than recorded on location.  And this makes for some interesting editing and continuity choices – what works with one language overdub doesn't necessarily work with another, especially when one actress is speaking Italian and another is speaking English.  Despite its flaws, however, Suspiria is considered a masterpiece of Italian horror.
One of the reasons why Suspiria is so loved is the slasherific kills in the film.  Argento is a master at crafting supernatural slaughter, and Suspiria is the master at the top of his game.  The death scenes in the film are all gruesomely over-the-top, which makes them a ton of fun to watch.
For example, the first girl to die is first pulled through a broken window, stabbed repeatedly with a knife, then strangled with a rope that eventually hangs her when she is dropped through a skylight…and the broken pieces of the skylight rain down and kill her friend in a brutal case of two-for-one.  Another girl is chased by an unseen assailant to an attic room, and while her pursuer tries to unlatch the door with his knife, the girl climbs through a window and falls into a room full of barbed wire.  The school's blind piano player even gets attacked by his own guide dog.  For a movie about witches, Suspiria is full of bloody good kills.
Another reason Suspiria is a favorite of horror fans is the stunningly gorgeous photography.  Shot by Argento and cinematographer Luciano Tovoli (Tenebre, Single White Female), Suspiria is a visually surreal acid trip of a movie.  Tovoli used anamorphic lenses, so everything has a huge look, whether it's a part of a single character's face or an entire grand ballroom.  The lighting is wildly artificial, with bright primary colored gels giving everything the full "Giallo" look.
Argento and Tivoli also use every camera angle in the book to make Suspiria look as dreamlike and fantastical as possible.  The cinematography in Suspiria is what turns the twisting occult story into a beautiful horror classic.
And then, of course, there is the music.  As is the case with many of Argento's film, the soundtrack to Suspiria is a collaboration between the director and the band Goblin (Dawn of the Dead, Patrick).  The score is a pulsating combination of hard rock rhythm and heavy synth melodies, with just a touch of barely discernable gibberish whispering (performed by Goblin keyboardist Claudio Simonetti) to raise the creep factor a bit.
The score was written and recorded before the film was shot, allowing Argento to sync his visuals up with the distinctive music.  This, coupled with the fact that very little dialogue was actually recorded during filming, also allowed Argento to blast the music on the set in an effort to disorient his actors and get more authentic performances out of them.  Whatever he did, it worked; Goblin's score is an indispensable element of Suspiria.
It may not be firmly established within the lexicon of non-horror cinema lovers yet, but Suspiria (1977) is getting that rite-of-passage of the horror film, the big-budget remake, next year.  So maybe a cast that includes Carrie's Chloë Grace Moretz, Fifty Shades of Grey's Dakota Johnson, and Snowpiercer's Tilda Swinton will get Suspiria the mainstream notoriety that it so richly deserves.