Although he wouldn't become a household name until A Nightmare on Elm Street in 1984, Wes Craven spent the seventies building up his legacy with low budget shockers like The Last House on the Left and The Hills Have Eyes. In retrospect, these films are highly revered, but they were seen as little more than grindhouse schlock in their day. Just before he dabbled with the mainstream with Swamp Thing, Craven eased out of exploitation cinema in 1981 with a spooky film that combined slasher gore with occult creepiness called Deadly Blessing.
Deadly Blessing is the story of Martha Schmidt (Battlestar Galactica's Maren Jensen) and her husband, Jim (Doug Barr from "The Fall Guy"), a couple who live and work on a rural farm in Eastern Pennsylvania located near a hard-core religious sect of people called Hittites. Jim was a Hittite as well until he left the church to marry Martha. There is tension between the Schmidts and the Hittites; the Hittites refer to Martha as an Incubus, and they are bitter that she has lead Jim away from their flock. While investigating a noise in his barn one night, Jim is mysteriously killed by his tractor after seeing the word Incubus scrawled across the wall. To help her grieve, a pair of Martha's friends from Los Angeles named Lana (Basic Instinct's Sharon Stone) and Vicky (Susan Buckner from Grease) come to visit. The strangeness does not end with Jim's death, however, as more people, both Hittite and secular, end up dying under dubious circumstances. Martha, Lana, and Vicky take it upon themselves to figure out who – or what – is behind the murders before they become victims themselves.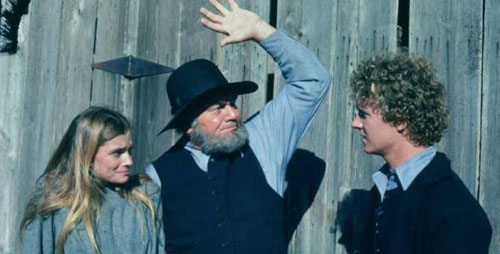 The fear of the unknown and the misunderstood is a key element of horror films, and Deadly Blessing finds Wes Craven calling upon religious divides to generate scares. Craven wrote the screenplay for the picture with a pair of television writers, Glenn M. Benest ("Stranger in our House") and Matthew Barr ("The Forgotten"), and the results are somewhat mixed. For every genuinely frightening moment (Sharon Stone's character has a horrifying dream involving spiders), there seems to be a hokey one (a burning trail of gasoline follows a moving car down a dirt road until it blows up). The film is not one of Craven's better efforts; the sacred-secular theme would end up being used more effectively a few years later in Children of the Corn and The Believers. Nevertheless, Deadly Blessing does have moments that are capable of inspiring true horror in its audience.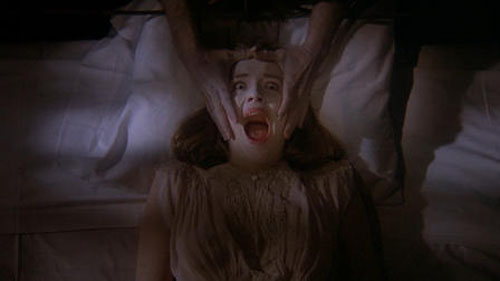 By the time Wes Craven made Deadly Blessing, he had had some moderate success but still lacked an identifiable fingerprint as a director. He wouldn't solidify that identity until A Nightmare on Elm Street, but there are flashes of brilliance in Deadly Blessing that hint towards his later work. One of Craven's trademarks as a director is the presence of a strong and capable final girl, seen very plainly in Craven's two biggest franchises, A Nightmare on Elm Street and Scream. Because of the death of her husband early in the film, Martha Schmidt is similar to both A Nightmare on Elm Street's Nancy Thompson and Scream's Sidney Prescott in this regard; she can't count on a man to save her. Plot-wise, the climax of Deadly Blessing is very similar to that of Scream, as far as twists and turns go. Finally, and most obviously, there is a shot in Deadly Blessing that is almost identical to a famous one used in A Nightmare on Elm Street: in a bathtub, the camera looks up through the legs towards the face of the bather from water level (although the shot has a better payoff in A Nightmare on Elm Street when Freddy's gloved hand reaches up from underneath the bubbles). Deadly Blessing may have been one of Wes Craven's earlier films, but it harvests the beginnings of his cinematic identity.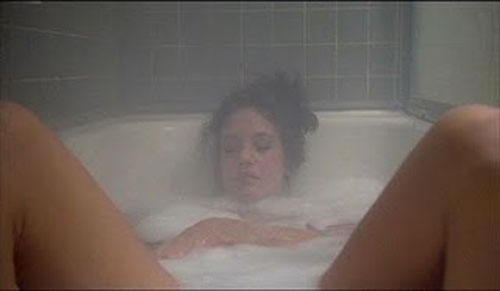 Although Deadly Blessing didn't really have any big name actors, its cast is full of talented role players and future stars. In addition to Maren Jenson, Sharon Stone, and Susan Buckner, Wes Craven had several other familiar faces with which he built his Hittite clan. Ernest Borgnine from The Poseidon Adventure and The Black Hole plays Jim's father, Isaiah, the leader of the Hittites. Jeff East, better known as young Huck Finn in the children's versions of Tom Sawyer and Huckleberry Finn, plays Jim's younger brother, John. Horror mainstay Michael Berryman, who worked with Craven on The Hills Have Eyes, stars as a Hittite troublemaker. Finally, a fresh-faced, pre-"Knot's Landing" Lisa Hartman is cast as a sensitive, artistic young member of the sect. Watching the cast of Deadly Blessing is like looking at a time capsule of genre actors such as Borgnine and Berryman mixed with future A-listers like Stone and Hartman.
The music for Deadly Blessing was composed by future superstar James Horner. Horner's soundtrack for this film isn't nearly as interesting as the story of his career. He got his start working with Roger Corman on classic b-movies like Humanoids from the Deep and Battle Beyond the Stars. From there, he padded his resume with standard eighties horror fare such as The Hand and Wolfen. Eventually, he would graduate to scoring blockbuster films for James Cameron like Aliens, Titanic, and Avatar. For his entire career, Horner has been accused of cannibalizing himself, recycling motifs and themes from his previous films. His score for Deadly Blessing is one of his earlier works, done in his eighties horror days, so it's still fresh as far as originality is concerned, but there's no telling how many of the melodies and harmonies have shown up in other soundtracks over the course of Horner's long and storied career. Nevertheless, Horner's score works well for what it is – an early eighties creepfest.
Deadly Blessing is often thought of as one of Wes Craven's throwaway films, something to hold the place between The Hills Have Eyes and Swamp Thing. Between his A Nightmare on Elm Street and Scream franchises, the director would go on to revolutionize the horror genre. But, it's always fun to look back on the films that propelled him on his way, and Deadly Blessing is a good place to start.