The year 1960 was a banner year for horror, even if no one knew it at the time. In America, Alfred Hitchcock was defining the slasher genre with Psycho while Michael Powell was doing the same in England with Peeping Tom. Roger Corman made two of his most memorable films, The Little Shop of Horrors and House of Usher, while Terence Fisher pounded out not one, not two, but three future Hammer classics in The Two Faces of Dr. Jekyll, The Brides of Dracula, and The Stranglers of Bombay. The year also saw the production of William Castle's 13 Ghosts, Mario Bava's Black Sunday, Bert I. Gordon's Tormented, and Roger Vadim's Blood and Roses. But, amidst all of these influential and inventive films, perhaps the most creative horror film from 1960 is the French classic Eyes Without a Face.
Eyes Without a Face is about a doctor named Génessier (Pierre Brasseur from Children of Paradise) who has developed a technique called Heterografting in which he is able to transplant large sections of skin from one organism to another. What the medical profession does not know is that Génessier has been perfecting his technique on his own daughter, a young woman named Christiane (Edith Scob from Holy Motors) whose face was horribly disfigured in a tragic accident. Génessier's assistant, Louise (Alida Valli from Suspiria and The Third Man), befriends college girls and brings them to the doctor's home where he drugs them and uses them as donors for full-face transplants, desperately trying to find a new face that Christiane's body won't reject. Christiane, for her part, is miserable, for her father has convinced the rest of the world that she is dead, forcing her into a life of solitude and loneliness. Both Génessier and Christiane want the same thing – Christiane to have her life back – but they go about getting it in very different ways.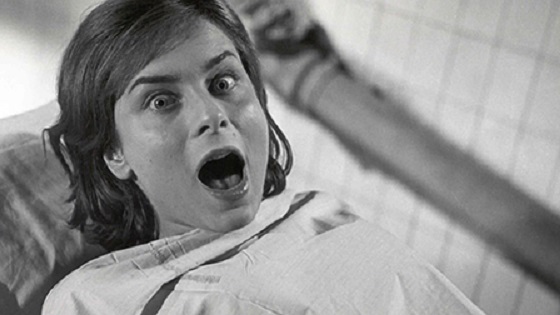 The novel which Eyes Without a Face was based upon was written by Jean Redon (Crazy in the Noodle). The script for the film was adapted from the book by Redon himself and Claude Sautet (who collaborated with Redon previously on The Tiger Attacks), along with Pierre Boileau and Thomas Narcejac (collectively known as Boileau-Narcejac, writers of the novels which were turned into Body Parts, Diabolique, and Vertigo). That's a lot of cooks in the screenwriter's kitchen, but director Georges Franju (Spotlight on a Murderer) manages to turn the words on the page into a tight, economical suspense story. Although it's not thought of being as important of a film as say, Psycho or Peeping Tom, Eyes Without a Face clearly influenced many movies in the years since its release, with snippets of it popping up in movies as varied as John Woo's Face/Off and Pedro Almodóvar's The Skin I Live In. There aren't a lot of scream-out-loud scares in the film, but that's not what it's about; it's the underlying sense of dread and fear that drives Eyes Without a Face.
One of the most effective elements of Eyes Without a Face is the careful way that Georges Franju deals with Christiane's face. Her actual face is kept hidden from the audience for half of the film, with actress Edith Scob wearing a creepy, expressionless rubber mask. Of course, the face is revealed, but the Phantom of the Opera-style unmasking comes much earlier in the film than one would expect – and then the face isn't shown again. In a brilliant bit of unexpected pacing, Franju gives the audience what it wants, but not when or how much. Because of this, the iconic image for Eyes Without a Face becomes the mask instead of the face. And it works.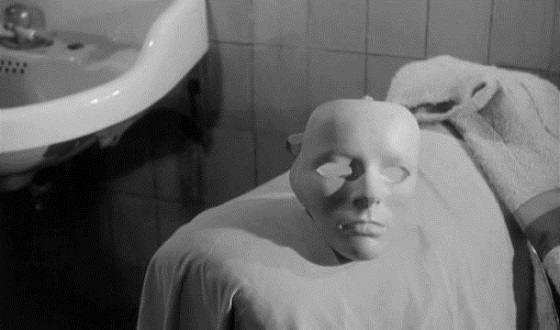 There is one scene in Eyes Without a Face which caused immense controversy immediately upon the film's release. While most of the movie is relatively tame by today's standards, a scene in which Dr. Génessier is performing his face-grafting surgery is shown, and it's a fairly graphic sequence. The cutting and removal of the donor face from the victim girl is shown, as is the placement and reattachment of the skin to Christiane. While most of the movie is full of suspenseful tension and subliminal horror, the surgery scene hits the audience with a bit of unexpected bloody brutality.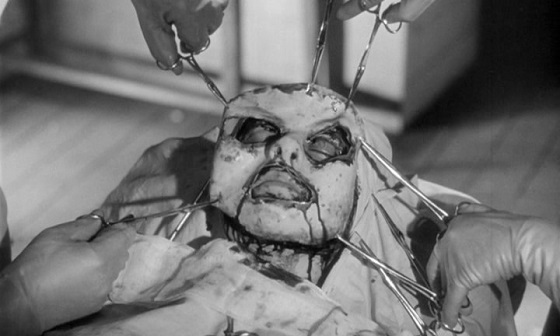 Eyes Without a Face was shot by groundbreaking cinematographer Eugen Shüfttan (The Hustler). Like many films of the time period, Franju and Shüfttan made a conscious choice to shoot the film in high-contrast black & white, and this decision not only gives the film an artsy, legitimate look, but it also appeased the censors; specifically, the flowing blood wasn't as noticeable in black & white as it would have been in bright technicolor. Anyway, Shüfttan is one of the masters of black & white cinematography, and his skillful use of light and shadows, mist and fog, and subliminal reflections provides a ton of stunning imagery that gives Eyes Without a Face its inimitable and distinctive cinematic look.
The musical score for Eyes Without a Face was written by Maurice Jarre (Jacob's Ladder, Mad Max Beyond Thunderdome), and it's a tale of two soundtracks. Half of the score, heard mostly when Louise is out hunting for victims, has a playful, dramatic sound to it, like a cross between the theme from "Alfred Hitchcock Presents" and the tornado melody from The Wizard of Oz. When the action goes inside the house, the music turns melancholy and sad, perfectly capturing the loneliness and desperation of Christiane as she suffers through her isolated and secluded life. It's an interesting juxtaposition; even though she's out hunting for prey, Louise has the happy theme because she's out in the sun and free while Christiane, locked up and in the dark, is given the gloomy, morose music. There's a method to Jarre's madness with his score to Eyes Without a Face.
Maybe it's because it's not as in-your-face as other horror movies, or maybe it's just too artsy, but Eyes Without a Face usually doesn't get the same love from the horror community as its contemporaries. But it should. Because Eyes Without a Face is a great example of how a movie can be beautiful and poetic, yet still creep the hell out of people.