Cinema Fearité presents 'Sorority House Massacre'
Cinema Fearité continues the celebration of Women in Horror Month with Carol Frank's 'Sorority House Massacre.'
In honor of Women in Horror Month, Cinema Fearité is spending February spotlighting the work of female filmmakers. Last week, we took a look at Katt Shea's Stripped to Kill. This week, we're going to keep it schlocky with Sorority House Massacre.
Sorority House Massacre is about a college girl named Beth (Angela O'Neill from Alien Nation) who is plagued by night terrors and horrifying recurring dreams. When the aunt who raised her dies, Beth goes to stay with some friends at a sorority house. The sisters welcome her in, and Beth starts to settle into her new home. That's when a crazed lunatic serial killer (John C. Russell in his only screen credit) escapes from a mental institution and makes his way to the sorority house, bent on murdering anyone and everyone in his way. Over the course of the night, Beth learns that there is a horrifying connection between the killer, her dreams, and the sorority house itself.
Written and directed by Carol Frank, Sorority House Massacre is part of the unofficial "Massacre Series" of Roger Corman-produced movies that includes not only Sorority House Massacre and The Slumber Party Massacre, but all of their sequels as well – five slashers in all. Frank was actually a production assistant on The Slumber Party Massacre, learning her trade on that set from director Amy Holden Jones. Sorority House Massacre contains all of the exploitative trademarks of a Roger Corman film, including all of the requisite blood and boobs, but downplays the sex and gore to be more natural and less erotic. Basically, Sorority House Massacre is a campfire tale/urban legend with just enough exposed flesh to earn the Corman moniker.
Except for the sequel to Sorority House Massacre, all of the movies in the Massacre Series were directed by women, and all of them have some thinly veiled Freudian psychology at work. The analysis in Sorority House Massacre isn't quite as allegorical as it is in The Slumber Party Massacre (you all remember the drill castration scene, right?). In fact, it's completely on-the-nose. Beth explains her recurring dream of hiding from an intruder with a knife, and one of her housemates offers up an impromptu decoding session, telling her that the knife is a phallic symbol and the intruder represents the opposite sex. Add in an oddly placed story about the phenomenon of mental telepathy in cats (which winds up explaining away a gaping plot hole), and the psychiatry in Sorority House Massacre is simple enough to be considered fascinatingly flawed.
The visual effects in Sorority House Massacre are very low budget. Most of the movie was shot very darkly to camouflage the cheap (lack of) special effects makeup. Cinematographer Marc Reshovsky (who would go on to have a stellar career making music videos for artists like Bon Jovi, Van Halen, and Alice in Chains) did get to show off a little during Beth's nightmare sequences, where the dream logic takes the wheel with creepy mannequins and bleeding photographs that confuse the viewer just enough for them to think that everything may all just be in the unstable girl's head (spoiler alert – it's not). Aesthetically, Sorority House Massacre looks as low budget as B-movies get. And it's awesome that way.
The score for Sorority House Massacre was composed by Michael Wetherwax, who also contributed music to television shows like "Fame," "Airwolf," and "Knight Rider." And the fact that Wetherwax is a keyboard player is readily apparent, as the soundtrack is very much an eighties horror score with a total electronic vibe, but it goes a bit farther than just simple Moog synthesizer melodies with ringing bells, plucky guitars, and shrieking strings. It all sounds synthesized, though, so not only does the score fit right in with the plethora of awesome horror music that came from the era, but it also didn't use up the film's entire budget.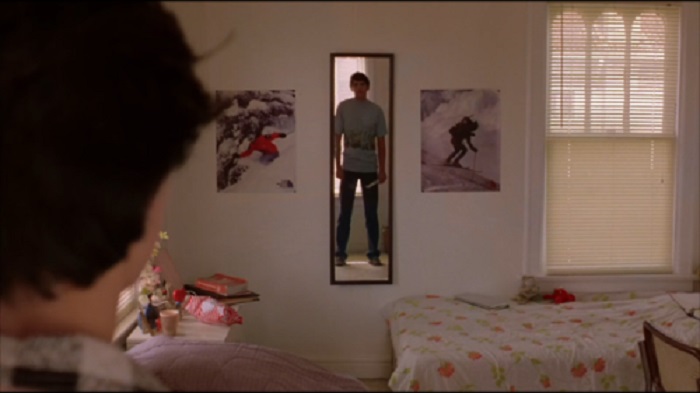 Sorority House Massacre is not quite the feminist manifesto that the Slumber Party Massacre movies are, but it's a fine example of a slasher made from a woman's point of view. Carol Frank's inexperience showed up onscreen, however, and she never made another movie. But thanks to its association with the Massacre Series, Sorority House Massacre wound up amassing quite a cult following. So as far as one and only films go, it's not a bad legacy to leave behind.