It's graduation time, the point of the year where students switch the tassels over to the other side before tossing the whole cap into the air. Cinema Fearité's quest to remain timely is just as fervent as any recent grads' thirst for knowledge, so this week, we've got a movie that is both seminal and topical: the 1981 slasher Graduation Day.
Graduation Day begins with the death of a girl named Laura Ramstead (Ruth Ann Llorens from The Comeback Kid), a member of the track team who dies after a particularly grueling race. Her teammates are saddened, her boyfriend (Escape from DS-3's E. Danny Murphy) is angry, and her coach (Christopher George from Grizzly and Pieces) is shocked, but everyone has no choice but to return to their normal lives as graduation looms closer. Laura's sister, a naval cadet named Anne (Patch MacKenzie from It's Alive III: Island of the Alive), returns to town just as a mysterious murderer starts stalking and killing Laura's teammates, friends, and acquaintances. Along with Laura's remaining friends, Anne has to discover the identity of the killer before everyone ends up dead.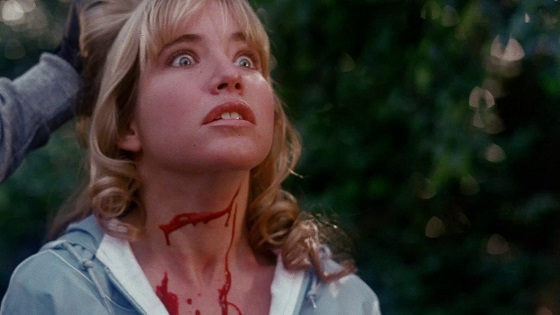 There are a couple of ways that Graduation Day was just ahead of its time. It was made after Halloween and Friday the 13th, but it was at the forefront of the golden age of the slasher movie that hit in the early eighties. It also was one of the first "holiday" themed horror movies, even if graduation is more of an event than a holiday. The Troma-produced splatter flick was written and directed by Herb Freed (Beyond Evil, Haunts) and co-written by Anne Marisse (who also worked with Freed on Haunts) from a story by David Baughn (who also worked with Freed on Beyond Evil), and in many ways, it's reminiscent of other school-days movies like Student Bodies and Final Exam; it's essentially a bunch of high-school student antics like going to dances, making out, and doing drugs, but there just happens to be a psycho killer on the loose at the same time. And no apologies are made for any of it.
The killer in Graduation Day is no normal slasher villain. Of course, he murders kids with the best of them, but he has no real set method of execution – he kills firsthand with anything he can get his hands one (mostly sharp implements like knives, razors, and swords), but he also passively sets traps for his victims on the track field. The one constant to his murderous ways is that he times each killing on a stop watch that is like the one that was timing Laura when she ran her fateful race. The killer's attire consists of a fencing mask, grey workout sweats, and black gloves, and the non-descript clothing (along with the stopwatch) allows the movie to cast suspicion on several different suspects and red herrings – at different times over the course of the film, the shadow of doubt falls upon the coach, the school principal (played by Michael Pataki from Halloween 4: The Return of Michael Myers), and even Anne herself. Graduation Day's killer may not be as charismatic as a Jason Voorhees or a Freddy Krueger, but the movie does a good job at keeping him mysterious and suspenseful.
Graduation Day is the first feature-length film from cinematographer Daniel Yarussi (Vampire at Midnight, "Born Free"), and his inexperience shows; many scenes in the movie are either too dark to see or backlit so heavily that any and all detail is flashed out. Although it was shot on 35mm film, Graduation Day has the look and feel of a straight-to-videotape production. The corner-cutting photography is somewhat diluted by the seizure-inspiring editing of Martin Jay Sadoff (Friday the 13th Part VII: The New Blood), the strobe-like, almost subliminally quick and disjointed jump cuts peppering every kill scene in a way that makes the audience uncomfortable and anxious, and not just because someone is being slaughtered onscreen. For better or worse, Graduation Day has a very unique visual style.
There are a couple of faces in Graduation Day that, although they play very minor, almost walk-on or cameo roles, are very recognizable. Future "Wheel of Fortune" letter-turner Vanna White makes an appearance as a preppie "mean girl" student. Legendary scream queen Linnea Quigley (Night of the Demons, Sorority Babes in the Slimeball Bowl-O-Rama, Hollywood Chainsaw Hookers) also shows up in one of her first screen roles as a track team groupie. Their parts are small and, especially in Quigley's case, serve mostly as simple cannon fodder for the killer, but both actresses went on to find enough fame and popularity to garner an after-the-thought "featuring Vanna White and Linnea Quigley" message on the 2000 Troma DVD release of the movie.
Another semi-famous pop-culture icon turns up in Graduation Day, at least long enough for a quick time-killing song. Grant Loud, one of the children from the famous and infamous 1973 PBS documentary series "An American Family," pops in and performs a song called "Graduation Day Blues." But Loud isn't the only where-are-they-now musician to appear in Graduation Day; the new-wave band Felony, who had a minor radio hit with their song "The Fanatic" in 1983, also rocks their way in to play a roller-boogie dance. The band tears its way through a tune called "Gangster Rock" that, luckily for the audience, is a catchy groove, because it's looped over and over for the entire length of a ten-or-so minute kill scene. Felony contributed a couple of other songs to Graduation Day as well, making its soundtrack a pretty hard-rocking affair, even if it sounds a little dated.
So, whether they're bidding farewell to high school or college, Cinema Fearité hopes that all of the grads out there have a happy and successful celebration, and that life brings them a little more luck than it brought to the kids in Graduation Day.