On April 12, 1961, the Soviets put a man into space. Twenty-three days later, the Americans repeated the feat. Both events played a huge part in the so-called Space Race, but Hollywood beat them both to the punch, putting a human into space two years earlier in 1959 with the aptly-titled First Man Into Space.
First Man Into Space is about a test pilot named Lieutenant Dan Prescott (Bill Edwards from The Primitives) who, despite disobeying orders on a previous flight, is selected to fly an experimental plane to an unreached altitude. Disobeying orders again, Dan is able to get the plane even higher than expected, but an emergency forces him to eject. The wreckage of the plane is found in New Mexico, and when Police Chief Wilson (Goldfinger's Bill Nagy) escorts Dan's brother/commanding officer, Commander Charles Ernest "Chuck" Prescott (Marshall Thompson from It! The Terror from Beyond Space), to the site, they find no trace of Dan. They also discover that what's left of the plane is encrusted in a rock-like, meteoric substance. Soon enough, a wheezing creature with a thirst for blood starts terrorizing the surrounding area. Chuck and Wilson suspect that the creature is a mutated Dan, and with the help of one of Chuck's military cronies named Captain Ben Richards (Robert Ayers from "The Cheaters") and a naval physician named Dr. Paul von Essen (The Electric Monster's Carl Jaffe), they set out to stop the creature before it kills again.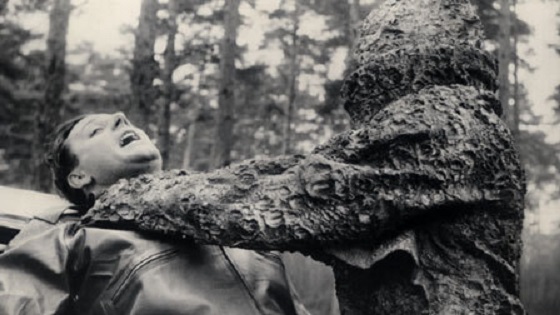 There's a bit of a story behind the pre-production of First Man Into Space. It started as a spec script written by Wyott Ordung (Robot Monster) called Satellite of Blood that found its way to producer Richard Gordon (Horror Planet, Horror on Snape Island). Ordung's script was worked and reworked by co-producers John Croydon (The Haunted Strangler) and Charles Vetter (Devil Doll), or at least by their screenwriting pseudonyms John C. Cooper and Lance Z. Hargreaves, respectively. Under the direction of Robert Day (The Initiation of Sarah, Corridors of Blood), First Man Into Space was turned into a classic sci-fi creature feature that was directly influenced by The Quatermass Xperiment and, therefore, one of the inspirations for The Incredible Melting Man. How much of Wyott Ordung's original idea is left intact is unclear, but the writer has admitted that First Man Into Space is his favorite movie that has been produced from one of his screenplays.
The creature design in First Man Into Space was done, uncredited, by makeup man Michael Morris (The Elephant Man, Lifeforce), and it's pretty awesome. The monster is supposed to be made up of the same granite-y material that is coated on the plane wreckage, so it looks like a moon rock, but in human form. In typical fifties sci-fi fashion, the creature is actor Bill Edwards (who played Dan Prescott) in a rubber suit. The suit itself was so hot and constrictive that shooting had to be done in short increments so that Edwards didn't pass out from lack of oxygen. The creature suit may have been a nightmare to work with, but it sure looks great in the finished film.
First Man Into Space is pretty straightforward as far as the cinematography goes, but the photographic effects that are in the film are clever and fun. Cinematographer Geoffrey Faithfull (Village of the Damned) uses cool in-camera spinning motion and double exposure tricks to accomplish many of the more creative visuals. The plane's onscreen sub-orbital flight is the result of rudimentary miniature model photography, while stock footage of legendary test pilot Chuck Yeager is edited in for added realism. There's nothing in First Man Into Space that's going to highly impress any of today's moviegoers, but for a fifties sci-fi romp, it looks good.
The soundtrack to First Man Into Space was written by sci-fi/horror composer Buxton Orr (Fiend Without a Face). The score is full of triumphant and suspenseful orchestral arrangements and spooky theremin/mellotron mood pieces that make the film sound like, well, a fifties sci-fi B-movie. Orr's music for First Man Into Space is the perfect complement to the low-budget visuals and awesomely campy creature.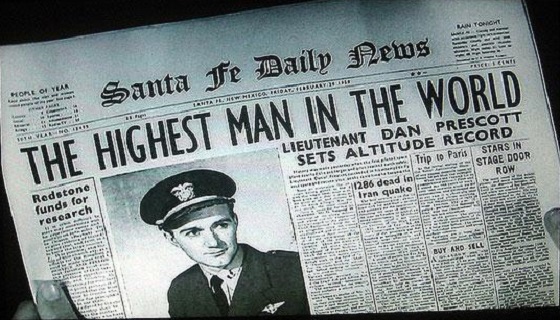 The concept behind First Man Into Space went from science fiction to science fact just a few short years after the film's release. The fact of putting a man into orbit may have been an astonishing technological accomplishment, but the fiction of having him come back as a moon rock monster is a lot more fun to watch.