'The Changeover' Review
Looking for something to fill that Twilight-sized hole in your life? Keep looking...The Changeover is not that movie.
Release Date: February 22, 2019
The Changeover is based on the Carnegie Medal winning novel by Margeret Mahy. Sixteen year-old Laura Chant lives with her mother and four-year-old brother Jacko in a poor new suburb on the edge of a partially demolished Christchurch, New Zealand. Laura is drawn into a supernatural battle with an ancient spirit who attacks Jacko and slowly drains the life out of him as the spirit becomes ever younger. Laura discovers her true identity and the supernatural ability within her, and must harness it to save her brother's life.
Directors: Miranda Harcourt, Stuart McKenzie
Screenwriters: Stuart McKenzie, Margaret Mahy
Producer: Emma Slade
Cast: Timothy Spall (Carmody Braque), Melanie Lynskey (Kate Chant), Lucy Lawless (Miryam Carlisle), Nicholas Galitzine (Sorensen Carlisle), Erana James (Laura Chant), Kate Harcourt (Winter Carlisle), Benji Purchase (Jacko Chant)
Editor: Dan Kircher
Cinematographer: Andrew Stroud
Casting Directors: Tina Cleary, Vicky Wildman

Ever since the conclusion of the Twilight and The Hunger Games sagas, there has been a gap in the Teen Paranormal Romance subgenre (that's a real section at Barnes & Noble, by the way). The Divergent series came close to filling the void before it petered out, while The Host failed to even get its franchise off the ground. Now, a new challenger appears to take up the quest, a little movie from New Zealand called The Changeover.
Set near Christchurch, New Zealand, The Changeover is about a teenaged girl named Laura Chant (Erana James from "Sons of Liars") who has taken it upon herself to care for her younger brother, Jacko (newcomer Benji Purchase), while her mother, Kate (Melanie Lynskey from Digging for Fire and Seeking a Friend for the End of the World), works to make ends meet. One afternoon, Laura and Jacko meet a strange man named Carmody Braque (Timothy Spall from the Harry Potter movies) in a run-down old shop, and while Jacko is charmed by the stranger, Laura is creeped out.
After the encounter, Jacko mysteriously falls ill. One of Laura's schoolmates, a preppie fellow named Sorenson "Sorey" Carlisle (Nicholas Galitzine from The Watcher in the Woods), claims to be able to offer help. He introduces Laura to his mother, Miryam (Lucy Lawless, best known as Xena: Warrior Princess), and grandmother, Winter (Kate Harcourt from Savage Islands), who reveal to Laura that Carmody is an evil being. Luckily, Miryam and Winter are witches (as is Sorey), and even more luckily, Laura has the ability to become one, too. The only way that Laura can save her brother is for her to "Changeover" and become a witch herself so that she can defeat the demon Carmody.
The Carnegie Medal-winning young adult book by Margaret Mahy upon which screenwriter Stuart McKenzie based The Changeover was published in 1984, so it predates the Twilight and The Hunger Games series by more than 20 years, but the comparisons are still fair. The movie, co-directed by McKenzie and collaborator/wife Miranda Harcourt, is a tame affair, part coming-of-age drama and part supernatural thriller, but will probably have some appeal to its tween audience. And it's a bit of a shame that The Changeover was made into a movie after all of those Twilight books, because it's essentially Twilight for witches.
The Changeover starts off promisingly enough with sort of a Something Wicked This Way Comes kind of a vibe. The first act, in which Laura and Jacko meet Carmody and the enigmatic man works his charm and magic long enough to place his curse on the boy, is compelling and engaging, almost chilling at times. But once that initial push wears off and the pieces of the mystery start to fall into place, there's a tonal shift in the movie that goes from spooky to ethereal. And that's when the movie starts getting slow and tedious.
The Changeover quickly gets bogged down in its paranormalness, like it's trying to overexplain all of these subtle occult things to its audience that, well, really aren't that interesting to begin with. What it doesn't spoon feed it makes up as it goes along, so the audience can never really fully grasp the established rules of the game. And then it just winds down into a neat and tidy ending that, while the stakes are high and the battle is fierce, wraps the movie up exactly as any viewer would expect it to.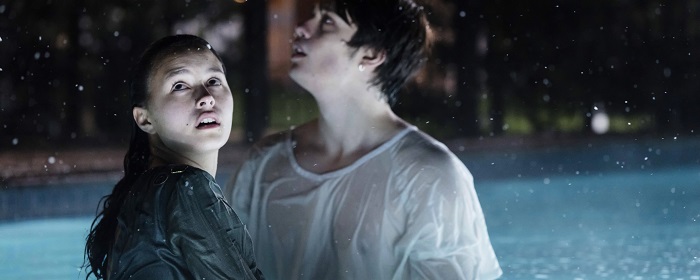 And then there's the forced love story between Laura and Sorey.  Of course, because it's based on a YA book, there's an underlying romance. But this one is really awkward, and not just because both parties are varying degrees of witches. There's no chemistry or cause to the relationship aside from "well, there's a boy and there's a girl, let's have them hook up." It's shoehorned in seemingly because the creators feel like it should be there, not because it moves the story at all.
So, basically, The Changeover becomes a typical Teen Paranormal Romance, right down to the pretty faces (Kiwi It-Girl and daughter of the directors Thomasin McKenzie from Leave No Trace has an unsung role) and the hip indie-rock soundtrack (featuring songs from Flume and Death and the Maiden). And, to be fair, I personally am probably not the target demographic for this movie. But, I don't think The Changeover is going to fill that Twilight­-sized hole in anyone's life, whether they're a teenager or not.

Despite the presence of witches and otherworldly beings, The Changeover is not scary. There's some tension in the setup, with Laura and her brother being stalked by the devious Carmody Braque. And Timothy Spall does give a creepy performance, bulging eyes and decaying teeth and all. But, to be honest, there's nothing to fear in the movie. The mood never gets heavy enough to generate any real suspense, and the attempted scares are too lightweight to have any impact. What's left is, well, a kid's horror movie with a little growl but no bite.