Synopsis: The epic action of Edge of Tomorrow unfolds in a near future in which an alien race has hit the Earth in an unrelenting assault, unbeatable by any military unit in the world. Major William Cage (Tom Cruise) is an officer who has never seen a day of combat when he is unceremoniously dropped into what amounts to a suicide mission. Killed within minutes, Cage now finds himself inexplicably thrown into a time loop-forcing him to live out the same brutal combat over and over, fighting and dying again…and again. But with each battle, Cage becomes able to engage the adversaries with increasing skill, alongside Special Forces warrior Rita Vrataski (Emily Blunt). And, as Cage and Rita take the fight to the aliens, each repeated encounter gets them one step closer to defeating the enemy.
Release Date: June 6, 2014     MPAA Rating: PG-13
Genre(s): Action, Science Fiction
Film Review
Production
It might be a little reductive to refer to Edge of Tomorrow as a sci-fi version of Groundhog Day, but somehow the comparison works, and in more ways than you think. Tom Cruise stars as Major William Cage, a military publicist who has never seen so much as a single minute of combat. Cage has spent the last few years trying to rally approval for the war effort against the Mimics, a race of invading aliens that seemingly can predict our every move before we make it. With such an advantage, it's abundantly clear that humanity's days are numbered. Cage knows it, the world knows it, and the Mimics know it.
But, when Cage is suddenly thrust into battle, he finds himself ill-prepared and likely knocking at death's door. In fact, within a couple minutes of his first battle, a late-game push by the world's forces into France, Cage dies. He doesn't really die, though, because through a little bit of alien blood cross contamination Cage "hijacks" the Mimics' ability to control time.
Now, regardless of how long Cage stays alive, in battle or out, the second he dies he jumps back to his first day at boot camp. With this new "power" at his disposal, Cage then enlists the help of Rita (Emily Blunt from The Adjustment Bureau), someone who used to have the time-bending power but has since lost it. Together, the duo tries to wipe out the Mimic threat once and for all by using a simple formula: live, die, repeat.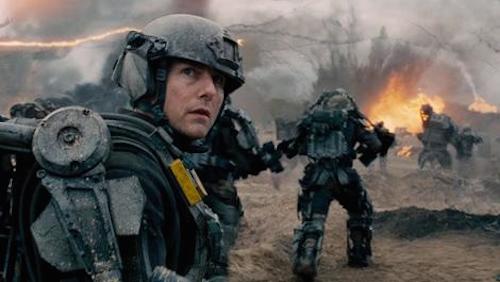 While some may argue that Tom Cruise's stock within the action genre has decreased substantially over the last decade or so,
Edge of Tomorrow
proves to be a return to form for the actor. The film's smart concept provides a reason for viewers to become invested, and its surprisingly light tone assure audiences an enjoyable time from beginning to end. When it comes to crowd pleasers,
Edge of Tomorrow
hits the nail right on the head and is easily one of the most entertaining moves of the summer thus far.
Although a career highlighted by far too many "savior" roles diminishes Cruise's impact as the everyman, he still sells Cage as a compelling character. What's more, Cruise shows some shades of his comedic chops, as the film dabbles in the absurdist humor that arises from a man who dies literally hundreds of times. Make no mistake, when it's time for Cruise to become his prototypical action star – mech suit and all – the actor seems the most comfortable, but his ability to carry Edge of Tomorrow deserves noting.
Cruise doesn't carry the weight of the summer blockbuster alone, however, but has Emily Blunt along for the ride. Edge of Tomorrow's script smartly casts her as the badass female soldier and pulls a role reversal by having it be Blunt's character that is the proven hero. It's refreshing to see a female character set on even footing with the male lead, and even more awesome to watch such a talented actor as Blunt hold her own in the action scenes.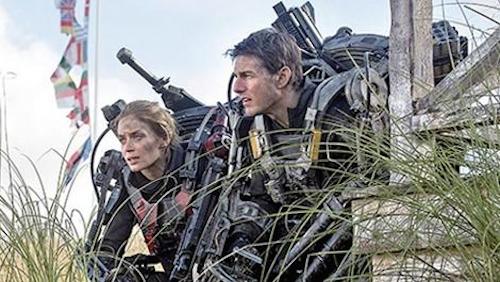 With the logical inconsistencies that typically plague time travel stories firmly smacking you in the face, it's hard to avoid poking at the flaws in
Edge of Tomorrow
's story, but where it counts the film never fails to delight or excite. The action is well choreographed and filled with plenty of spectacles, the main leads are engaging and dynamic, and the concept behind the film, while not totally original, is packaged in a way that feels fresh. Top to bottom,
Edge of Tomorrow
is exactly what you want out of an action film. Watch. Enjoy. Repeat.
Writing
While Edge of Tomorrow does boast a clever concept – one that most overtly calls to mind Groundhog Day – it's the films overarching plot that disappoints. The film is a crowd-pleasing affair, and in keeping with that, the film's script elects for a very straightforward story. It's not the idea of reliving a few days and using those days as an advantage that holds Edge of Tomorrow's story back, but what Cruise and Blunt's characters are ultimately trying to do that feels too by-the-numbers.
With that said, screenwriters Jez Butterworth, John-Henry Butterworth, and Christopher McQuarrie deserve credit for crafting a story that, warts and all, is compelling from beginning to end. They've also made Edge of Tomorrow surprisingly light and funny, striking a tone that you wouldn't expect from a big action film, no less one starring Tom Cruise. The film revels in the live-die-repeat concept in every conceivable way, and that's why it's so enjoyable.
Action Sequences
For a summer action flick, Edge of Tomorrow delivers plenty when it comes to exciting sequences and thrilling set pieces. Granted, the film relies a bit too heavily on CGI for the alien enemies, but there's still enough practical action to keep the film from feeling too overwhelming. Much like the film as a whole, the action in Edge of Tomorrow is perfect popcorn-chomping fodder, with unique aliens and awesome mech-like soldier suits. It's the type of stuff that you simply sit back and enjoy because it's just so cool to watch on screen.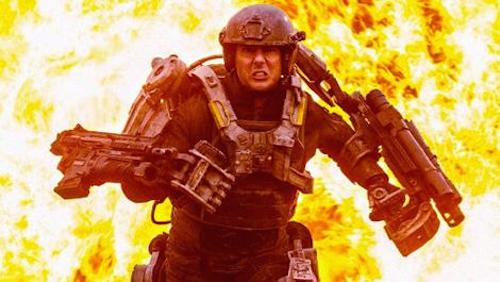 Equal props are due to the film's ability to find moments of levity in action. There's obviously something absurd about a character that dies over and over again, and rather than brush over that this film uses it to its advantage. After a time, the film does start to sink into a more aggressively action heavy tone, but those early comedic moments provide a nice balance to the action.
Cast and Crew
Director(s): Doug Liman
Screenwriter(s): Christopher McQuarrie, Jez Butterworth, John-Henry Butterworth
Cast: Tom Cruise (Cage), Emily Blunt (Rita), Brendan Gleeson (General Brigham), Bill Paxton (Master Sergeant Farell), Jonas Armstrong (Skinner)
Editor(s): James Herbert
Cinematographer: Dion Beebe
Music Score: Christophe Beck
Country Of Origin: USA