Every year at AFI FEST there are films placed in the Special Screenings section of the program. They are films with distribution in place, and will become available for the general public to see in the coming weeks or months. Jeff, Who Lives At Home was a part of this special screening section and will be opening in theatres in March of 2012 thanks to Paramount Vantage. The newest film from The Duplass Brothers, who have been festival darlings in the past with The Puffy Chair
, Baghead
, and last year's Cyrus
, is in the style of The Duplass Brothers who like to make movies about people and relationships, with an offbeat sly humor. Jeff, Who Lives At Home keeps with their traditional themes, and continues to provide the more subtle, and not so subtle, humor we come to expect from them.
Jeff, Who Lives At Home begins with a quote written out line-by-line on a black screen. It is insightful, and just happens to be one of Jeff's (Jason Segel) mantras–cue first bout of laughter from the audience. We then meet Jeff, in close-up, as he explains his feelings about the movie Signs, and how in life there are signs that lead us on our way, and that he "can't help but wonder about his destiny."
Jeff is, of course, sitting on the toilet as he records this deep and profound monologue–cue second bout of laughter from audience (or maybe the third as the mention of the film Signs perpetuated giggles too). Jeff is a 30-year-old man who lives at home, and all his mother Sharon (Susan Sarandon) wants for her birthday is for him to get on the bus, go to The Home Depot, buy wood glue and fix the shutter on the door. This task resorts to Jeff throwing a childhood fit in the basement where he dwells, but he agrees nonetheless. Just prior to this, as he was taking a hit from his bong, he was given one of those "signs" he spoke of earlier; a phone call from an unknown excited and slightly angry man told him to remember 'Kevin'. It is Kevin who will show Jeff the way for the rest of the film, in one way or another as we shall soon find out and it will all revolve around his brother's marital woes.
Jeff's older brother Pat (Ed Helms), who does not live at home, is married (to the always lovely) Linda (Judy Greer). He has just purchased a Porsche, much to his wife's displeasure, and their relationship is in trouble. Jeff and Pat do not have the best relationship, and their enabler mother Sharon does little to help the situation–she credits Jeff's inabilities to his difficult childhood stemming from the loss of their father. Pat sees this as a ridiculous excuse as he overcame it, has a job, and is not living in the bubble Jeff does with his motto's and "enlightened" beliefs. Sharon, Jeff, Pat, and Linda are not living a happy family existence, and the comedy that stems from their inadequacies as a family is not born out of conventional comedic methods but organically created through instances, and recognition by the viewer. The signs Jeff finds via Kevin, and Kevin can be a person or a truck, keep leading him to his brother Pat, and the need to help him with the problems he is confronting with Linda.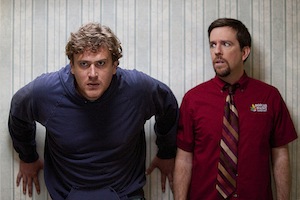 Linda has in the course of the story been spotted with an unknown man and Pat's first instinct is to follow her, with Jeff to be used as his informant.
The misadventures of Jeff and Pat may be what keeps the story moving along but it is the side-story of their mother Sharon, and her secret admirer at work whom she is receiving instant messages from, that really makes the film a tad bit deeper and more approachable as a character piece. It also separates The Duplass Brothers from their prior slacker-type work, moving them forward with more mature storytelling. If one could only convince them to stop zooming in and out in-frame things would be even better, but one can let that slide. With the excellent performance by Susan Sarandon, Sharon is a woman in need of finding herself amongst the chaos that her two sons have created in their own lives–or lack there of in Jeff's case. She readily admits that she does not like her sons very much right now, and wants to know what happened to the sweet boys she once had. She also admits to not having lived the life she dreamed–all common complaints by middle-aged characters but in Sarandon's hands a great deal more interesting and engaging to watch. Jeff and Pat have their issues to deal with as brothers, Pat has to handle his marriage that is crumbling, and Sharon must discover where this crossroad in her life will lead. As for Jeff, he may never leave home but his destiny may be waiting at the end of the next phone call, or with Kevin. Everything finds its rightful place for all of the characters in Jeff, Who Lives At Home, and as a viewer you find yourself thoroughly enjoying watching them do so from start-to-finish.