Three things that have always made good fodder for horror films are ghosts, psychics and serial killers. In 1973, director Nicolas Roeg (The Witches) combined these elements in his film Don't Look Now and, in the process, created one of the most frightening British films ever made.
Don't Look Now stars Donald Sutherland (MASH) as John Baxter and Julie Christie (Dr. Zhivago) as his wife, Laura. After losing their daughter, Christine, to a drowning accident in a pond behind their home, the couple wants to get away for awhile and cope with the loss. John takes a job in Venice, Italy restoring a church and Laura travels there with him.
While dining one evening, Laura meets a pair of elderly sisters named Heather (Hilary Mason from Dolls) and Wendy (The Nelson Affair's Clelia Matania) in a restaurant restroom. Heather is blind and psychic, and claims to have had contact with the Baxter's dead daughter. Heather describes the girl perfectly, and claims that Christine is content. Upon returning to John at their table, Laura faints and is taken to a hospital. After hearing about the sisters, John is skeptical, but is happy that Laura's overall attitude has changed. Soon enough, Laura gets a hold of the sisters again and arranges for a séance to contact Christine. During the sitting, Christine tells Laura through the sisters that John is in danger. That night, the Baxter's learn that their son has been injured in an accident at his boarding school. Laura leaves at once to be with him, while John stays in Venice to complete his project.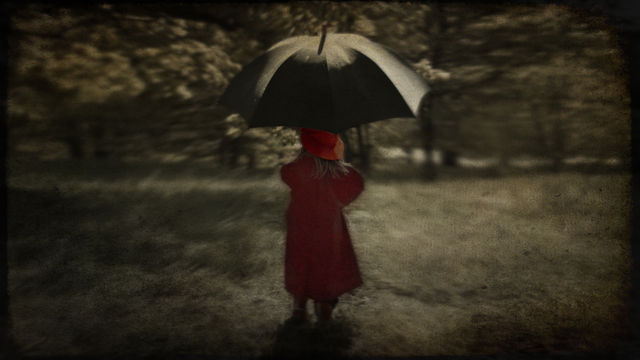 John begins to see visions of Christine in her red raincoat all around Venice, and his strange behavior begins to arouse the suspicions of the police, who have been investigating a string of serial killings in the city. John must try to sort out the visions of his daughter, the crazy musings of his wife and the murders that have been happening all while keeping his sanity intact.
Don't Look Now is psychological horror at its finest. Nicolas Roeg's picture looks like it was made in the seventies without looking dated, bringing to mind other great films like The Omen, The Wicker Man and The Amityville Horror. Based on a short story by Daphne Du Maurier (The Birds), the screenplay was written by Allan Scott and Chris Bryant (the team who wrote The Awakening) and combines the best elements of horror, mystery and drama into an unpredictable fright-fest.
Don't Look Now is considered a seminal British horror film for several reasons, not the least of which is Nicolas Roeg's masterful direction. Every element of the film is painstakingly attended to, from the beautiful hotel and church locations to the countryside and Venetian exteriors.
Experienced cinematographer Anthony Richmond (Candyman) won a BATFA award for his work capturing Roeg's vision perfectly, combining the dread and eeriness of a horror movie with the sensitivity and honesty of a true family drama.
In addition to Roeg's direction and Richmond's photography, the skillful editing of Graeme Clifford (The Rocky Horror Picture Show) also plays a huge part in the effectiveness of Don't Look Now's narrative. In many places, Clifford hangs on shots for a hair too long, providing a maddening tension that seems to take forever to resolve. For example, in one scene where John is on a hanging scaffold working on a mosaic in a church, a beam above him breaks loose.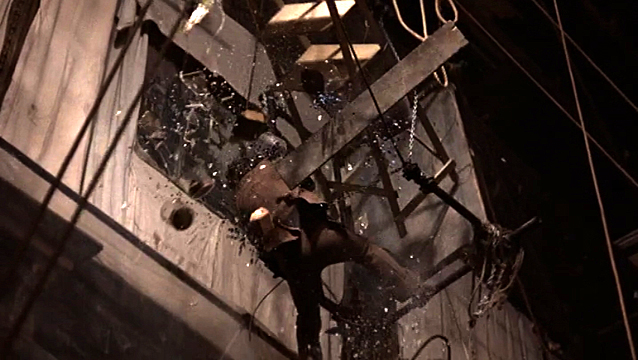 Clifford breaks continuity to expand time, slowing the scene to a crawl and provided the audience with a real teeth-grinding moment. Clifford also uses lots of nifty tricks like match cutting and parallel editing to help the different sides of the story come together. Clifford's cutting works in tandem with Richmond's shots to make Don't Look Now a highly suspenseful film.
Don't Look Now is also notable for its soundtrack; the film is the first work scored by Italian pop star Pino Donaggio (who would go on to do tons of film work, including several Brian De Palma films like Carrie and Dressed to Kill). Donaggio's music combines lush orchestral pieces with minimalistic ensemble works and solo piano compositions that help to set the many different moods of the film.
Donaggio's inexperience as a film composer does not detract from the film's score, possibly even making it more unique with its purposeful innocence and naivety. The soundtrack for Don't Look Now is a great hint towards Donaggio's later career.
Last, but certainly not least, the acting in Don't Look Now is remarkable. Donald Sutherland and Julie Christie both give first-rate performances as the grieving Baxter's. Sutherland is captivating as the father who sees his dead daughter everywhere he looks, and Christie is stunning as the mother who can't let go of the past. So convincing are Sutherland and Christie's performances that, in one love scene, the rumor that the pair were actually having sex on camera has floated around the cinematic world for years. Whether there's truth to the rumors or not, one thing is certain; under Roeg's direction, Sutherland and Christie shine as the leads in Don't Look Now.
Supernatural thrillers seem to be a dime a dozen, but every once in a while a great one will slip past even the most dedicated horror fans. Don't Look Now may not have the same widespread attraction as some of its contemporaries, but it is worth a look to anyone who enjoys being scared.