Synopsis: When ambitious young real estate agent Leigh is asked to sell a house with a checkered past, she crosses paths with a disturbed girl whom she learns is the runaway daughter of the couple selling the property. When Leigh tries to intervene and help her, she becomes entangled with a supernatural force that soon pulls Leigh's artist sister Vera into its web – and has sinister plans for both of them.
Release Date: September 12, 2014     MPAA Rating: PG-13
Genre(s): Horror, Thriller
Film Review

A couple of years ago, writer/director Nicholas McCarthy made his feature film debut, a creepy little movie called The Pact. The Pact was a bit uneven, but showed a lot of potential. Now, audiences get to see what McCarthy does with his second movie, At the Devil's Door.
At the Devil's Door is about a young realtor named Leigh Moreno (Catalina Sandino Moreno from Maria Full of Grace) who is trying to sell a house for a couple. While preparing the house, Leigh sees a strange girl in a red raincoat. The sellers believe that the girl may be their runaway daughter who is trying to come home, so Leigh finds the girl and calls her parents. The parents are shocked to hear that Leigh is sitting with their daughter, as their daughter was picked up by the police and brought back to them. With the help of her sister, an artist named Vera (Naya Rivera from "Glee"), Leigh has to figure out who the mysterious girl is and why she is drawn to the house.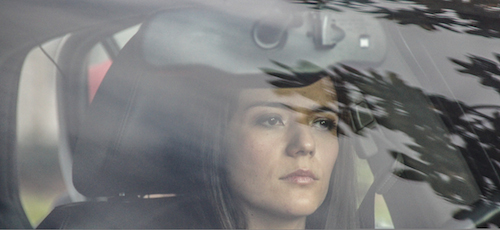 There's actually quite a bit more to At the Devil's Door. That synopsis is truncated for two reasons – first, to avoid spoilers, and second, because the movie is confusing as hell. It's not that the story is difficult to follow, it's just that it's laid out in a way that mixes up flashback with present time, and fantasy with reality. The whole thing ends up being a bit of a mess. It gets credit for trying, because the premise is pretty creative and, truth be told, awfully cool. McCarthy knows his horror films, too; At the Devil's Door seems to pay tribute to its influences in fun ways (did anyone notice the subtle reference to Psycho in the lead character's names? Leigh and Vera? There's a reason for that…). However, the film falls victim to its own overindulgence. The twists and turns don't serve to surprise the viewer, only to confound.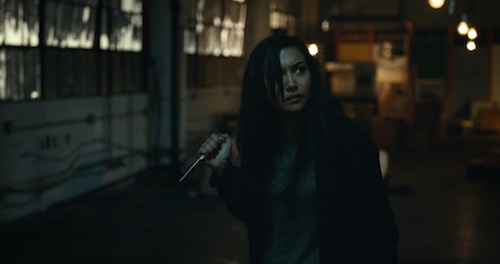 To be fair, the pieces of At the Devil's Door do eventually fall into place, but it's still a fairly unsatisfying film. It's not poorly made, but it suffers from the same unevenness of The Pact. It's a much more ambitious film, and it falls victim to that fact. It gets caught up in its own attempts to shock, often forgetting to tell the story cohesively. Also like The Pact, there's a lot of potential in At the Devil's Door. There's a lot to like in it; the performances are convincing, it's photographed well, and the basic concept behind the film is a creative idea. Unfortunately, the positives get overshadowed by the mixed reality of the narrative, and the whole thing gets a little convoluted.

When it comes to scares, the effort is there in At the Devil's Door. The sound design and music try really hard. There are plenty of eerie, whispery sound effects, compliments of sound designer Chris Terhune (Coldwater, A Girl Walks Home Alone at Night) and sound editor Chris Diebold (Evil Dead, Everly). The score, courtesy of Ronen Landa (The Pact, Carriers), is full of tense buildups and hard-sawing strings that pique the viewer's interest. Unfortunately, the visuals don't really back it up. Aside from the iconic image of the mysterious girl in a bright red raincoat (which is, admittedly, pretty effective, albeit a tad derivative of Nicolas Roeg's Don't Look Now – hey, another influence!), there's nothing to really raise any goosebumps in At the Devil's Door.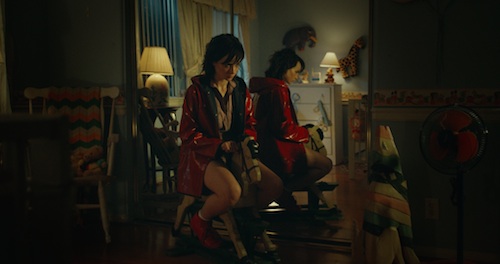 Cast and Crew
Director(s): Nicholas McCarthy
Producer(s):
Screenwriter(s): Nicholas McCarthy
Story: 
Cast: Ava Acres (Girl)Arshad Aslam (Seth)Jan Broberg (Rayanna) Rob Brownstein (Dr. Daninsky)Tara Buck (Yolanda)
Editor(s): Bill Neil
Cinematographer: Bridger Nielson
Production Designer(s):
Costume Designer: 
Casting Director(s): 
Music Score: Ronen Landa
Music Performed By: 
Country Of Origin: USA