Synopsis: After his girlfriend Nina dies in a car crash, Rob unsuccessfully attempts suicide. As he begins to overcome his grief, he falls in love with a coworker, Holly. Their relationship is complicated when Nina, unable to find rest in the afterlife, comes back to life to sarcastically torment them whenever they have sex.
Release Date: February 12, 2016     MPAA Rating: PG-13
Genre(s): Comedy, Horror
Film Review

It's an age-old story; a young man can't get over the loss of his lover. Well, Nina Forever gives that tale-as-old-as-time a new twist.
Nina Forever is about a young man named Rob (Cian Barry from "Doctor Foster") whose girlfriend, Nina (Fiona O'Shaughnessy from "Utopia"), is killed in a car accident. Distraught, Rob attempts suicide, but that only makes him seem more attractive to his supermarket coworker, a brooding paramedic student named Holly (Abigail Hardingham from "The Sparticle Mystery"). Rob and Holly hook up, but while they are having sex, the ghostly reanimated corpse of Nina pops up through the bed and tries to sabotage Rob's good time. Nevertheless, Holly and Rob are determined to make their relationship work, even if it means making Nina a part of their sex life.
The creative team behind Nina Forever is The Blaine Brothers, Ben and Chris, who were, in addition to a number of short films, also responsible for the British Television movie Headspace. The tagline for the film promises "a f*cked up fairy tale," and for the most part, it makes good on that promise; Nina Forever is a fairly messed up movie. But that doesn't mean it's good.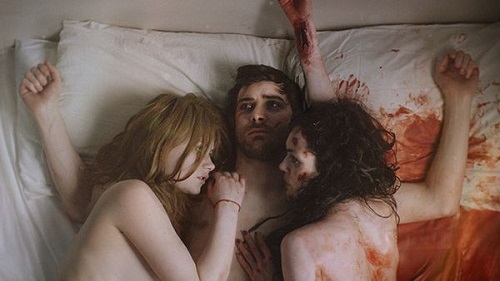 Nina Forever is a bit of a snoozer. It's not particularly funny, and not at all scary. It's entertaining at times, and the story is wildly original, but for the most part, it's a drag. The setup and concept are solid, but it feels like an amazing short film that was unnecessarily fleshed out to feature length. There is a fun and unexpected twist at the end, but it takes forever to get there, and by then, who cares?
There's probably a psychology professor analysis of Nina Forever that would praise its use of metaphor for dealing with loss of love and grief and such, and it would probably be a very compelling and convincing breakdown. Truth be told, this interpretation is fascinating, and who knows? Maybe peeling back the layers of the onion would make the movie more enjoyable.
There's a big push for Nina Forever to be the next big Valentine's Day movie, but frankly, there are better twisted valentine movies. You'd be better served watching Warm Bodies, Edward Scissorhands, Natural Born Killers, Harold and Maude, or heck, even Badlands. Nina Forever isn't exactly bad, it's just not very memorable, either. There are much better horror-slash-comedy-slash-romances out there.

If it were possible to give Nina Forever zero clocks for its Scary Factor, that's what it would get, because there really is nothing scary about it. Classifying it as a horror film is misleading in the first place, as it is much more of a dark comedy than a fright flick. Sure, Nina is an undead ghost or zombie or some sort of supernatural being, but she's more mischievous and annoying than she is frightening. Aside from the torment inside Rob's head, there is very little menace in the film, and even the rocky terrain that exists within Rob's grieving mind is toned down. There's really nothing to fear in Nina Forever.
Cast and Crew
Director(s): Ben Blaine
Producer(s): Cassandra Sigsgaard
Screenwriter(s): Ben BlaineChris Blaine
Story: 
Cast: Fiona O'Shaughnessy (Nina)Abigail Hardingham (Holly)Cian Barry (Rob) David Troughton (Dan)Elizabeth Elvin (Sally)Bill Holland (Waiter)Lee Nicholas Harris (Police Officer)Sean Verey (Josh)Phelim Kelly (Shopper)Richard Sandling (Bus Passenger)Javan Hirst (David)Katharine Bennett-Fox (Kelly)
Editor(s): Ben Blaine
Cinematographer: Oliver Russell
Production Designer(s):
Costume Designer: Imogen Loveday
Casting Director(s): Emily Tilelli
Music Score: 
Music Performed By: 
Country Of Origin: UK