Valentine's Day is coming up, and love is in the air. When most horror fans think of Valentine's Day, the movies that come to mind are either My Bloody Valentine (if they're over 40), Valentine (for the 31-39 crowd), or My Bloody Valentine again (for the reboot crowd who's under 30). But there are a few others. For example, there's the 1981 psycho-slasher Hospital Massacre.
Hospital Massacre begins with a young girl named Susan and her best friend ridiculing a third kid who gives Susan a valentine. In a fit of shame and rage, the valentine giver kills Susan's friend. Nineteen years later, coincidentally on Valentine's Day, the adult Susan (Playboy model-turned-actress Barbi Benton from Deathstalker) goes to a hospital to get some test results from her doctor. An unseen creepy guy in surgical scrubs sabotages her test results, prompting the doctors to check her into the hospital on the spot for further observation. As Susan is shuffled from room to room and given test after test, the hospital staff members are systematically murdered one-by-one, with the killer slowly making his way to Susan herself.
In truth, since it really has nothing to do with the holiday, Hospital Massacre is not much of a Valentine's Day movie, but because it does take place on the date, we're going to allow it. The movie was produced by the famous and infamous duo of Yoram Globus and Menahem Golan of Cannon Films (the folks responsible not only for horror fare like New Year's Evil and Lifeforce, but eighties camp like Breakin' and Masters of the Universe as well) and directed by Boaz Davidson (Going Bananas, Salsa) from a script by Marc Behm (Charade, Help!). Also known as X-Ray and Be My Valentine, Or Else…, it's actually a pretty silly movie, rife with inconsistencies and completely reliant on far-fetched situations. There's very little plot, with the narrative settling for being nothing more than slasher fodder with a high body count. It's a fairly weak mystery as well, since the killer's identity is really no surprise at all – you can probably wager a guess as to who it is from the synopsis above, and you'd most likely be right. But, there is one thing that Hospital Massacre does right; it's incredibly fun, never taking itself too seriously and never in denial that it is anything more than a splattery piece of schlock cinema.
To say that Hospital Massacre is campy is an understatement. Everywhere Susan turns she seems to be accosted by a false lead – some red paint or catsup posing as blood here, a group of fumigators mistaken for killers there – that just forces the viewer to wonder how many red herrings one Final Girl must face. There are plenty of eye-rolling sight gags as well, such as when Susan runs into a trio of patients in traction who wiggle and squirm because they're in full body casts and can't speak to her. Most of all, though, the movie is full of ridiculously long attempts at suspense, like Susan enduring a slow and dramatic medical exam in which the doctor shows her the needle for minutes before actually taking any blood, or a chase scene where she accidentally drops her lighter from her hiding place and it takes forever for the killer to walk past her without seeing it. Hopefully the corniness in Hospital Massacre is intentional, because it actually makes the vanilla-bland plotline fun to watch.
The titular hospital in Hospital Massacre has got to be the worst-run hospital in the world. Right from the beginning the viewer learns that the place has a reputation, as Susan's boyfriend, Jack (Jon Van Ness from Tourist Trap and The Hitcher), asks her "isn't this the hospital where they had all that trouble last year?" as he drops her off. The doctors follow no rules or protocols, easily allowing the killer in to tamper with Susan's test results. There's a convenient mental asylum right next door, and the patients are permitted to simply wander the halls of the hospital unsupervised. Customer service appears to be lacking as well, since when Jack goes looking for Susan, he is greeted by a callous and impersonal "will the gentleman waiting on the 8th floor please pick up the hall telephone?" When Susan reports that she is being stalked by a killer, no one believes her and she is deemed unstable, strapped to a gurney, and taken in for emergency surgery. The place is just generally unhealthy, too; Susan is allowed to light up a cigarette anywhere she goes within the hospital, and acidic substances are kept sitting around in vats and jars, precariously waiting for someone to spill them (or for a killer to dunk someone's head into them). The hospital in Hospital Massacre isn't anywhere anyone would want to be taken if they were sick or hurt, that's for sure.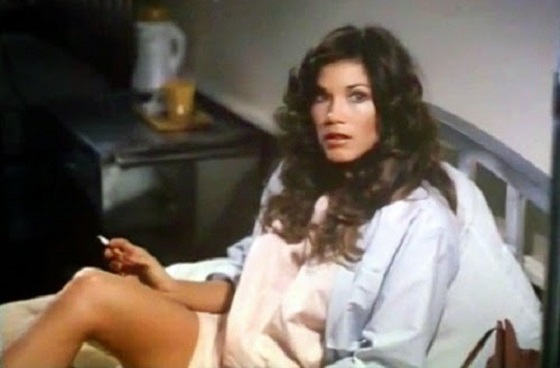 The story may be one-dimensional and obvious, but the technical aspects of Hospital Massacre are solid. Cinematographer Nicholas Josef von Sternberg (Tourist Trap) uses all of the creative tricks for which golden age slashers would become known, including long and dark hallway shots, mysterious foot-following segments, and the ever-present killer and victim point-of-view sequences (with requisite breathing sound effects). The makeup effects, done by Allan Apone (Prophecy, Evilspeak) and Joe Quinlivan (Without Warning, Ragewar), are rudimentary, but their limitations are cleverly hidden by the skillful editing of Jon Koslowsky ("Quantum Leap," "Crossing Jordan"). From a filmmaking standpoint, Hospital Massacre is up to par with the rest of the eighties slashers.
The music in Hospital Massacre is great. The score was composed by Arlon Ober (The Incredible Melting Man, Bloody Birthday) and, surprisingly, it doesn't sound synthesized like many eighties horror soundtracks; some of the more exotic sounds seem as if they are artificially produced, but the strings, horns, and percussion all sound like real instruments, and Ober is also given a conductor credit, so it would seem as if a real orchestra performed the soundtrack. Synthesized or not, the score is dramatic, suspenseful, and atmospheric, and is easily one of the strongest elements of Hospital Massacre.
Hospital Massacre isn't the most lovey-dovey of Valentine's Day movies, but it is good for a few yucks and yells. If you and your valentine are tired of watching My Bloody Valentine every year but still crave the eighties slasher vibe, Hospital Massacre just might fit the bill. Happy Valentine's Day!