Alfred Hitchcock, renowned for his thrillers, has never been prominently associated with film noir. Certainly, he was never linked to noir as directors such as Fritz Lang and Otto Preminger were, yet his style is preeminently, demonstrably noir. Hitchcock's first film noir, and fifth film made in the United States since his arrival in 1939, Shadow of a Doubt, marks Hitchcock's transition from his earlier English modes to the pessimism of his noir-tinged American work. Shadow of a Doubt encapsulates Hitchcock's particular twisted vision of Americana, turning the quaint Saturday Evening Post–esque small town into a grim setting of the hunt for the Merry Widow murderer.
Set in an idyllic Santa Rosa, California, the film centers on Charlotte "Charlie" Newton (Teresa Wright), a young girl eager to escape her dull, small town life. Her stifling ennui ends when her beloved Uncle Charlie (Joseph Cotton) – for whom she is named – comes to visit. The two Charlie's have a strong, unique connection; Young Charlie frequently likens herself and her uncle to telepathic twins. Her faultless view of her uncle soon changes, however, when two detectives arrive and tell Young Charlie that her uncle is in fact the serial killer known as the "Merry Widow" murderer who seduces, robs, and strangles wealthy widows. Refusing to believe such slanders, Charlie tries to quell her growing suspicions. When Uncle Charlie begins acting strangely, Young Charlie must grapple with the realization that everyone – someone she thought so pure, even she herself – is capable of evil.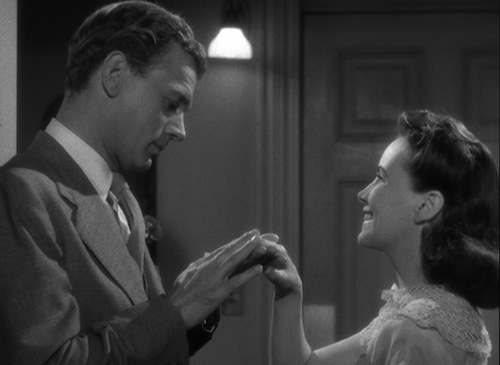 For all the film's focus on the murderous yet charismatic Uncle Charlie, it is truly the story of Young Charlie and her personal struggles and discoveries. At the start of the film, it is exceedingly clear that Charlie's life in Santa Rosa is mundane and unadventurous. She was, as her father says, the smartest girl in her class, but now she doesn't seem to have a job, a particular passion, or even a serious relationship to occupy her. What is she to make of herself when she doesn't know who or what she wants to be? These doubts about herself mingle with her suspicions of Uncle Charlie. She must decide whether or not she believes that her uncle is a murderer, if she is going to turn him in, and how she will save herself from this unbalanced murderer on the run.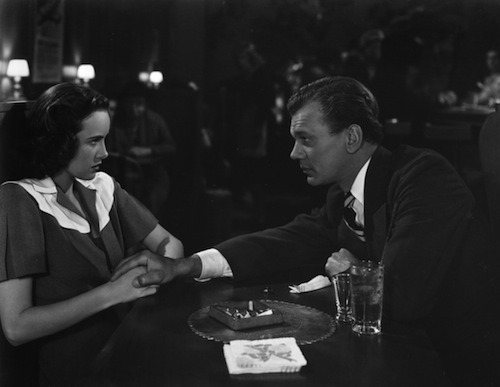 Shadow of a Doubt is undeniably noir, a story full of dark secrets, stolen fortunes, femme fatales, and a beguiling duality of character. Hitchcock's innovation shines through in his unique take on the dark genre: whereas most noirs are submerged in shadow, picturesque Santa Rosa is bathed in sunlight and inundated with wholesomeness. Much of the action takes place in the comfortable Newton family home – a home that could have been lifted right out of Meet Me in St. Louis. Hitchcock was so adamant about accurately depicting this sunny small town Americana, in fact, that he enlisted the help of Sally Benson, the author of the original "Meet Me in St. Louis" stories, and Thornton Wilder, author of "Our Town." The contrast of sunny town and dark terror is a perfect example of Hitchcockian counterpoint and illustrates one of Hitchcock's major themes in that dark forces often penetrate the most ordinary characters and settings. There are shadows everywhere in tranquil Santa Rosa. The problem is that no one wants to see them.
Duality and doubleness are central to Hitchcock's portrayal of idyllic small town life. The darkness and violence that disturbs this outwardly calm setting mirrors Hitchcock's belief that all people are potential criminals, that a dark side lies in wait within each of us. His main characters, the two Charlie's, are connected by this duality. Their bond is fascinating, especially since Young Charlie claims to know her uncle on such a deep, telepathic level. Hitchcock reinforces this fundamental connection between uncle and niece throughout the film, showing them lying in their beds in identical positions at the beginning of the film – Uncle Charlie in New York, Young Charlie in Santa Rosa. Later when Uncle Charlie pauses to look at a photograph of his niece, his face is superimposed on her image, reflected in the glass. As Uncle Charlie's criminal past is uncovered, his relationship with Young Charlie changes. In what is referred to as Hitchcock's "transference of guilt" motif, Charlie begins to take on the hostile qualities of her uncle; specifically, she threatens to kill her uncle if he doesn't leave Santa Rosa.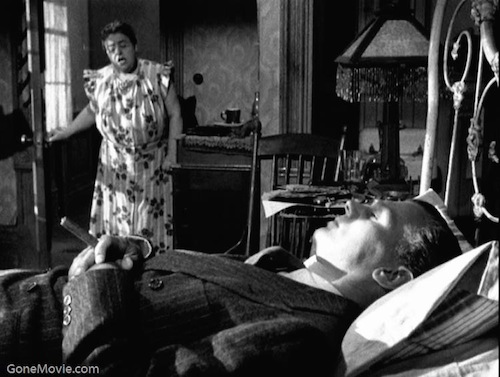 As with all noir, Uncle Charlie is doomed from the very beginning. Indeed, Hitchcock evokes Charlie's ultimate funeral with his first shot: Uncle Charlie lying on his bed, his hands folded over his chest. With his passing, Young Charlie's future doesn't seem so bleak. Her Uncle Charlie's arrival forced her to dive headfirst into the complexity of life, to see firsthand the blurred lines between good and evil. Accepting that reality and resolving the issues surrounding Uncle Charlie, she can now move out of her uncle's shadow and become her own person. As a noir effort, Hitchcock makes use of an interesting contrast between wholesome Americana and the darkness of Uncle Charlie's soul in Shadow of a Doubt.