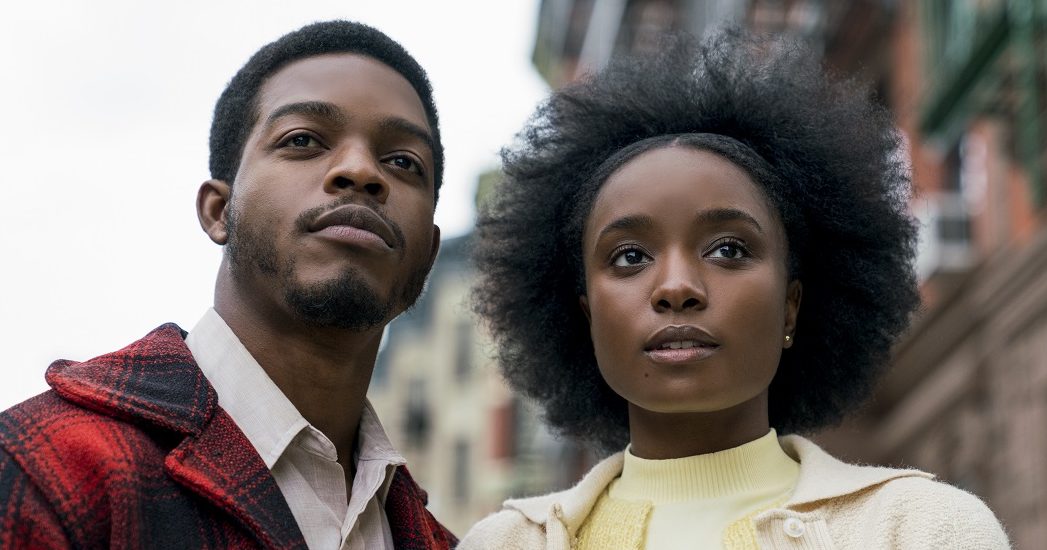 'If Beale Street Could Talk' Review
Barry Jenkins is at the top of his game with If Beale Street Could Talk.
Release Date: December 25, 2018
A woman in Harlem desperately scrambles to prove her fiancé innocent of a crime while carrying their first child.
Director: Barry Jenkins
Screenwriters: Barry Jenkins, James Baldwin
Producers: Megan Ellison, Dede Gardner, Barry Jenkins, Jeremy Kleiner, Sara Murphy, Adele Romanski 
Cast: KiKi Layne (Tish Rivers), Stephan James (Alonzo 'Fonny' Hunt), Regina King (Sharon Rivers), Colman Domingo (Joseph Rivers), Teyonah Parris (Ernestine Rivers), Michael Beach (Frank Hunt), Aunjanue Ellis (Mrs. Hunt), Ebony Obsidian (Adrienne Hunt), Dominique Thorne (Sheila Hunt), Diego Luna (Pedrocito), Finn Wittrock (Hayward), Ed Skrein (Officer Bell), Emily Rios (Victoria Rogers), Pedro Pascal (Pietro Alvarez), Brian Tyree Henry (Daniel Carty), Dave Franco (Levy)
Editors: Joi McMillon, Nat Sanders 
Cinematographer: James Laxton
Production Designer: Mark Friedberg
Casting Director: Cindy Tolan
Music Score: Nicholas Britell

Although he was hardly an unknown, director Barry Jenkins came seemingly from out of nowhere to win the Oscar for Best Picture a couple of years back with Moonlight. So how does the visionary filmmaker follow it up? With an adaptation of a James Baldwin novel. Enter If Beale Street Could Talk.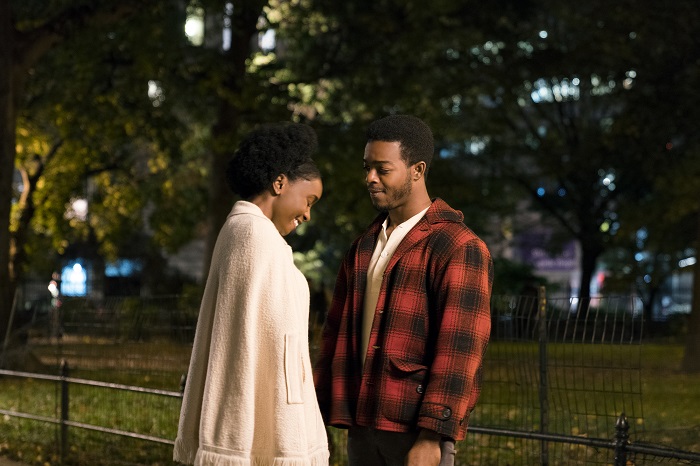 If Beale Street Could Talk is about a young New York African-American couple named Tish and Fonny (KiKi Layne from the upcoming Captive State and Stephan James from Selma) who are in love, engaged, and expecting a child. All is well until Fonny is accused of rape and tossed in jail. Knowing that he is innocent, Tish and her family, along with Fonny's family and an expensive lawyer, all strive to gather evidence that will prove Fonny's innocence.
That's the short synopsis. There's a lot more going on in If Beale Street Could Talk than is able to be summed up in a single paragraph. Barry Jenkins adapted Baldwin's book into the screenplay himself, and the story is a multi-layered examination of relationships, family loyalty, and the faith that love brings to people. The movie isn't really a feel-good hit, but it is a surprisingly optimistic portrait of urban family life, considering the frustrating and maddening trials and tribulations that the characters are up against.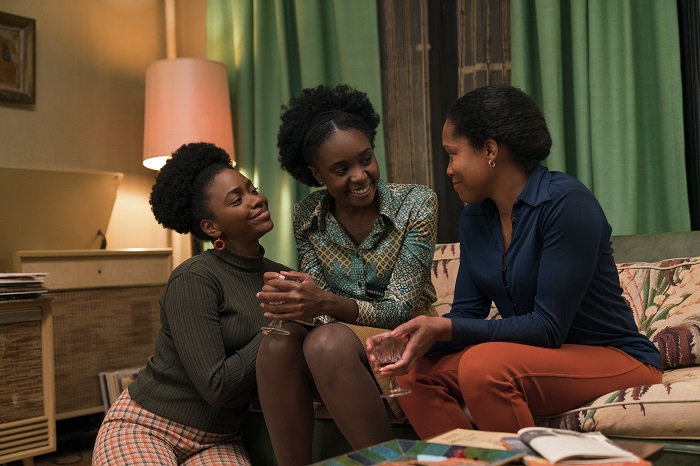 The beauty of If Beale Street Could Talk is not just in the narrative. Jenkins is a master at world building, and every detail is precise and exact, from the special occasion bottle of Hennessy that Tish's family breaks out when she announces her pregnancy to the seventies chic wallpaper that decorates the modest apartment itself. The audience gets to know these people by being immersed in their world, and that's only effective because of the subtleties and nuances of Jenkin's vision.
In a way, If Beale Street Could Talk is two different movies, part love story and part crime drama, but everything is so entwined with itself that the audience hardly notices. When Tish's mother goes to Puerto Rico to track down someone who can clear Fonny's name, it's not done in a cop show kind of way, it's done because Tish's mother (played wonderfully by Regina King from Boyz n the Hood, Poetic Justice, and Higher Learning) shares her daughter's love for – and faith in – Fonny.
Like Moonlight, there is a political and social message to If Beale Street Could Talk, and that may be off-putting to some. And that's a shame, because the people who are going to be put off by the film are the ones who should see it most.

Barry Jenkins' direction in If Beale Street Could Talk is flawless. If Beale Street Could Talk moves slowly, purposely plodding its way through its narrative, with every aspect of the film, from the photography to the score, from the dialogue to the performances, all deliberately and meticulously on the same page. This is Barry Jenkins showing off his confidence in his filmmaking, unapologetically taking his audience along for a snail's paced ride that both challenges and entertains them.
The film jumps around non-linearly, allowing Jenkins to reveal – or not reveal – certain essential story elements at just the right time to let all of the pieces fall into place. Those pieces don't all land neatly, but that just goes with the theme of the movie; life takes time, and things don't always end up where you want them to. If Beale Street Could Talk is Barry Jenkins at the top of this game.