Love book to movie adaptations? Addicted to the Best Adapted Screenplay Oscar category? Here are eight books you need to read before 2018 ends (and the Oscar race begins).
It's going to be a busy December for movies. That's not a new trend, nor is a handful of the films released during Holiday High Season being based on or drawn from books. Everyone loves a great book adaptation (viewers, screenwriters, and studio heads included). The Best Adapted Screenplay category at the Oscars wouldn't exist otherwise. The reality: Many books that are adapted into movies don't live up to the original written work. It doesn't stop us from seeing the film adaptation; it's also very common to pick up the book after watching the film — to compare and criticize or praise.
That's where this list comes in. Here are eight books to peruse before or after you take a seat to see the adaptations on the big screen.
1. Get to Know Dick Cheney, Former Vice President of the United States
Read: "Exceptional", "Days of Fire", or both
If you like biopics about political figures, you will have a very Merry Christmas indeed. Vice, written and directed by Adam McKay (The Big Short, The Other Guys), releases on Christmas to give you insight into Dick Cheney, quite possibly the most controversial United States Vice President ever. Some could even say he ran the country — not President George W. Bush. In politics, there's never one side of any story, and McKay used multiple books as reference material for the Vice screenplay. To get a start on your Cheney research, check out:
And with Christian Bale as Dick Cheney (the transformation is amazing), Amy Adams as Lynne Cheney, Steve Carell taking on Donald Rumsfeld (an interesting choice for sure), and Sam Rockwell in the shoes of George W. Bush, Vice is a must-see (even if you hate politics).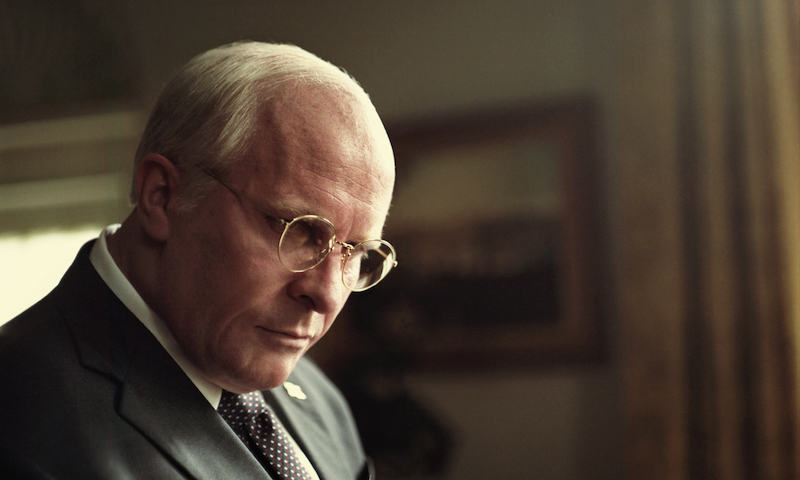 2. Prepare for a Spoonful of Sugar
Read: "Mary Poppins" and Other Books in the Series
See: Mary Poppins Returns
In a sea of remakes and reboots, it's quite refreshing when we see a sequel to a classic film. Even if it means recasting the lead. Emily Blunt (A Quiet Place) steps into Julie Andrews (Shrek Forever After) shoes this time around as the titular character in Mary Poppins Returns, and Dick Van Dyke is back in some capacity. Liz-Manuel Miranda of Broadway smash Hamilton takes the lead here instead and Colin Firth and Meryl Streep are also along for the ride on Cherry Tree Lane.
P.L. Travers wrote the Mary Poppins books and it's quite easy to dive into the stories. Things may not be exactly as Disney cooked up in Mary Poppins, and likely a tad different than Mary Poppins Returns, but the collection is well worth the read whether you enjoy chimney cleaning and singing or not. And if you want to know how the 1964 Mary Poppins got made, watch Saving Mr. Banks.
3. Grab Your Trident for Aquaman
Aquaman first appeared in More Fun Comics #73 — in 1941! You likely know him from Justice League but don't let that discourage you from seeing the first Aquaman movie. Aquaman in comics has been around for a long time and there have been many iterations of the character so there are lots of ways to approach learning about him. Let's refer to Eric Diaz over at Nerdist for the essential Aquaman comics you need to read before the movie hits theaters.
More Fun Comics #73 — "The Submarine Strikes" (1941)
Adventure Comics #260 — "How Aquaman Got His Powers" (1959)
Aquaman #1 — "The Invasion of the Fire-Trolls" (1962)
Adventure Comics #452 — "Dark Destiny, Deadly Dreams" (1977)
Aquaman Vol. 2 #1 — "The Rise and Fall, and Rise and Fall of Atlantis" (1986)
Aquaman Vol. 5 #0 — "A Crash of Symbols" (1994)
Aquaman Vol. 7 #1 — "The Trench" (2011)
4. Future-Cities in Mortal Engines
Not to be confused with the Mortal Instruments series of books, Philip Reeve's Mortal Engines series focuses on a future, steampunk-tinged world where cities fly and eat each other. Intrigued? Well, the Mortal Engines movie has me intrigued because I found the books to be sorely lacking in descriptive imagery.
The characters are interesting but the book never developed the world strongly enough for me to paint a picture in my mind. I'm hopeful first-time Director Christian Rivers and Production Designer Dan Hennah (The Hobbit: An Unexpected Journey) give it the creative visuals it deserves. And Peter Jackson wrote the script with Fran Walsh and Philippa Boyens so that's promising. Give the "Mortal Engines" book a shot and see if I don't know what I'm talking about.
5. Funnymen and Sherlock Holmes
Perhaps you've already read Sir Arthur Conan Doyle's "Sherlock Holmes" and the books that followed. It may have been years ago, though, making it the perfect time to refresh yourself on just how Dr. Watson became narrator for Sherlock Holmes' adventures before Holmes and Watson hits theatres.
You do need to prepare yourself for a very different tone to this Sherlock Holmes movie because it's a comedy starring Will Ferrell and John C. Reilly as the crime-solving duo. Have faith in this comedy working because Director/Screenwriter Etan Cohen has written many a funny script, such as Tropic Thunder, Idiocracy, and Get Hard.
6. Fun With Dueling Queens
Read: "Queen of Scots: The True Life of Mary Stuart"
Mary Stuart always seems to be a side note to her cousin Elizabeth I, Queen of England. That's not the case in Mary Queen of Scots, which is based on the book "Queen of Scots: The True Life of Mary Stuart" by John Guy. Saoirse Ronan takes on the role of Mary, the woman who tried to overthrow Elizabeth and take the crown. It didn't work and Mary's fate is well-known – it's the getting there that's always a fun ride, though.
Dig into Elizabethan history as seen from Mary's perspective before you get lost in the supreme costume design (thanks to Alexandra Byrne) of Mary Queen of Scots (and hopefully a very well done film overall, too, from Director Josie Rourke and Screenwriter Beau Willimon of "House of Cards" and The Ides of March).
Read: "If Beale Street Could Talk"
See: If Beale Street Could Talk
Festival favorite If Beale Street Could Talk finally arrives in cinemas December 14, 2018. Based on James Baldwin's novel of the same name, the story focuses on a young woman in Harlem who must fight to get her wrongly accused boyfriend (and father of her child) cleared of all charges. It's an emotional ride and may require tissues.
The film adaptation is directed by Barry Jenkins (of the incredible Moonlight) and stars relative newcomer Kiki Layne and Stephan James (Selma). If you love the ups and downs of life and love, If Beale Street Could Talk just may be your perfect book to movie adaptation pairing.
8. Age Isn't a Limitation in The Mule
Read: "There's a True Story Behind 'The Mule':
The Sinaloa Cartel's 90-Year-Old Drug Mule"
Clint Eastwood hasn't directed himself since Gran Torino, but he's back at it with The Mule. Based on a story in New York Times Magazine by Nick Schenk, The Mule tells the tale of a man who, in his 90s, becomes a drug mule for the Sinaloa Cartel. Yup,  you read that right — and are likely intrigued.
It gets better since Bradley Cooper, Michael Peña, Andy Garcia, Laurence Fishburne, and Dianne Wiest are starring alongside Eastwood. As Hollywood Royalty, it's never difficult for Eastwood to get a picture made or line up a stellar cast. Let's hope he sticks the directing, too.