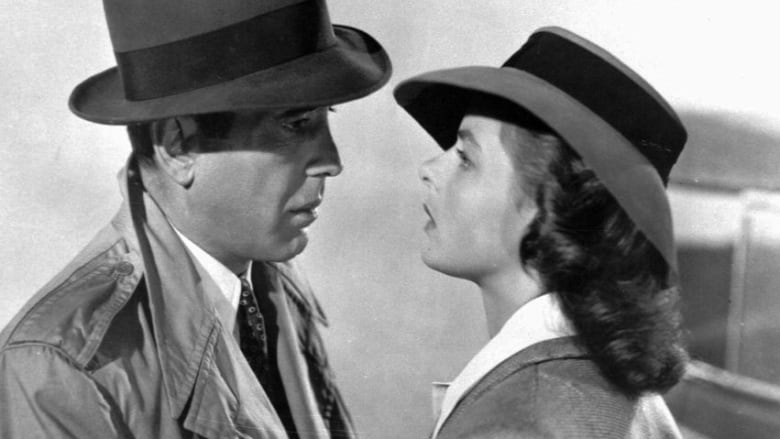 Everyone has seen 'Casablanca,' but this classic Hollywood picture has many a secret behind it. Here's what you need to know about what really happened before production, during filming, and after 'Casablanca' hit the big screen in 1942.
On November 26, 1942, Casablanca had its premiere. Seventy-six years later, Casablanca remains one of the best known Hollywood classics, thanks to its doomed romance and stars Humphrey Bogart (In a Lonely Place) and Ingrid Bergman (Notorious). You may think you know every line and scene by heart, but that doesn't mean you know everything about Director Michael Curtiz's (The Adventures of Robin Hood) surprise hit. Here are nine fun facts about Casablanca you need to know.
9. Bogart Never Said "Play It Again, Sam"
It's one of the most famous lines in film history that is emblazoned in the memory of every Casablanca viewer. Even Woody Allen made a movie called Play It Again, Sam — highlighting its popularity. Problem is, Bogart's Rick, who is often credited with saying "Play it again, Sam" in Casablanca, never did. He said "Play it" to Sam. Bergman's Ilsa Lund did say something along the lines of "Play it again, Sam" early on in the film but still not the exact phrase.
Rick did say "Here's looking at you, kid" and "Louis, I think this is the beginning of a beautiful friendship." The latter, which is the final line in Casablanca, was added by Bogart after shooting ended — it was dubbed in.
8. The Casablanca Script Cost a Pretty Penny
Purchasing a script for $20,000 may seem like a fantastic deal in 2018, but in 1940 when the play Casablanca is based on, titled "Everybody Comes to Rick's," sold for 20K to Warner Bros. it was an astounding amount of money. The Maltese Falcon only cost $8,000!
7. Bogart's Height Had to Be Adjusted
Bogart, at 5' 8" tall, was nearly two inches shorter than Bergman and that just wouldn't work during filming. Curtiz made Bogie stand on blocks or sit on top of cushions to appear taller than his love interest. It's the apple box effect and all about perspective. And it's still used today along with other techniques to give an actor an extra lift.
6. A Deal Was Made to Get Bergman
Producer Hal Wallis reportedly wanted Bergman, who was contracted to David O. Selznick, to play Ilsa Lund, even though he had the likes of Hedy Lamarr and Ann Sheridan available. In order to get Bergman, Wallis traded her for Olivia de Havilland (Lady in a Cage). It wasn't a permanent trade, but it worked, enabling Wallis to cast the woman he wanted as the lead.
5. A Casablanca Sequel Almost Happened
Screenwriter Howard Koch, who co-wrote Casablanca, also wrote a treatment for its sequel. Details of what it would have been about are somewhat known: Rick and Captain Renault are outed as Allied secret agents.
Peter Koch, the son of Howard, did work on a different sequel decades after Casablanca's release. This story focused on Rick and Ilsa's son, 20 years after the original's story took place. It appears that Warner Bros. passed on Peter's version — anything can change, though.
4. Sam Isn't Playing the Piano
Dooley Wilson, who played Sam in Casablanca, was actually a drummer in real life. To make it seem like Sam was, in fact, playing the piano, an actual piano player was within Wilson's view during filming so he could mimic his hand movements. The music Sam appears to be making is actually a recording.
3. Bogart Wasn't Playing Chess Alone
When Bogart is seen playing chess with himself in Casablanca, he's actually playing against a real opponent. Who was it? A friend whom he played with by mail — the chess board reflected their current match.
2. Warner Bros. Wanted Truffaut to Remake Casablanca
Over 30 years after the release of Casablanca, Warner Bros. approached French film director and French New Wave icon François Truffaut about remaking Casablanca. He declined, noting that it would be intimidating because:
American students adore Casablanca and know every line by heart
He could not imagine the actors — Bogart and Bergman — being succeeded
The story didn't need greater candor
The title carried too much weight in American film history
1. No One Thought Casablanca Would Be a Hit
As shocking as this may sound today given the lasting legacy of Casablanca, at the time of its release there weren't any expectations that it would be a great success. Casablanca was simply made as part of the system: a film that would release, make a bit of money, and then go away.
Surprise! Casablanca was nominated for eight Academy Awards and won in three categories: Best Picture, Best Director, and Best Writing, Screenplay.