When given the option to watch classic films in a movie theatre you may opt to see something you never have before or one that you have a dozen times on your home television but never on 35mm on the "big" screen. Opening night of the 2011 TCM Classic Film Festival had a variety of options to choose from, all of which I had seen before. There was one film, in particular, I could not pass up, The Ghost and Mrs. Muir.
I did not watch the film for myself, entirely, but instead for my mother. It is a nostalgic piece for both of us as growing up it must have been viewed said dozen times. The film is a classic in its own right, but to me, it was an opportunity to experience a childhood memory again, and this time in glorious 35mm with a group of very enthusiastic film lovers.
This is the beauty and wonderment of such a festival. Those who come as pass holders or press do not do so because they want to see the newest independent film or, in the case of press, purely for work. This is a festival all about having a great time watching movies that have an important place in film history and film preservation. A classic film lovers dream is the easiest way to describe the festival, and it is no surprise it sold out before it even began.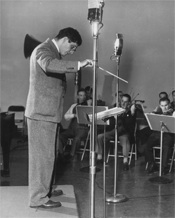 Part of the program this year was a celebration of the music of Bernard Herrmann. One of the foremost film composers of all time it is unlikely anyone has ever not seen a film scored by Herrmann.  The most obvious examples being Citizen Kane
(1941), The Day the Earth Stood Still
(1951), Vertigo
(1958), Psycho
(1960), and Taxi Driver
(1976). Seen any of the above? Thought so. Herrmann is a marvel when it comes to scoring a film, and his work on The Ghost and Mrs. Muir
(1947) is by far one of his strongest pieces.
The film was introduced by Herrmann's daughter Dorothy, and she gave great insight into the man behind the score of such a beloved and classic film. It was surprising to hear, given his body of work, that The Ghost and Mrs. Muir was his favorite film score and incredibly personal for him as a composer. As his most lyrical work, he found the film poetic, uniquely subjective, and it reflected his love of English romanticism.
She also remarked that he loved the beautiful loneliness of solitude the film projects while he himself was very sociable. Dorothy went on to reveal that her father felt Wuthering Heights was his companion piece opera to The Ghost and Mrs. Muir, as they both dealt with strong-willed, self-reliant heroines and the promise of spiritual purification after life's disappointments. If one listens to both scores you can find similar/same sequences in each.
Herrmann referred to his score for The Ghost and Mrs. Muir as "The Max Steiner Score." Max Steiner was a great film composer who has been referred to as "the father of film music," and he was a major component in creating the tradition of scoring music for film. His most recognizable credits include Gone with the Wind
(1939), Casablanca
(1942), King Kong
(1933), and The Searchers
(1956). To have Bernard Herrmann nickname his score for The Ghost and Mrs. Muir after Steiner shows how deeply proud he was of his work on this picture.  Thanks to Dorothy Herrmann, the rest of us now know just how special this film was to him.
The Story in The Ghost and Mrs. Muir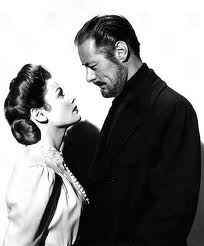 The Ghost and Mrs. Muir takes place at the turn of the century in the seaside village of Whitecliff.  A young widow, Lucy (Gene Tierney) moves into Gull Cottage with her daughter (Natalie Wood) and maid Martha (Edna Best) much to the disapproval of her in-laws. She rents the home despite being told, and bearing witness, to it being haunted by the former owner, the Sea Captain Daniel Gregg (Rex Harrison–or "Sexy Rexy" as he was known).
Lucy's first night in the house results in her meeting Daniel and striking up a conversation. His attempts to frighten her out of his home do not work, nor will they as she with great determination informs him, and so they make a deal. She may live in the house as long as she keeps his portrait hung on the bedroom wall and he agrees to remain in the upstairs bedroom, as well as to not cause any trouble. The upstairs bedroom also happens to be Lucy's room, giving them ample time to get acquainted and provide the viewer with plentiful amounts of sexual innuendo like only a classic film made during the time of "The Code" can, and did.
As Lucy and Daniel spend more time together they develop a romantic relationship that is tragic, being that he is a ghost and she a woman in the prime of her life who should be loved and cared for by someone. It is Daniel who helps Lucy become the independent woman she deserves to be by having her write his biography–a no holds barred approach to the life of a sea captain, full of all the naughty encounters, adventures, and inappropriate language a woman should never speak, let alone write.
The book is published, and all of the royalties are Lucy's alone, securing her financially and also bringing a new man into her life, Miles Fairley (George Sanders). Daniel realizes Lucy still has a long life to live and as she sleeps one night he convinces her their time together was all an incredible dream and to let go of their connection. Miles turns out to be a philandering lying husband and Lucy, heartbroken and alone, lives out the rest of her life at Gull Cottage with Martha until she peacefully dies in her sleep. Daniel, having waited decades for Lucy to join him in the afterlife, is right beside her when she passes away and taking her hand they begin their afterlife together, in pure and delightful romantic mysticism.
Bernard Herrmann's Music in The Ghost and Mrs. Muir
The Ghost and Mrs. Muir is a triumphant romance full of passion, love, and undeniable attraction. It is also a ghost story, and as such has notes of suspense, thrill, and looming danger. This is where the score plays an undeniably important part in establishing the narrative and the relationship between characters, the Gull Cottage being one in itself.
When Lucy first arrives at Gull Cottage and disembarks the automobile the score is a romantic melody, full of life and happiness but tinged with notes of despair. There is a sense of melancholy that reflects her widowed position but also that of Captain Gregg, having lost his life far too soon.
As Lucy approaches the home and enters the music changes, the strings get louder, the suspense heightens, and the danger of what lurks upstairs in the dark overtakes everything.  Just as suddenly, the strings take on a more romanticized song, they lull the viewer, and Lucy, to the bedroom.  This is Daniel's bedroom, and the place where Lucy and Daniel will begin their damned love affair.
The entire film score plays as above with emotion. Every scene is perfectly fitted to the score but just as quickly it manipulates the viewer into having a completely different, and sometimes irrational reaction. Is this a ghost story? Should I be afraid? Or is it a romance, with the promise of a happy ending? Will the tragedy end, and hope shine through? Or is Lucy destined for loneliness?
The questions linger in your mind as the music swells, the gorgeous cinematography plays before you, and the chemistry between Daniel and Lucy trickles off the screen. Herrmann creates with the score a juxtaposition of the tides of emotions that emanate in the narrative. This is an emotionally complex film, and while the music allows the dialogue to speak for itself, and vice-versa, one could not exist without the other to create the masterpiece that is The Ghost and Mrs. Muir.
Herrmann made beautiful music; whether it was romantic, chilling, laced with suspense, or of the fantastic realm. For those who study film it only takes a small sampling of a score before you know it was composed by Bernard Herrmann, his style is quickly recognizable, as is his musical genius. I may have seen The Ghost and Mrs. Muir a dozen times before but never had I solely watched in order to let the music overtake me, and even closed my eyes at times to feel the emotions the score evoked without a single moving image to assist. It was remarkable, and the score should be noted as one of Herrmann's best and appreciated more than it has been in film history.
Visit The Bernard Herrmann Society for more information on the preservation of his work or the official Bernard Herrmann Estate website here.
For a listing of all of Bernard Herrmann's film scores available for purchase go here:  Bernard Herrmann Film Scores
.