Live-Action Dumbo (2019) Review
Tim Burton makes a Tim Burton movie out of a Disney classic with Dumbo.
Release Date: March 29, 2019
A young elephant, whose oversized ears enable him to fly, helps save a struggling circus, but when the circus plans a new venture, Dumbo and his friends discover dark secrets beneath its shiny veneer.
Director: Tim Burton
Screenwriter: Ehren Kruger
Producers: Katterli Frauenfelder, Derek Frey, Ehren Kruger, Justin Springer
Cast: Colin Farrell (Holt Farrier), Michael Keaton (V.A. Vandevere), Danny DeVito (Max Medici), Eva Green (Colette Marchant), Alan Arkin (J. Griffin Remington), Nico Parker (Milly Farrier), Finley Hobbins (Joe Farrier)
Editor: Chris Lebenzon
Cinematographer: Ben Davis
Production Designer: Rick Heinrichs
Casting Directors: Deborah Maxwell Dion, Susie Figgis
Music Score: Danny Elfman

In addition to building its entertainment monopoly by acquiring seemingly every production company and existing property out there, Disney has been methodically retooling its own catalog of animated movies into live-action features. The newest in this snowballing trend is Dumbo.
Dumbo begins with a solider named Holt Farrier (Colin Farrell from The Killing of a Sacred Deer) returning home from war with one less arm than he left with. He reunites with his children, Milly and Joe (Nico Parker and Finley Hobbins, both in their feature film debuts), who have been traveling with the circus of his old employer, Max Medici (Danny DeVito from "It's Always Sunny in Philadelphia"), while he's been away. Holt was a famous horseman in the Medici Brothers Circus, but without his arm, he can't ride anymore. So Max puts him to work taking care of the elephants.
One of the elephants, Jumbo, is pregnant. She gives birth to a baby with enormous ears. Furious over the monstrosity, Max sells Jumbo off and puts the baby to work in the only place he can – with the clowns. Milly and Joe befriend the baby elephant, now named Dumbo, and discover that his ears have an unforeseen advantage; Dumbo can use them to fly. When Max finds out, he exploits the talent, and soon enough, a big businessman named V.A. Vandervere (Birdman's Michael Keaton) offers to take Dumbo (and the rest of the Medici Brothers Circus) off of the travelling circuit and give him a permanent show in an amusement park, sharing the spotlight with an exotic aerobat named Colette Marchant (Eva Green from White Bird in a Blizzard). But all Dumbo wants is the be reunited with his mother.
For the live-action Dumbo, Disney tapped legendarily quirky director Tim Burton (Edward Scissorhands, Beetlejuice, Big Eyes), and the choice is, for the most part, a good one. Burton's movies tend to combine a wide-eyed innocence with a darker edge, and screenwriter Ehren Kruger (who wrote a few Transformers movies as well as the recent Ghost in the Shell) uses this same formula in his adaptation of the old Helen Aberson/Harold Pearl book. As a result, Dumbo is way more Burton than Disney.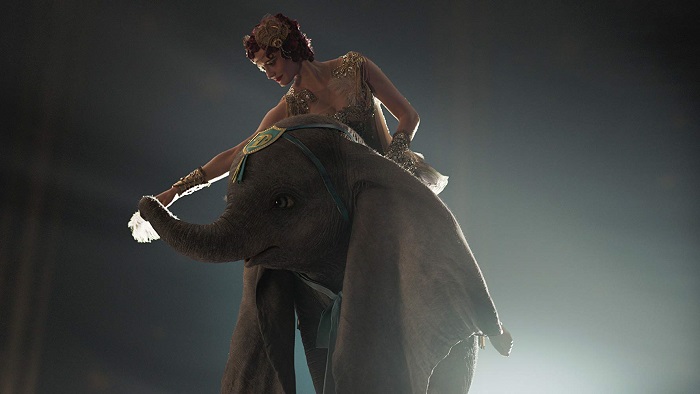 While Dumbo contains most of the same ingredients of the original film, the story itself is wildly different, which is a relief for those who were worried about childhoods being ruined. It's comparable to the recent remake of Pete's Dragon, where there's just enough of the original to take advantage of the name recognition, but it's its own movie altogether. Burton breathes new life into the almost-eighty-year-old classic, and for most of the movie, it works.
Like Pete's Dragon, though, Dumbo seems to betray its target audience. Burton turns in a dark and disturbing interpretation of the Dumbo story, earning the film its PG rating in the process. There are no cute songs or fluffy animals in this Dumbo. It's not really scary, but it's hardly a feel-good hit. Even the uplifting ending has a hint of an animal liberation subtext that reminds the viewer that the world outside of the movie theater is a terrible place. Flying elephants notwithstanding, Tim Burton's Dumbo is not for young children.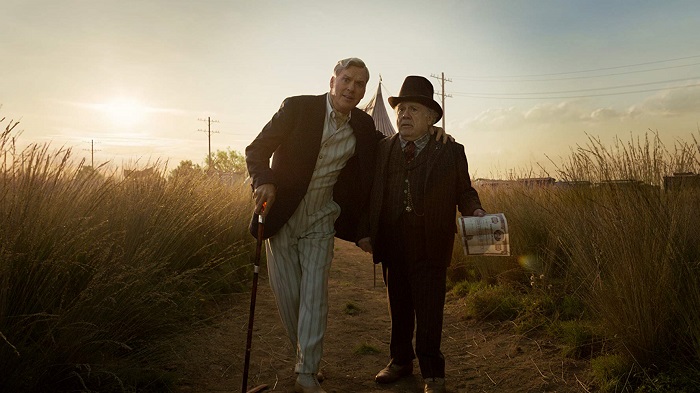 None of that is to say that the movie isn't fun. It's infectiously entertaining, with moments of laugh-out-loud comedy and ear-to-ear smiles. And while he may not garner the same emotional reaction from the audience as his animated counterpart from 1941, Dumbo is one charming pachyderm. But it is, after all, a Tim Burton movie, and his stamp is all over it, his DNA ingrained in both the visual style and in the storytelling. So, the fun comes with a sinister grin.  
The visual effects in Dumbo are a mixed bag. Predictably, everything in the movie screams of CGI, even the effects that seem as if they may be practical. Dumbo and his fellow elephants look great, but the other animals are not quite as effective. The snakes especially have that SyFy Channel, bargain basement effects look to them. Which is all fine for something like Sharktopus vs. Pteracuda, but for a Disney movie, audiences should be able to expect more.

Former Oingo Boingo frontman Danny Elfman is one of the most sought-after movie composers in Hollywood, but he always seems to make time in his busy schedule to work with Tim Burton. And with good reason – Elfman has as much of a sonic thumbprint as Burton has a visual one, so the two artists fit together like a glove. Because he does work with Burton so much, Elfman's score for Dumbo sounds exactly like what audiences expect an Elfman score to sound like. The whimsical themes and motifs bounce their way playfully through the circus-like atmosphere, all while still clinging to the more ominous and dreadful aspects of the movie. It's happy with just a tinge of foreboding. Dumbo's music is noticeable, but not overpowering. Just as a film score should be.