Synopsis: A father goes to great lengths to save his family from a burning skyscraper.
Release Date: July 13, 2018     MPAA Rating: PG-13
Genre(s): Action, Crime
Film Review

Part Die Hard and part The Towering Inferno, Dwayne "The Rock" Johnson's Skyscraper is a thrilling blockbuster built for the summer movie going season. It ticks all the boxes of a big budget action movie and features very little fluff. Does it defy the laws of physics and have plenty of logic leaps? Most definitely, but it's hard to worry about that too much when Johnson is serving up his typical brand of excitement.
Johnson plays Will Sawyer, a security consultant hired to check out The Pearl, an opulent skyscraper that dwarfs all other manmade structures. Its creator, Zhao Long Ji (Chin Han), is a man driven by a need to impress, and though he has villainous undertones, he is merely a businessman that makes poor choices. Those poor choices eventually put The Pearl and a few of its residents, including Will's wife Sarah (Neve Campbell) and two kids, in danger. Zhao has crossed paths with the wrong people, and a gun for hire named Kores Botha (Roland Moller) is hoping to destroy The Pearl, or at least get what he wants out of its owner. As The Pearl comes under literal fire, Will must rescue his family and eventually clear his name after blame falls to the security consultant.
It does take a little bit for Skyscraper to get going, but once it does, the film rarely lets go. As Will ascends the Pearl, making death defying leaps, surviving raging flames, and beating a few thugs along the way, he comes to his family's rescue and uncovers why Kores wants Zhao's skyscraper to burn. To be frank, the story in Skyscraper isn't very creative and its payoffs aren't very surprising. All you need to know is that the bad guys set the building on fire starting about 100 stories up and The Rock is going to climb or fight his way past the fire to the top.
Even if the plot is mediocre, the film moves at such a breakneck pace that it's easy to not focus on those flaws. Watching Johnson make insane leaps or pull off crazy stunts is why you're going to watch Skyscraper, and it delivers on that front in spades. It's rare that a film can generate this type of tension, but writer/director Rawson Thurber (We're the Millers) knows how to pace things effectively without making anything feel hokey. Johnson spends a lot of the film dangling off precarious ledges at unbelievable heights, and it feels real enough that your fists flinch every time there's a tiny slip.
Watching a movie called Skyscraper, you expect one key thing: exciting stunts at immense heights. The story may be pure fluff and the characters aren't great, but Johnson is as charismatic as ever, and he spends most of the film's runtime pulling off some impressive feats. Skyscraper is the perfect summer blockbuster; it's got a strong lead coupled with adrenaline-fueled excitement.

Although the film relies a little too heavily on the same idea of Johnson's character slipping off a surface or losing his grip and then dangling off the edge of the building, it's hard to deny that Skyscraper isn't action-packed. What's more important is that a lot of the action is stunt-based, with Johnson's character trying to complete a task that usually involves him on the outside of a 220-story building. It's a simple formula that works to great effect and doesn't overstay its welcome. To be honest, watching Dwayne Johnson do anything on the ledges of a massive building would be exciting.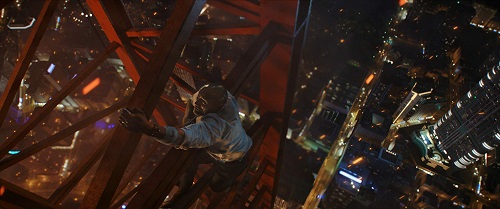 It's also worth mentioning that Neve Campbell is given a lot more to do than just be the damsel in distress. Her character is a capable Naval surgeon who factors into the story and the action way more than anyone would expect. Skyscraper may be a Dwayne Johnson vehicle, but Neve Campbell isn't simply sitting by idly either.
Cast and Crew
Director(s): Rawson Marshall Thurber
Producer(s): Beau FlynnHiram GarciaDwayne JohnsonMary Parent
Screenwriter(s): Rawson Marshall Thurber
Story: 
Cast: Dwayne Johnson (Will Sawyer)Neve Campbell (Sarah Sawyer)McKenna Roberts (Georgia Sawyer) Noah Cottrell (Henry Sawyer)Pablo Schreiber (Ben)Noah Taylor (Mr. Pierce_Roland Møller (Kores Botha)Byron Mann (Inspector Wu)Hannah Quinlivan (Xia)Adrian Holmes (Ajani Okeke)Chin Han (Zhao Long Ji)Kevin Rankin (Ray)
Editor(s): Julian Clarke
Cinematographer: Robert Elswit
Production Designer(s):
Costume Designer: Ann Foley
Casting Director(s): Luca Mosca
Music Score: Steve Jablonsky
Music Performed By: 
Country Of Origin: USA