Synopsis: Uptight FBI Special Agent Sarah Ashburn (Sandra Bullock) and foul-mouthed Boston cop Shannon Mullins (Melissa McCarthy) couldn't be more incompatible. But when they join forces to bring down a ruthless drug lord, they become the last thing anyone expected: buddies.
Release Date: June 28, 2013     MPAA Rating: PG-13
Genre(s): Comedy,
Film Review

Paul Feig, the director behind Bridesmaids, returns to the female-centered comedy with The Heat, starring Sandra Bullock and Melissa McCarthy. Feig proves, yet again, that women are hilarious with the right material; and The Heat has all the right stuff.
Opening with a title sequence straight out of a 1970s TV cop-crime drama, and with great effect, The Heat does not waste any time introducing its characters. Up first is Sandra Bullock's FBI Special Agent Sarah Ashburn, in the middle of a bust. She's arrogant and stuck-up, and is always right (so she thinks, obviously). These great personality traits have left her without any friends, being disliked by her coworkers, and seen as the "weird" neighbor who borrows a cat for company–without permission. She is an excellent FBI Agent, though. Then we have Shannon Mullins (Melissa McCarthy), a loud-mouthed, bossy, unkempt, brass, and completely out of control detective. Meeting her for the first time involves watching her harass ("arrest") a man who is picking up a prostitute, with hilarious results–she even calls his wife. Everyone, including the Chief, at her station fears her, and when you meet her family you'll see its all genetic. But Mullins knows her territory of Boston, and is dead-set on controlling the streets.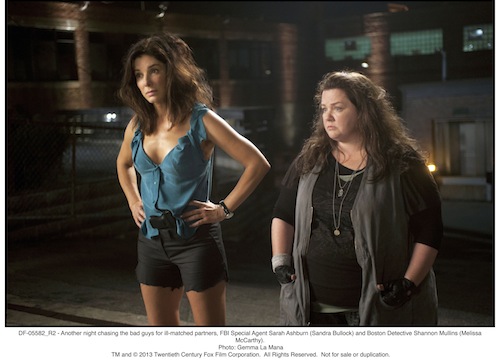 When Mullins and Ashburn meet for the first time its not pretty, nor safe for anyone within a few feet of them. Yes, they start out as antagonistic partners, thrown together for various reasons and forced to work with one another although they have very different styles. It all works out splendidly for the viewer, as the jokes roll one after another, and the pairing of Bullock and McCarthy grows more perfect by the minute. The plot itself, of trying to track down a drug lord before he takes over the streets, is inconsequential. Its not unique, nor are the plot points and twists scattered throughout. The Heat is worth watching for the comedic duo of Bullock and McCarthy in character. To be honest, you may even forget what the point of their investigation is about halfway through because you have spent too much time focusing on the characters quirks, how they react to one another, and the hilarity that ensues. The Heat is a comedy worthy of its R rating, and its not one only for women, either–in case the men out there were thinking otherwise. See it for the laughter, because everyone needs a movie like The Heat in their lives, if only to give their stomach muscles a good workout.

The good-cop-bad-cop routine fits Sandra Bullock and Melissa McCarthy's comedic stylings perfectly. Each actress brings a completely different character to life but its how they work together that makes The Heat sizzle with laughter from start to finish. It must be admitted that McCarthy's Mullins steals the show most of the time, and has the majority of the laughs on her side. But without Bullock's uptight Ashburn beside her, or to riff off of, McCarthy's Mullins would not stand a chance on screen for very long. Her character needs a buffer, and Bullock was a perfect casting choice. Their mismatched team, both in style and grace, work together on screen to create a buddy cop comedy dynamic that is hard to come by and will not soon be forgotten. They even manage to bond, both being outcasts in their respective lives, which adds a little greater dimension to The Heat. Not that you need it, though, as the laughter the two women provide is more than enough to keep you entertained for the duration of the movie, and hoping they reprise their roles in a sequel.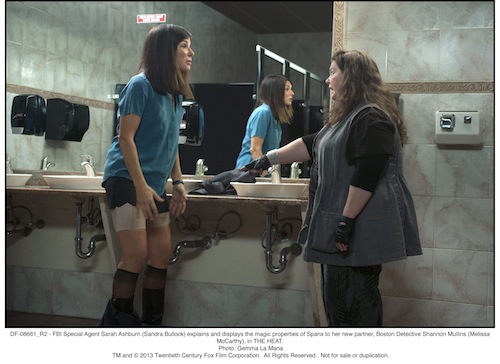 The best thing Melissa McCarthy ever did for the movie-going population was break-out of the TV sidekick PG game (ala "Gilmore Girls"). In The Heat she is crass, brazen, swears up a storm, and makes offensive jokes like they were second nature. She makes physical comedy look effortless, and with just one word forces the laughter out of you. It is fantastic. Bullock doesn't have much to say, she's more the punching bag more often than not, but without her impeccable sense of timing, and easy awkwardness, McCarthy's Mullins wouldn't be able to carry the lines as she does–and make us laugh out loud in the process.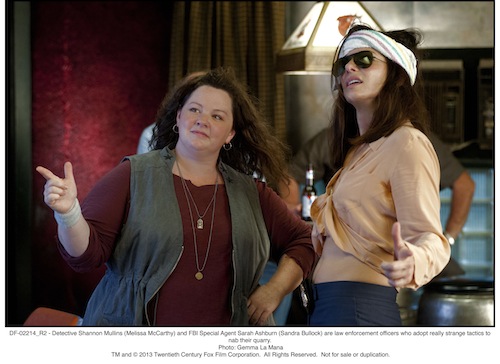 The Heat is not a girly comedy. You won't find any sappiness here, even when the women have their bonding moments. Written by Katie Dippold (yes, a woman!), The Heat is one punchline after another, without having to berate its female stars or offend the audience with what we have to know as "potty mouth." Unless you are offended by Albino jokes, then best to stay clear. Everything and everyone is fair game in The Heat, and Dippold even makes it a point to poke fun at the women's real ages in the movie. That's right, Bullock and McCarthy are playing women their own age–the horror! By doing so, there is the opportunity for some great age-centered jokes to be thrown around, and the ladies take them all in stride. Part of the fun of The Heat is experiencing the jokes run wild while you watch the film, so there will be no spoiling of any here, or the scenarios they occur in. It is a guarantee, though, that you will laugh nonstop during The Heat–if you don't, you may want to see a doctor, because something is seriously wrong with you.
Cast and Crew
Director(s): Paul Feig
Producer(s):
Screenwriter(s): Katie Dippold
Story: 
Cast: Melissa McCarthy (Det. Shannon Mullins)Sandra Bullock (Special Agent Sarah Ashburn) Marlon Wayans (Levy)Michael Rapaport (Jason Mullins)
Editor(s): Jay Deuby
Cinematographer: Robert D. Yeoman
Production Designer(s):
Costume Designer: 
Casting Director(s): 
Music Score: Michael Andrews
Music Performed By: 
Country Of Origin: USA