In 1987, action star Arnold Schwarzenegger teamed up with director Paul Michael Glaser to adapt the Stephen King/Richard Bachman novel The Running Man for the big screen.  But that wasn't the only convict reality show movie to see a release that year.  Decades before The Asylum was even a thing, an unwitting rip-off called Deathrow Gameshow explored the same concept as The Running Man, only with far more hilarious results.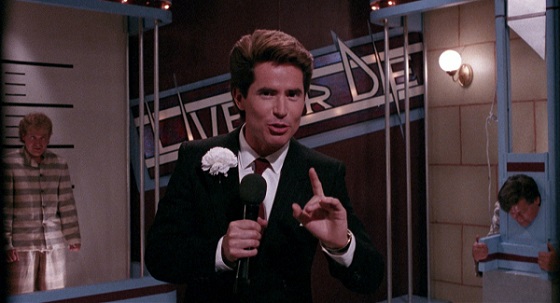 Deathrow Gameshow is about a game show called "Live or Die" which takes death row inmates and asks them to participate in death-defying stunts and tasks in order to win their freedom, or at least to earn some nice consolation prizes for their families if they lose.  The host and creator of the show, a skeezy guy named Chuck Toedan (John McCafferty from "Texas"), is a polarizing figure, with half of the public believing him to be a hero while the other half thinks he should be charged with murder himself.  When a mafia boss appears on Chuck's show (and loses), a mob hit man named Luigi Pappalardo (Beano from Caged Fury) sets out to even the score.  Chuck must team up with his biggest adversary, a feminist activist protestor named Gloria Sternvirgin (Robyn Blythe, who was a dancer on "The Brady Bunch Variety Hour"), to save his skin from the ruthless assassin.
Deathrow Gameshow was directed by low-budget movie mogul Mark Pirro (A Polish Vampire in Burbank), who also wrote the screenplay with some "additional material" from Alan Gries (Night Rhythms).  Like The Running Man, Deathrow Gameshow eerily predicts society's fascination with reality television and interactive game shows.  However, whereas The Running Man is a dystopian action movie, Deathrow Gameshow treats its subject matter with its tongue firmly in its cheek.  Of course, audiences expect nothing less from a b-movie director who essentially culled together his cast and crew from softcore porn sets.
There's a silliness running throughout Deathrow Gameshow that pokes fun at both the concept of capital punishment and the callousness of showbiz.  Every character seems to be a stereotype, from the sleazy television host to the blockheaded mob hitman.  The situations in the film are silly as well, with its sitcom-esque plot points leaning heavily upon the overused tropes of mistaken identity and common misunderstandings.  Nothing about the film's ridiculousness is unintentional, however, as Deathrow Gameshow embraces its corniness with both arms.  The best example of Deathrow Gameshow's campy attitude comes when Chuck has a dream, and the film goes to great lengths to drive the point home that it is, in fact, a dream, with movie trailer-type buildup and huge "This is a Dream!" title cards.  The sequence epitomizes Deathrow Gameshow's non-serious vibe.
While there's nothing too gory in Deathrow Gameshow (most likely due to budgetary restrictions), there is plenty of implied and non-graphic carnage.  The methods of punishment and execution on "Live or Die" range from simple guillotines to more elaborate obstacle courses of flaming rings.  For instance, the show segment that kills the mob boss involves strapping him into an electric chair and hooking his genitals up to the conductors so that he will be electrocuted if he gets aroused.  Then, a stripper is sent in to give him a lap dance.  The seemingly inescapable game show contraptions are almost Saw­-like in their conceptualization, but it's all done very humorously, with very little actual gore in the film.
Mark Pirro's usual Cinematographer Craig Bassuk (That Little Monster) shot Deathrow Gameshow with an eighties aesthetic which works well within the context of the movie.  While the game show segments have a lights-and-sirens, over-the-top look to them, the regular, off-the-air scenes are more muted photographically, showing a juxtaposition of showbiz vs. real life.  Visually, the entire film feels like a television program, which is curious since Bassuk shot the film on 35mm film as opposed to shooting on video like many horror movies (and game shows) of the time.  Film or video, the overall look of Deathrow Gameshow fits in well with the game show-like atmosphere of the movie.
Speaking of the game show vibe of Deathrow Gameshow, its score is perfect for what the movie is.  The music was done by another frequent Pirro collaborator, composer Gregg Gross (Curse of the Queerwolf), and while it doesn't quite sound like it was written and performed on a cheap Casio keyboard, it's close.  The soundtrack is full of cheesy game show-type short-and-tight pieces that are just as simply produced as they are written.  The score is the perfect complement to the campy visuals in Deathrow Gameshow.
It's unclear if Mark Pirro was aware of the Stephen King/Richard Bachman novel that was adapted into The Running Man or if he came up with the Deathrow Gameshow concept on his own.  Either way, now fans have two cool movies from 1987 that predicted America's compulsive fascination with reality TV – one apocalyptic action movie, and one screwball horror comedy.  And two is better than one.