Synopsis: Joy is the story of a family across four generations and the woman who rises to become founder and matriarch of a powerful family business dynasty.
Release Date: December 25, 2015     MPAA Rating: PG-13
Genre(s): Biography, Comedy
Film Review

After his last two movies (Silver Linings Playbook and American Hustle), writer/director David O. Russell must feel like he's found the perfect formula to Hollywood success: casting Bradley Cooper and Jennifer Lawrence in whatever he does. While there's no disputing the talent of either actor, there's obviously more to it than that, because the pairing didn't work out in last year's Serena, and it doesn't work out in Joy.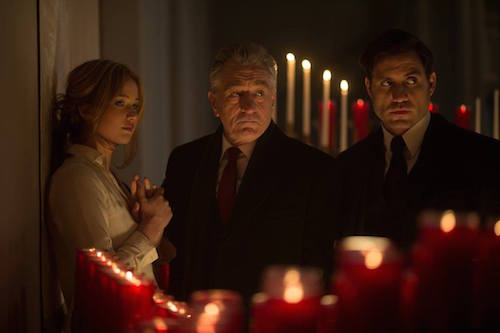 Joy tells the story of Joy Mangano (Lawrence), a single mother who, along with her two children, shares a cramped home with her mother (Candyman's Virginia Madsen), her grandmother (Diane Ladd from Wild at Heart), her father (Robert De Niro from Goodfellas), and her ex-husband (Deliver Us from Evil's Édgar Ramírez). While out on a boat excursion one afternoon, Joy has a million dollar idea for a self-wringing Miracle Mop. With the financial help of her father's girlfriend (Blue Velvet's Isabella Rossellini), she develops and builds the prototype, then patents and manufactures it, but that's where her troubles begin. Having no idea how sell her new invention, she ends up in a meeting with Neil Walker (Cooper), a marketing executive at the upstart Home Shopping Network. Although it seems like a perfect match, Joy's partnership with HSN creates a whole new set of problems.
Loosely based upon the true story of the real-life Joy Mangano, Joy is a classic rags-to-riches story. The screenplay, written by David O. Russell and Annie Mumolo (Bridesmaids), follows Joy's journey from unknown housewife-with-an-idea to multi-millionaire entrepreneur and marketing mogul. Unfortunately for the film, much of the conflict gives the feeling that it is manufactured, and the resolutions to the struggles are way too convenient to be believable. Joy's story is kind of inspiring in an if-she-can-do-it type of a way, but the movie itself is not nearly as cheer-worthy as it could, or should, be. The whole film seems like everyone involved, from Russell on down, is just phoning it in, not putting any energy or emotion into the project.
There are flashes of greatness in Joy, but they are few and far between. The most fun that the film has is when Joy gets sucked into the television soap operas with which her mom is obsessed; the film pops right into the TV program, with real soap stars like Susan Lucci from "All My Children" and Laura Wright from "General Hospital" gabbing and mocking themselves in over-the-top, completely ludicrous scenes. These are the types of moments that audiences expect from an Annie Mumolo-co-written movie, but alas, they are over almost as quickly as they begin, and after a while, Joy abandons that kind of fun altogether.
At the end of the day, Joy isn't bad. It's entertaining enough, and it's never boring at all. There's just not all that much to like about it either. It will find an audience somewhere, but it will have to search long and hard for it.

On paper, Joy has an amazing cast, but the reality of it is that none of its members seem as if they want to be there. Most of the cast just sleepwalk through their performances, not really failing at what they do, but not delivering anything memorable either. Experienced actors like Robert De Niro and Isabella Rossellini simply coast to get their paychecks while the younger ones, like Édgar Ramírez and Bradley Cooper, seem to be forcing things a little too hard without putting anything real behind it. It's no surprise that the strongest performance comes from Jennifer Lawrence, but she's really only good for the first half of the movie; by the final act, even she becomes stoic and unemotional with her part, acting as if she can't wait for the movie to be over. The acting in Joy is just like the rest of the movie; everyone's phoning it in.
Cast and Crew
Director(s): David O. Russell
Producer(s): John DavisMegan EllisonJonathan GordonKen MokDavid O. Russell
Screenwriter(s): Annie MumoloDavid O. Russell
Story: 
Cast: Jennifer Lawrence (Joy)Robert De Niro (Rudy)Bradley Cooper (Neil Walker) Édgar Ramírez (Tony)Dianne Ladd (Mimi)Virginia Madsen (Terry)Isabella Rossellini (Trudy)Dascha Polanco (Jackie)Elisabeth Röhm (Peggy)Susan Lucci (Danica)Laura Wright (Clarinda)Jimmy Jean-Louis (Touissant)
Editor(s): Alan Baumgarten
Cinematographer: Linus Sandgren
Production Designer(s):
Costume Designer: Michael Wilkinson
Casting Director(s): Lindsay GrahamMary Vernieu
Music Score: David Campbell
Music Performed By: West Dylan Thordson
Country Of Origin: USA